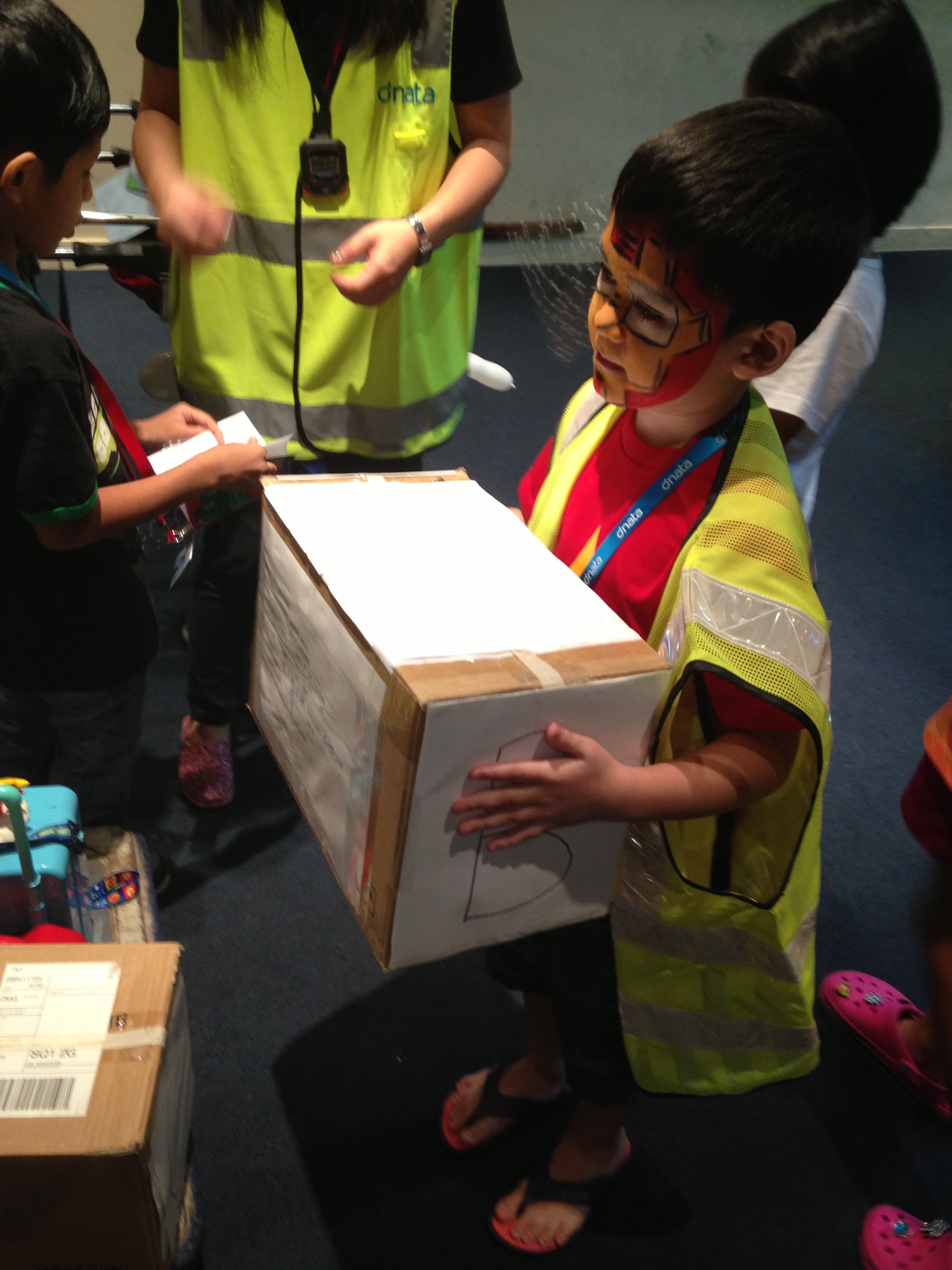 5 Tips on How to Organise a Great Kids@Work (Bring Your Children to Work Day)
The March, June, September holidays and even Children's Day (this falls on the first Friday of October in Singapore) are great days to organise Kids@work or Bring Your Children to Work day.
magic shows
,
balloon sculpting
and
facepainting
; frequently clients will get me to come back year after year. One of the clients commented, "My children loved your entertainment so much, they asked if they can come to work tomorrow again! They thought I have magic show everyday in my office."
This funny incident led me think about this event. Are we missing the essence of this very meaningful event?
Can you make it more relevant and interesting? What can you so children understand more about the company?  Although we have packages on Bring your kids to work events, personally I prefer a customised programme which we have done for several companies like Dnata, Ngee Ann Polytechnic and Temasek Holdings.
Do at least one activity related to your company.
Make sense? On the contrary, a number of the Kids@work event which we were booked for only had entertainment. Of course, the children get to visit their parents' desks but different parents work in different departments so the they may not get an overview of what happens in the office. Sometimes parents may be busy too!
What can you do? Incorporate games and interesting activities informing them about your company. Here's some:
iSpy – Instead of just a tour of the company, change it into a game in which children have to spot certain items along the way.
Treasure Hunt – If you have a big office, introduce to the different department by creating different pit stops.
Quiz – Get the children interested by telling them there's a game show after the introduction of the company; works better with older kids.
Skit – Creating a 'show ' for children can be a great teambuilding activity for a department to come up with!
Why? Making just a PowerPoint presentation about your company isn't going to work for children! Make it fun so they can remember and understand! Not sure how? Talk to Mr Bottle's Kids Party on how to customise a programme to fit into what your company does.
Have a meaningful theme.
This can be related to your company, which you can relate to your vision and mission as well as the industry you are in.
Some possible themes:
Around the world – Is your company a global company? Your participants can 'travel' to countries which your organisation has presence in.
Superhero – a fun theme, with a twist in which you can reveal that the real superheroes are the parents working really hard.
Science – If your company is pharmaceutical, tech or science firm, this is the perfect fit! See if you can create experiments, workshops or demonstrations around your company's products. For instance, if your company is a drugs company, children can learn measuring and dosing by mixing different coloured water. Mr Bottle's Kids Party also has science shows and workshops which can bring out your company's information in a fun and interactive way!
Sports theme – A popular choice for children of all ages and healthy one too!
If your company is a PR, media company? How about a stop motion animation workshop? A contest to produce a news programme on a fun topic. A food company? Sushi or pizza making workshop. You get the point!
You can see how we customise their Bring to Kids to Work theme inline with Dnata's ranges of services which it provides for their customers.
Children can look forward to something different based on your theme every year!
Have a workshop.
Let the children learn and take home something at your event! Inform the children that offices is a great place to learn something new too. If your company does a lot of research or is a start-up company, show how they can be creative and innovative in their workshop to make their creation unique.
Whether it is an
art
, 
enterpreneur 
or
balloon twisting
workshop, learning a skill can be useful for them in the future. Our
balloon sculpting
workshop can even include teambuilding games which parents can join in too, creating bonds not only colleagues but also their families.
Our magic workshop not only teaches children how to perform simple magic, but also allows them to learn a life value.
Keep them occupied
Think of activities to keep little ones busy from the moment they arrive to the time which they leaves. From our experience in working with organisations, I realised that parents cannot be with their young ones throughout the event; they may have meeting at certain points or deadlines to meet.
Here are some fringe activities which can be easily implemented if the little ones arrives early or while waiting for parents to come collect them:
Colouring – Find something related to the theme of the event. For instance, if you are a Singapore startup, how about something related to Singapore?
Cartoon screening – Although I am not for this idea, it does help children occupied if you are at wits' end. Find videos like the Magic Schoolbus which is educational (they have topics like infra red, space and even insects; fit like a puzzle if your company is a science company! Most companies already have a projector so you can do this at almost no cost.
Let them draw and decorate – Bring out your flipcharts and whiteboards to let the children to draw something related to your theme.
Plan a variety of programme
Do everything in moderation. Children's attention span are short so don't have too much of one thing. Too much of workshops are not good, but too much of entertainment is not entirely accurate as well. Choose a variety combining shows, fringe activities, tours, workshops, games, etc.
Bonus tips:
A few clients have asked if is there a need to separate age groups. It all depends on the activities which you choose. Certain shows or workshops may be 'lame' for the older children while others may be too difficult for the younger children.
Organising
Kids@work
is a science. Some of the factors which we consider when organising this event:
consider the psychology of making it interesting and motivated for children
calculate the average waiting time of each activity
plan the spread of the crowd
accessibility
safety
minimal disturbance to parents and other colleagues
the age group (eg. We had an amazing race for teens for one year. In another year, the theme was sport so we had foos ball competition for the older children.)
activities for guardians and grandparents who may be there to take care of the kids
Focus on Family has a download kit to help you kickstart on the programme of 'Meeting your Boss'
A lot of testing is required for to understand if each programme is suitable for the children. If it's your first time doing this, you can consider restricting the age group from 5 to 8 years old to make your organising more manageable. Expand the age group once you are successful. Ask us if you are not too sure what to do!
Let your event be the one which your colleague's children look forward to every year.