Whether it is baby shower, 1st year old birthday or 100th day celebration, it is your baby's milestone! With such a diverse culture in Singapore, everyone celebrates it differently! No matter what, it's time to celebrate with a party to bring friends and relatives together for the joyous occasion!
Baby Shower / Full moon Party / Naming Ceremony:
What are the differences between a baby shower and full moon party? They are essentially almost the same: everyone come together to celebrate the newborn's arrival. Some countries celebrate them before the babies' arrival or 1 day after. Hence when guests comes, they 'shower' gifts to the mother at the party, whereas other cultures host a baby shower to celebrate the transformation of a woman into a mother.
In Singapore, Chinese have traditionally regarded the completion of the full 30 days as baby's first birthday; hence full moon. (满月') The reason? Infant mortality rates were high in the past, hence reaching this milestone is worth celebrating.
In other words, the full moon celebration was an event to officially 'show off' mother and baby to everyone and to mark the beginning of the child's life. One of the traditions includes giving sweets items, kuehs, etc to everyone around you. Even if you may have already posted thousand of photos on Facebook, friends have already congratulated you, but nothing beats family and friends coming together to see the little baby.
100th Day Celebration
This is usually more common in Korea or Japan, but getting popular amongst Singapore parents. Reason for celebration by the East Asians is the same why Chinese celebrate full month. Many Singaporean now prefer to wait until Baby turns 100 days old before throwing a grand celebration because the baby sleeps less and mummy looks better! Having the party later means giving the family more time to plan a celebration which is worthy instead of rushing through one.
1st year old Birthday Party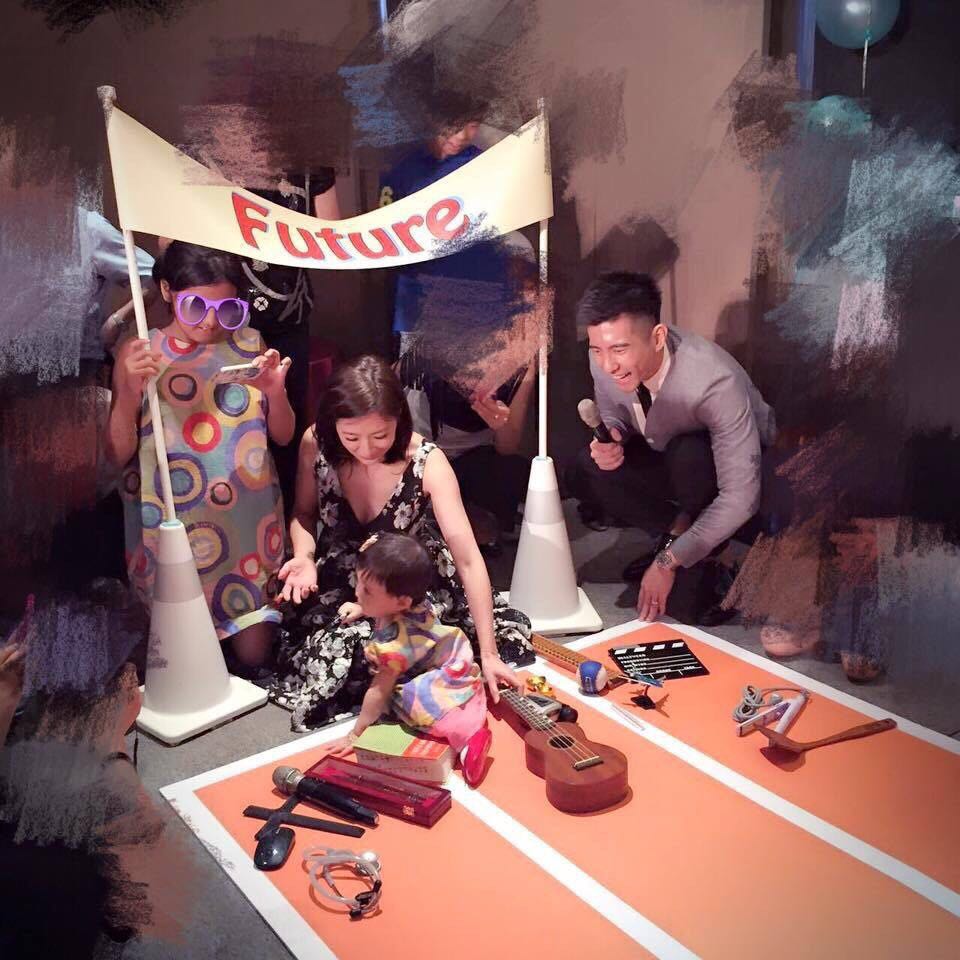 Everyone will agree that one year old party is definitely a big milestone, no matter where you come from! For instance, the Koreans (Dol Jalbi), Vietnamese (Thôi Nôi), Chinese (抓周 Zhuā Zhōu) and Japanese (Erabitori) will conduct a 'choosing ceremony'.  The primary purpose of the ceremony is to bless the child with a prosperous future and a healthy life ahead.
For instance, parents carry the baby under a 'gate' hanging onion shoots (chong) to symbolise that the baby will intelligent (chong ming). One of the highlights of the ceremony include having various items are placed near the child and he or she is encouraged to pick up one or two objects. Each choice represents a certain future of the child with respect to his or her career or a lifestyle. For instance, if the child grabs a calculator, he may become an accountant.
For Hindu, they may perform the ritual of feeding solid food to the baby (Annaprasanam) or shaving the kid's hair (Mundan).
Recently, there is a trend of cake smashing ceremony from the west!
This unique customised packages is one of the most versatile and value-for-money package in our company!
Get it for only $1600 $999!
Decorations
"Create a first impression"
Balloon Columns x 2

choose your favourite colour; recommended pink for girls and blue for boys.
Recommend to be place at the entrance of the party or at the secondary focal point of the party.

 

3D Birthday Banner (1.9 x 1.4m)

Customised to suit your event and baby's name
Great for photo taking
Includes stand
Fringe Activity

"Entertain Guests as they stream in"
Choose one of the following:

Balloons Sculpting (1hr)

Our sculptors can make any designs the children wants.
Recommended if there are children of various ages.

Face & Hand painting (1hr)

FDA safe paints
Recommended if there are many young kids or a mostly girl guests.

Caricature (1hr)

Recommended if there are mostly adults at the party
Can be roving.
Main Activity
"Highlight of the party"
Choose one of the following:

Hosting of Choosing Ceremony (30-40min)

for 1-year-old parties only
Lots of photo opportunity for the baby
Centre of attention for the family and baby (It's his/her day after all)
includes all props needed for the choosing ceremony
certificate as souvenir
Participation from all the guests with a guessing game.

 

2. Close-Up Magic Show (1hr)

Recommended if there are many adults at the party
Suitable for children as well
Roving
Increase interaction among your guests.

 

3. Birthday Magic Show (30min)

Recommended if there are a lot of children above 3 years old at the party
Lots of participation for the children
Subject to availability (Mr Bottle's Kids Party will have another magician in case Mr Bottle is not available)

 
We will help in the hosting of the cake cutting
Free e-invite (customised) / invitation cards
We will customise your invite to suit your party, with details so you can email or whatapp to your friends and relatives
Other Baby Shower Package available:
Baby Shower Packages
Perfect for baby showers parties as well as parties with very young children
INCLUDES

Total Duration

PRICE

Basic Baby Shower Package

Choice of one of the following fringe activity:

Balloon Decorations

30 Helium Balloons (Choice of standard colours)
Balloon Bouquet consisting of a set of 5 microfoil balloons (Choose your favourite theme)
inclusive of delivery

$320

Econ Baby Shower Package

Choice of one of the following fringe activity:

Balls pool with balls (circle pool of about 1 m in diameter, up to 3 hours)

Balloon Decorations

30 Helium Balloons (Choice of standard colours)
Balloon Bouquet consisting of a set of 5 microfoil balloons (Choose your favourite theme)
Balloon Columns x 2 (Choose your favourite theme)
inclusive of delivery

$690

Value Baby Shower Package

Choice of one of the following fringe activity:

Balls pool with balls (circle pool of about 1 m in diameter, up to 3 hours)

Balloon Decorations

30 Helium Balloons (Choice of standard colours)
Balloon Bouquet consisting of a set of 5 microfoil balloons (Choose your favourite theme)
Balloon Columns x 2 (Choose your favourite theme)
inclusive of delivery

Candy Buffet

A 1 x 1m backdrop
Table cloth / skirting / kapalin design (exclude table)
15 Kit Kat with customized labels
15 x Popcorn with customized box
15 x mineral water with customized label
15 x customized cup cakes
15 x customized cookies
1 tier 2D cake
Rental of stands and props

$1490

Premium Baby Shower Package

Choice of one of the following fringe activity:

Balls pool with balls (circle pool of about 1 m in diameter, up to 3 hours)

Candy Buffet

1.5 x 1.5m backdrop
Table cloth / skirting / kapalin design (exclude table)
20 Kit Kat with customized labels
20 x Popcorn with customized box
20 x mineral water with customized label
20 x customized cup cakes
20 x Lollicakes
20 x customized cookies
Choice of 2 types of desserts
2 tier / medium size 3D cake

$2500