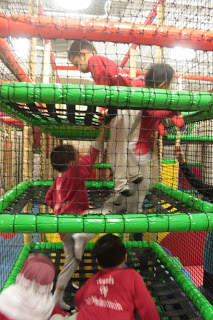 BEST INDOOR PLAYGROUNDS 1
Happy Willow An Enchanting Play Garden
What can be more fun than sliding down the mysterious tunnel into a huge pool of colourful balls or zipping across a flying fox over luscious bushes and landing on a fluffy bed of flowers?
This is the best time for parents to take a load off their shoulders at the Willow Lounge as you chill and savour little bites in a cup of coffee at the cafe.
Happy Willow is a unique indoor playground suitable for children as young as 9 months and up to 9 years old. To have a strong emphasis on safety and quality, Happy Willow worked with one of the world leaders in soft play equipment to design and create an enchanting Play Garden that is both safe and enjoyable.
With the Play Garden, Book Burrow, Party Rooms, Doodle Spot, Willow Cafe & Lounge and Playpen, what's lacking?
Want a Unique birthday celebration for your child's big day? Happy Willow is a must! With Happy Willow's experienced party hosts, you will definitely have a memorable celebration.
Happy Willow:
1 Fusionopolis Way, Fusionopolis, Connexis Tower, #B1-06 Singapore (138632)