BEST OUTDOOR FUN 1A
What's a Kampong? We guess most of the kids nowadays wouldn't even have heard of it, needless to say, seen a kampong. Don't be despair, Pasir Ris Kid's Kampong is the FIRST kampong set-up in 1997 to bring back the outdoor and kampong days experience for the city beaters.
Pasir Ris Kid's Kampong will definitely give the kids and also the younger generation a unique and unforgettable experience. Throw aside your compauter games, iphones & ipads, and step into the nature! It's a great weekend getaway for the whole family, probably the best way to escape from the busy city life.
While driving into Pasir Ris Kid's Kampong, there are very clear signages indicating the directions right from Pasir Ris Drive 12. Clear directions and map are also provided on it's website. Thumbs Up!
It is not considered too inaccessible for those who doesn't possess their own transport. Pasir Ris Kid's Kampong is just 6 bus stops away from Pasir Ris Bus Interchange. Just 7 minutes of walk, you will reach the exotic arena!
Stepping into Pasir Ris Kid's Kampong is truely like stepping into a real kampong! The whole place matches perfectly to the old kampong style (including the farm, fishing ponds, pet show corner, food & beverage stall, party corner and the photo gallery as well.)

Goose

Duck



Chicken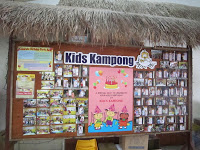 Photo Gallery 1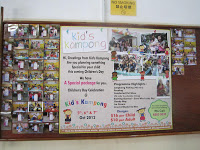 Photo Gallery 2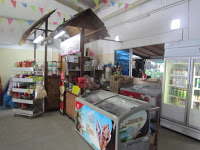 Food & Beverage Corner

The small F&B corner is the best chill out area after all the activities under the hot blazing sun. It serves tibits, cold drinks and of course not to forget kids favourite, ice cream!

Similar to most outdoor activities, Pasir Ris Kid's Kampong is subject to weather conditions. Business perhaps might be dismal during very hot and rainy seasons.
Just an additional point; it would be useful to include the Operating Hours on its website for reference of interested vistors.