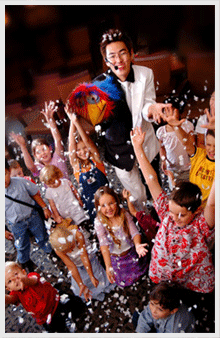 Close Your Eyes, Make a Wish – Mr Bottle Makes It Come True
Close Your Eyes, Make a Wish – Mr Bottle Makes It Come True

This September school holiday, Mr Bottle, the Children Magic Specialist, is going to fulfill one child's wish.
Date: 30th August 2008

Venue: Happy Kidz located at Suntec City Shopping Mall

Time: 12-8pm
Pre-registration of FREE Workshops starts now! Click here for more information.
The campaign of making a child's wish comes true is in collaboration with the first launch of Mr Bottle's Kids Club, also known as "Mr Bottle Secret Club".
Fun and creative workshops will be held free throughout this launch. The LNP Art School and Kooky Art is also conducting free workshops in the support of this launch. (Pre-registration for some workshops are able. Walk-in patrons will still able to join selected workshops.)
Mr Bottle's licensed characters like Professor Messy, N2 the balloon ranger, Twinkle Artist & Macro the Magic Explorer will be also present to entertain the kids at the launch.
Marco will perform his mysterious magic for the very first time in Singapore! Don't miss it! Mr Bottle will also make a special appearance. The programme will be updated on this page. Look out for it!
Mr Bottle's Secret Club welcomes all children below 12 years old to register and becomes a member of the club. Each member will get a membership card which will entitle them to a stamp whenever they attend Mr Bottle's Kids Party events or shows.
The members can also earn the stamps via contests or bazaars organized by Mr Bottle's Kids Party. With the stamps accumulated, they can use them to attend workshops organized by Mr Bottle's Kids Party or to exchange for premiums. The objective of this launch is to reward its valued customers for their support. "This is also another way to motivate and encourage our supporters to come to our events or shows," said Wee Kien Meng, the founder of Mr Bottle's Kids Party.
Mr Bottle Grants Your Wish
"Somewhere deep in the forest, there's a magical treasure just waiting to be found. With this magical treasure, Mr Bottle can grant a child's wish. Mr Bottle and his friends are determined to find the hidden treasure to fulfill all the kids' wishes."

Abstracted from Mr Bottle's Secret Club's story.
Write in to Mr Bottle about your little wish, and why you want that wish to come true together with your name, parent's name and contact number/email.
The most interesting/meaningful wish will be granted by Mr Bottle on 30th August 2008. Please send your wish-list in your own words or pictures by 23rd August 2008 to: "52 Teban Gardens Rd #09-591 Singapore 600052" or email to: info@kidsparty.com.sg.
Children welfare organizations are welcome to participate. Call us at 65155921 for more details.
Story of Mr Bottle
Once upon a time, there was a very shy child. So shy that he did not dare to talk to anyone in school. One day, his father bought a bottle of magic for him. "In it, is a potion that will make you grow brave and strong."
Every morning, he would open the bottle for some magic. Day by day, he began to make more friends. jOne day, he saw his good friend cornered by Billy, the big bully. Believing in the magic, he chased Billy away.
Many years later, he discovered that the bottle was actually an empty bottle. Believing in the magic has changed his life. This child is none other than Mr Bottle the Magician, who believes that nothing is impossible.