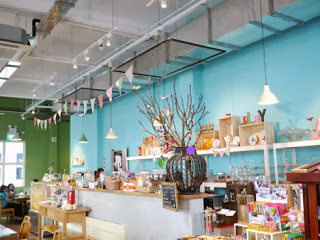 EatPlayLove Cafe


Cafe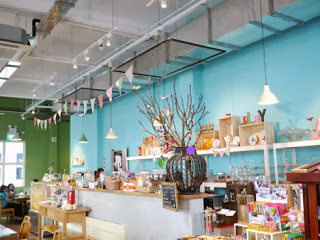 Hunting for a Cafe where you can relax, while the kids can use the imagination to do craft? Running out of ideas to bond with your family? Missing the old school charm you had? Love to do handicraft but find it cumbersome to get all the materials?
If it's a 'YES' to one of the above answers, EatPlayLove Cafe is one stop that you cannot miss for your next outing with your family or friends.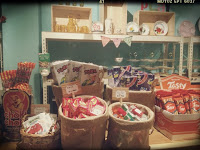 The Cafe is situated at Aliwal Street, off the buzz from Bugis. It serves Thai delights with simple western fare at affordable prices. The cafe also sells old school snacks and toys like Ding Dang & aeroplane.








Kids Craft Corner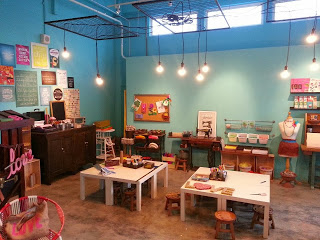 Craft ranging from coloured beads, coloured pasta, strings in rainbow colours,
crepe paper, crayons, markers, glitter glue, cardboard egg trays, bottle
caps (plastic and metal), paper plates, Yakult bottles, coloured furry
balls, feathers, confetti and a whole lot of others! The cups used are the old school metal cups and the water at the water
station is stored in an old school thermos flask!If you're a big fan of
retro stuff, you difinitely cannot miss this place too~


Think that it will cost you a bomb to use the craft corner? Then you are wrong… Simply $5 is enough to fill up your kids for 2 hours during the weekdays & 1 hour during the peak period, on weekends.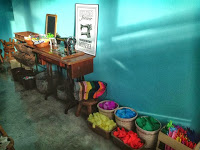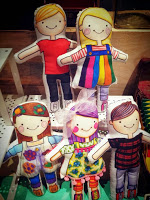 Some handicafts which you can do with the kids include DIY dolls, shrink art, necklace, handbag, key chain, puppets, rings, and the list never ends.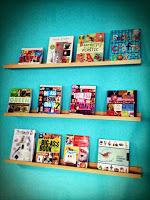 Get inspired! Browse though the Crafty Books before getting started.
Party Packages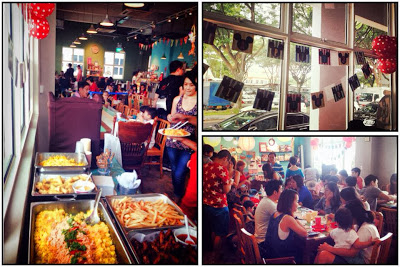 A unique and fun way to celebrate your kid's birthday party at EatPlayLove.You can book the entire craft corner or even the whole cafe for your party! Isn't it great to get the kids to DIY something on the spot for the birthday kid?
As kids are charged only 50% of the adult package price, and kids craft are charged separately based on the no. of pax joining in, this is very attractive and fair to the client.
Decoration packages are also available for your party. Although own decoration is allowed, their client is only allowed to set-up & remove within the party slot of 2.5 hrs. It seems like restricting their clients to have their own preferred decorations and kind of 'force' them to get the Cafe's Decoration Packages. We do know of some restaurants where helium balloons are included in the party packages. Moreover, they also help their client to helium-fill the balloons the client bought and add into the party too. Hence, this is a point they might want to review on, in order to remain competitive in this industry.
Personally, we think that there should also be more Helium Balloons included for the higher-priced packages, then it will be more attractive to their clients and a better way to up-sell their decoration packages. They should also print their Cafe's logo on the helium balloons, for marketing purposes, as the kids can bring home after the party.
Party host is also not included in the package. We think that a party host is important in this kind of setting. As least the client and their guests will have someone to attend to whenever required. Cake-hosting is also what most parents would require in a party, rather than simply 'renting' out the venue.
The Cafe only opens at 12pm, even on weekends and PHs, we think that they should open slightly earlier, e.g 11am on weekdays and 10am on weekends. On top of that, with their kitchen closed from 3pm-6pm on weekdays, parents will think twice before going into the restaurant, as they and the kids will not have something to munch on while the kids are doing the craft.