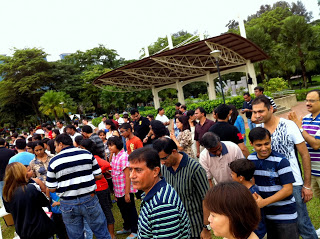 Family Day Inspirations: Go Green with Family!
The move to go green and reduce our material and resource usage or wastage is really important for our sustainability and for the future generations. Here at
Mr Bottle's Kids Party
, we constantly make sure we use the lights in the office only when we really need them, and we have a recycle box for used paper, flyers and envelopes we get in the mail. So it is really exciting when a company wants to do a Green-themed Family Day!
NYK Shipmanagement's Family Day had Mr Bottle and friends gathering at 7am on a Saturday at West Coast Park to begin the preparation for the event starting at 9.30am. We had booked the Grand Lawn at West Coast Park for the event, catering to 300 people. There was a lot more space available for the public to use, and the entire space probably could easily fit up to 1.5k people. We understand that you could book various spaces around the park for holding your activities.
For the event, we had a banner and EDM customized for NYK Shipmanagment's publicity purposes, and the banner doubled up as a backdrop for the stage area – a really good way to reuse resources.
A Family Day cannot be without bonding activities for the family to take part in together, and also for colleagues to learn more about each other. Mr Bottle specially planned a telematch. 5 teams of 20 people, 3 relay games, and 30 full minutes of FUN! Of course, the games were customized to fit the Green theme. "Water is Precious", "Toxic River" and "Global Warming".
The games challenged the teams to invent creative methods in order to fit the rules of the game. There were some very brilliant ideas, which also produced much laughter from everyone.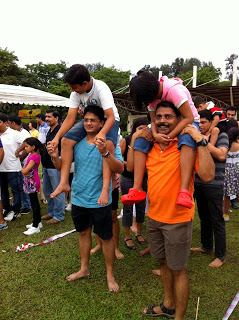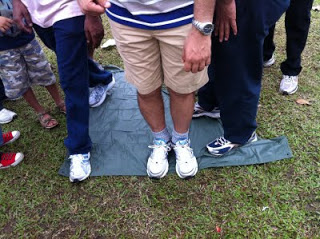 Besides the telematch, there was time for breakfast, and lunch, and also some Mr Bottle's Popcorn and Candy Floss for snacking in between.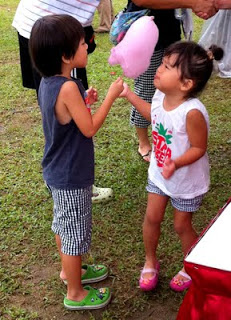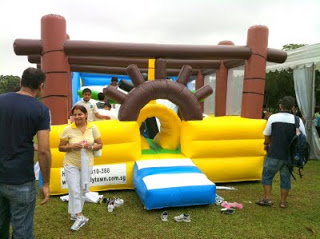 Other popular activities that were specially catered for the children at the Family Day included a Pirate Themed Bouncy Castle, and our special carnival games Shooting, Basketball and Racing Car. Many children walked away with a whole packet of exclusive Mr Bottle's Kids Party souvenirs.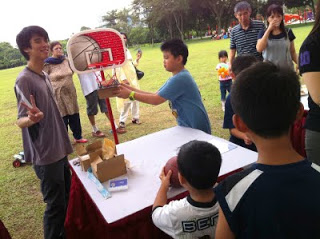 All in all, the event was a big success for us as it was clear that everyone really enjoyed themselves thoroughly. There was a strong sense of camaraderie between the staff of NYK Shipmanagment during the telematch as well as the stage games. We hope you all had a real good time.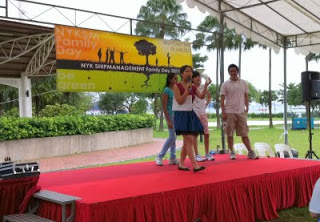 For more information on how you could have a special family day planned by Mr Bottle's Kids Party, send us an email at info@kidsparty.com.sg, or call 6515 5921. Hope to hear from you soon!