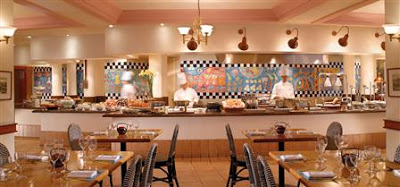 Kids Friendly Restaurant 1
It is not easy to find a Muslim restaurant in Singapore, needless to say a nice Muslim buffet restaurant. Hence, Asian Market Cafe is a very good selling point to all our Muslims here, as it is a Halal-certified Buffet Restaurant. Now you will have a place to dine with your Muslims kakis!
Located at Fairmont Singapore, Asian Market Cafe is located right at the hub of Singapore and it's just a couple of minutes walk from City Hall MRT.
They serve Hi Tea Buffet on weekends for 4 hours, 12.30pm- 4.30pm! As compared to most other Hi Tea Buffet, which is only available from about 12pm – 3pm. This longer hours will attracts those who are working half-day on weekends or those who are only available to sit down to have a good meal during the later part of the afternoon.
The price is reasonable for the wide range of asian food; from appetisers, main course to DIY dessert stalls.
This is also a fantastic place to hold celebrations like Engagements, Birthday Parties as the restaurant has a large sitting capacity and also a private corner ideal for bookings. If your celebrations happens to be during the time where the fringe activities are being held, you and your guests will get to enjoy Face Painting or Balloon Sculpting absolutely FREE!