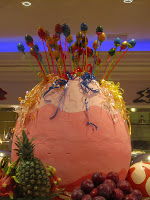 Kids Friendly Restaurant 3
Walking into Orchard Cafe, the most prominent thing is the centre piece surrounded by the mouth-watering food. The center piece is also changed regularly to give the restaurant a fresh new look.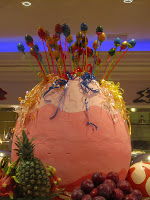 Orchard Cafe incorporates western and local flavours, buffets with a selection of made-to-order dishes at the live-cooking stations. It serves breakfast, lunch and dinner daily and Sunday brunch as well. For their Sunday Brunch, 2 kids (< 12 years old) get to eat for free with 2 paying adults. Together with a roving activity and another fringe activty at the kids corner from
Mr Bottle's Kids Party
, we guessed this is the reason why the restaurant is always filled with people of all age groups; from grandparents to their children and grandchildren.
The reasonably large kids corner comes with sofa for the parents/ grandparents to chit chat while accompanying the kids. There are also tables and stools for the kids activities like Easter Egg Painting on Easter,
Face Painting
, Arts & Craft, Air-brush Tattoo & Stick-on Tattoo.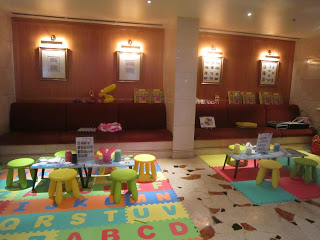 Kids Corner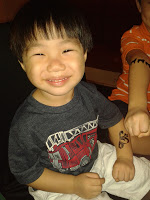 Air-brush Tattoo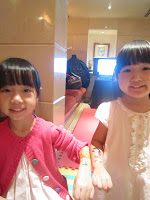 Face Painting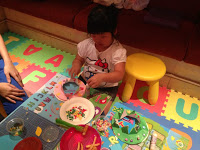 Arts & Craft
However, the kids corner is rather dimmed, with certain part very glaring and other area quite dark. It could be better if the lighting is more uniform. The stool is rather high for the low table. Hence, it's not very comfortable for the kids to work on. To get around it, some kids would rather sit on the floor. As the diners need not remove their shoes at the kids corner, and the kids are allowed to bring food to the kids corner to dine while having the fringe activity, we think it is quite unhygenic as their hands will come into contact with the floor mat.
To improve on the hygiene, the restaurant should, firstly, have tables with stools of suitable height. Secondly, make removing of shoes compulsory when entering the kids corner. Thirdly, add a hand sanitizer at the kids corner. Finally, the restaurant should not allow food to be consumed while the kids are having the fringe activity.