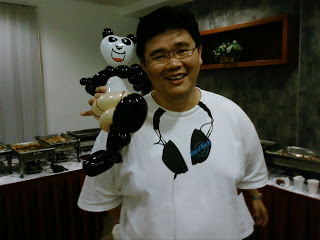 Kung Fu Panda!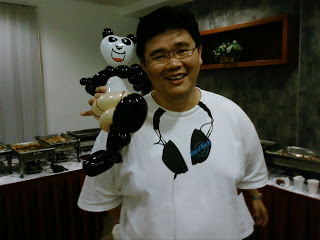 What our client says: "I just want to send a personal thank-you note for the exceptional service level of the balloon sculpturing artiste as well as the caricature artiste for our birthday party yesterday.
They simply amazed each of the guests attended, and were extremely patient to all sorts of requests put up by our enthusiastic guests. Even a request to make a kung-fu panda balloon sculpture at the end :O) We were amazed and grateful for their professionalism, patience and understanding.
On the whole, they helped us make the birthday party a tremendous success. And all our guests had a wonderful and memorable time, and so did we!
I also like to thank the caricature artiste personally. He was very thoughtful and kept asking us (the host) to have a caricature of our own. If he had not reminded us, we would have missed out having our personalized caricature as a wonderful momento, due to our running around to entertain the guests. Also the complimentary paper cutting for all was another tremendous bonus for all. He was simply impressive drawing at lightning speed with both hands, and has given each guest a personalised caricature to take home with.
Thank you once again. Have recommended all our friends to use your services for their future parties. Hope we will be able to utilize your service again soon. "