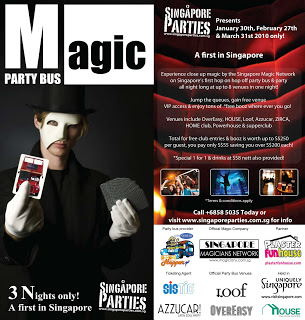 Magic Party Bus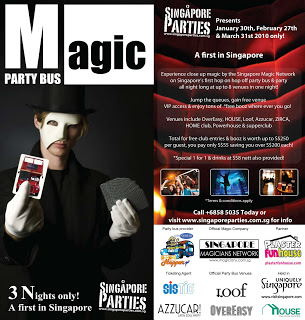 Recently, we had been performing a lot of close-up magic for adults with rave reviews! From a 21st birthday party, trade shows to corporate parties, close-up magic is one of the best entertainment for such event.
"Thanks for your performance tonight. My friends really enjoyed themselves."
We are working with Singapore Parties to launch the Magic Bus. This bus allows you to cut the queue at nightspot and get free drinks. I feel that the intimacy of being on a bus and having magic will bring groups who are partying together!
If you email us and mention "Singapore Magicians Network" on the day of the party, you will get a 15% refund on the tickets without food and 10% with the food. Book your tickets at Sistic here.
To see what it is Magic Bus is about, check out CNA's video here.
The first bus leaves on 30 Jan so leave your kids for your nanny and see you there!