Magic Show for Schools, Family Events & Venues
Magic 'in a Bottle' Show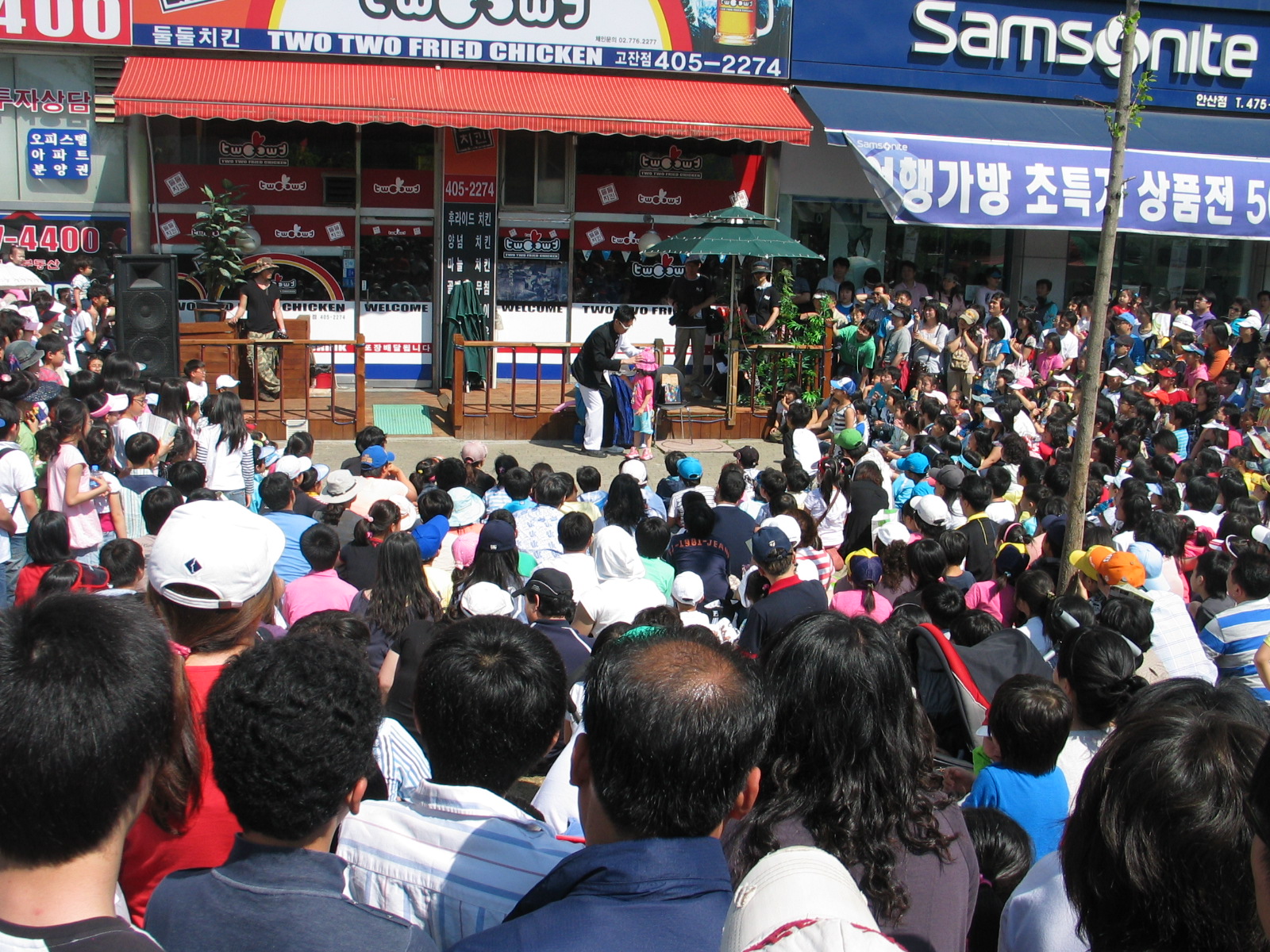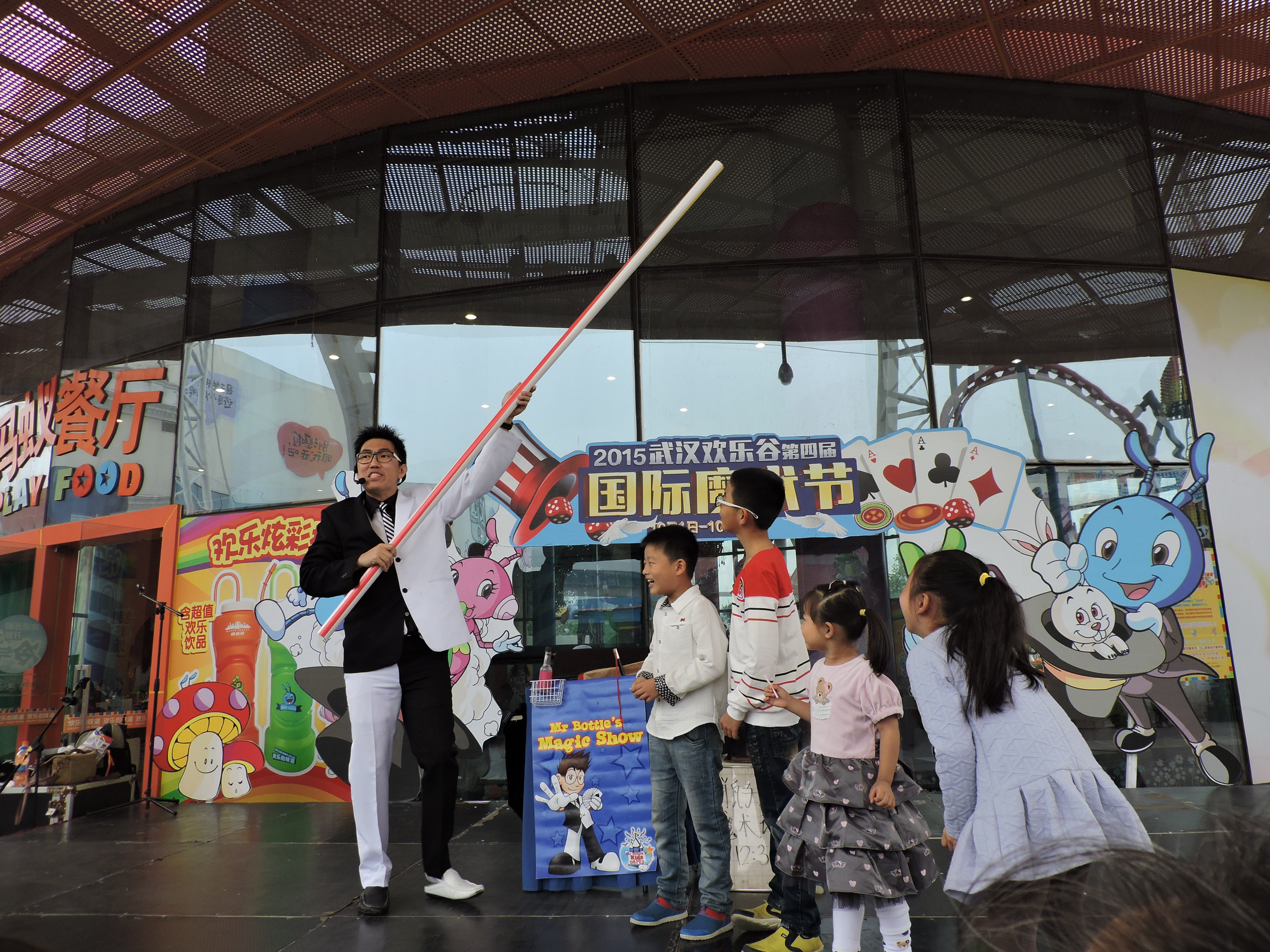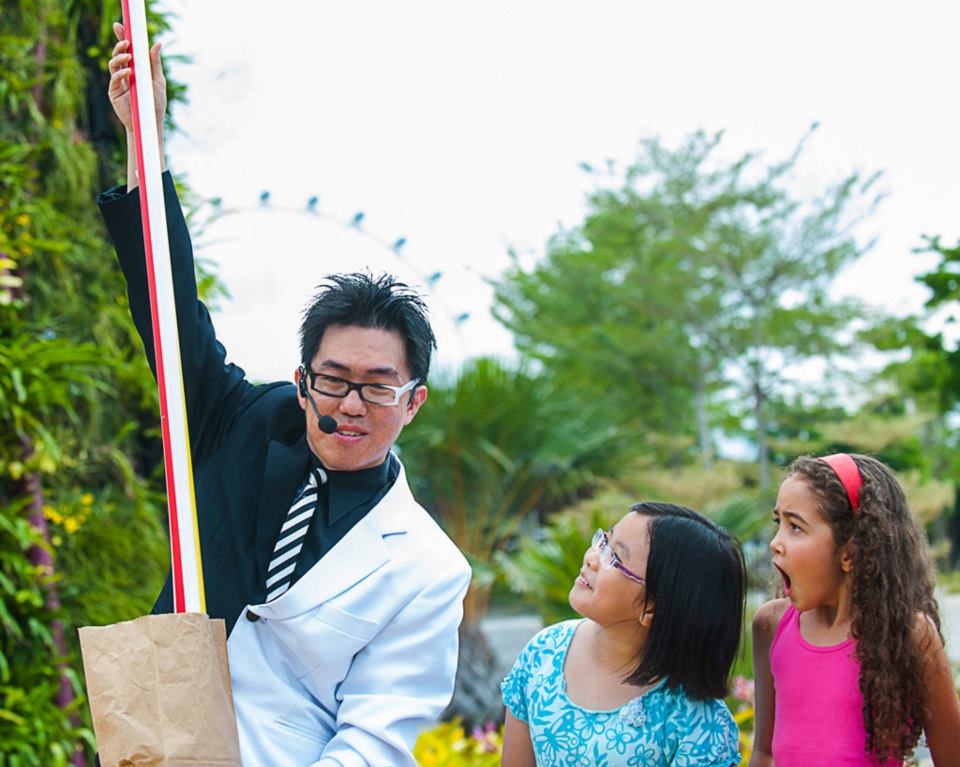 The theatrical Magic 'in a Bottle' Show is one-of-kind-show which has received rave reviews from Champion magicians around the world!
"His show was open to the public and it was a big success. All that attended had a GREAT time. He was very entertaining and very good with the kids. The parents and the kids all walk out with a smile on their faces."

— Mike Miller, The Society of American Magicians, Past National President
This show is suitable for: 
School Assemblies
Shopping Malls
Arts Festivals
Theme Parks
"I had so much fun when I see your show for the first time. When I watched it the second time, I realised it is very intelligent."

 

— Kohei Kobayashi, Kuso Artist / Magic Consultant
The Magic 'in a Bottle' show has brought Mr Bottle to around the globe, including:
Family Festival in Taichung (Taiwan)
International Children's Day celebrations in Shangri-La Hotel, Huhhot (Inner Mongolia, China)
Grasso's Theatre in Philadelphia (USA)
SM Mall in Xiamen, China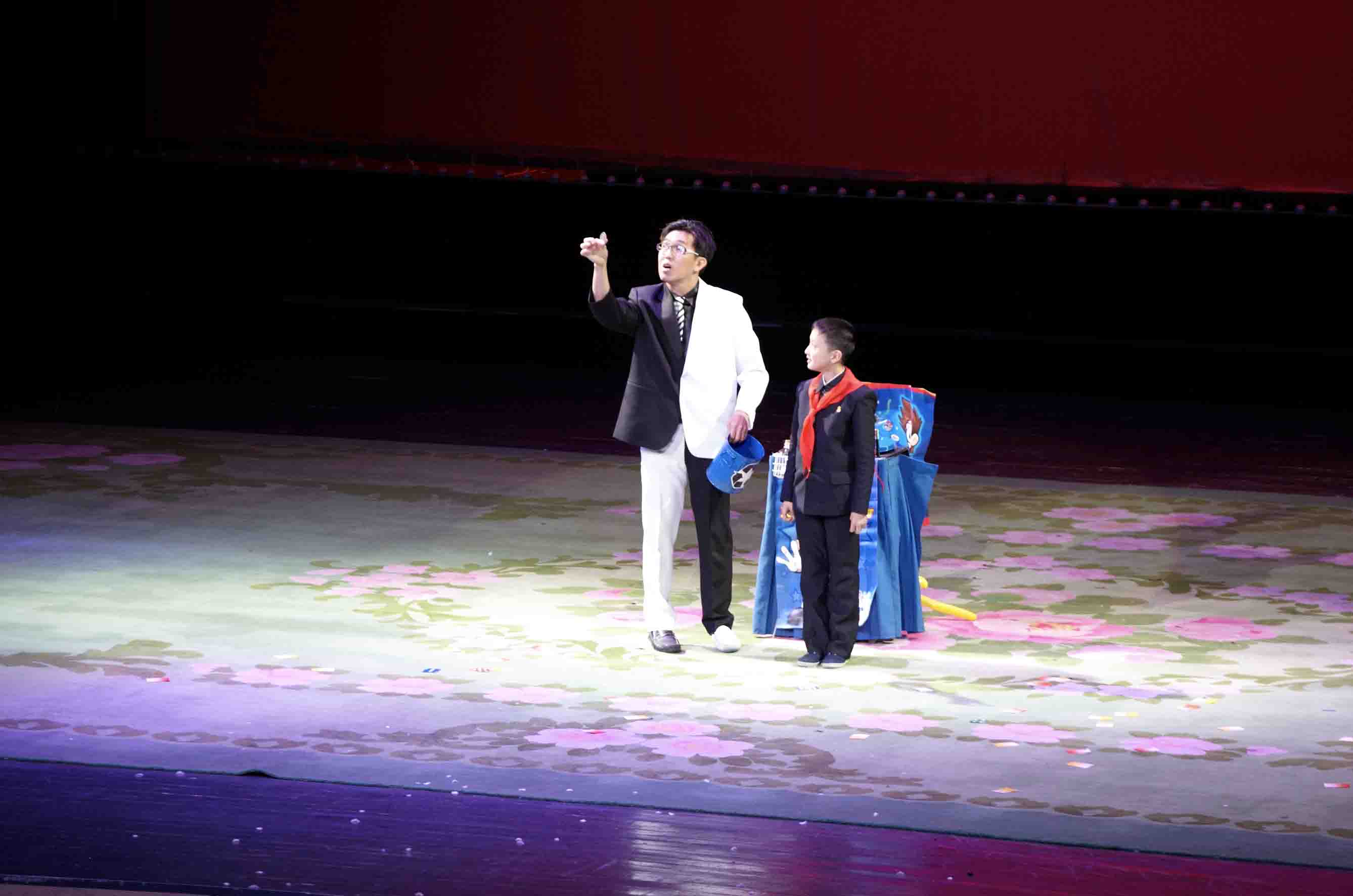 Mr Bottle's performance at the 31st April Friendship Spring Art Festival in Pyongyang, DPRK.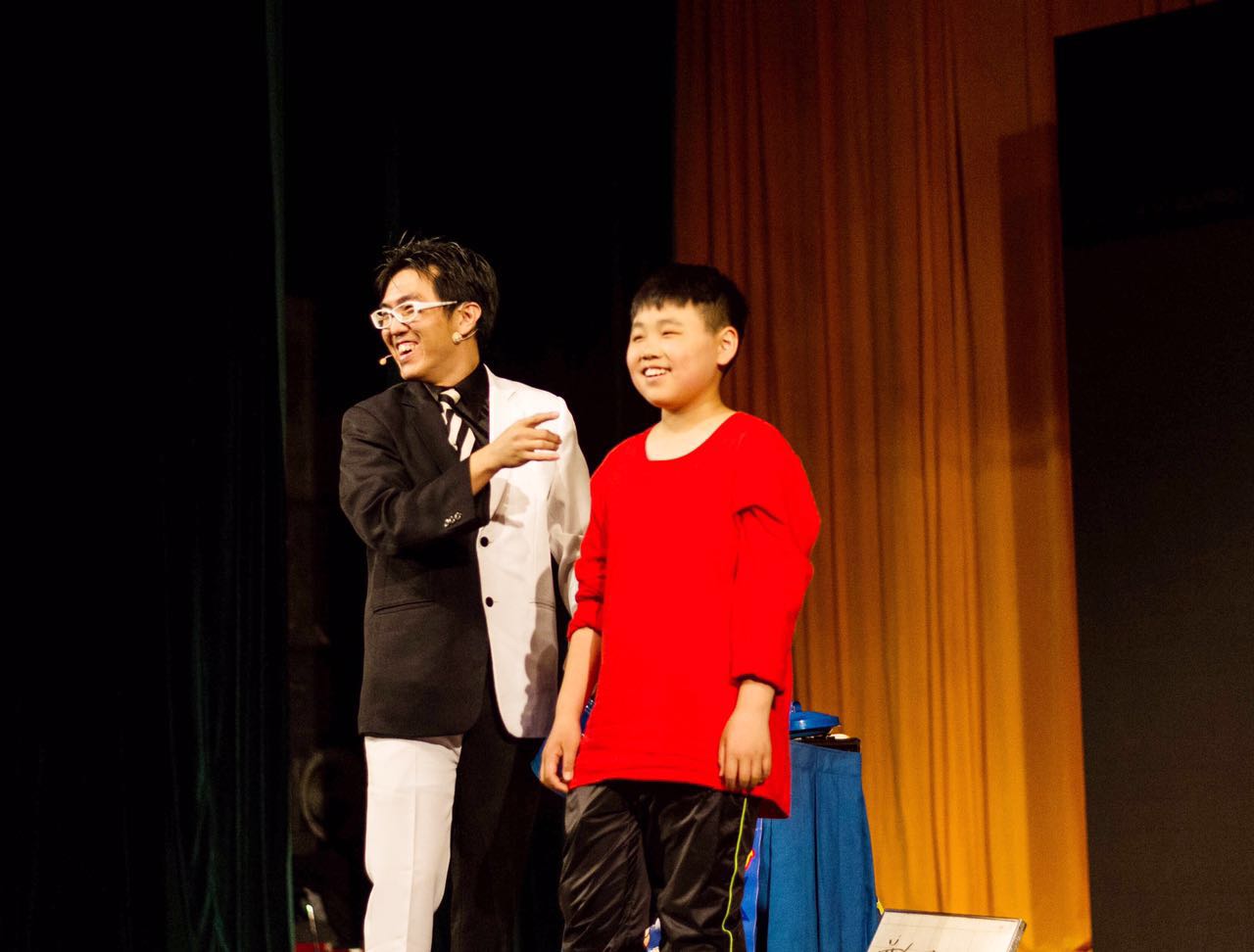 Mr Bottle's magic show at Zhejiang University Magic Convention in Hangzhou, China.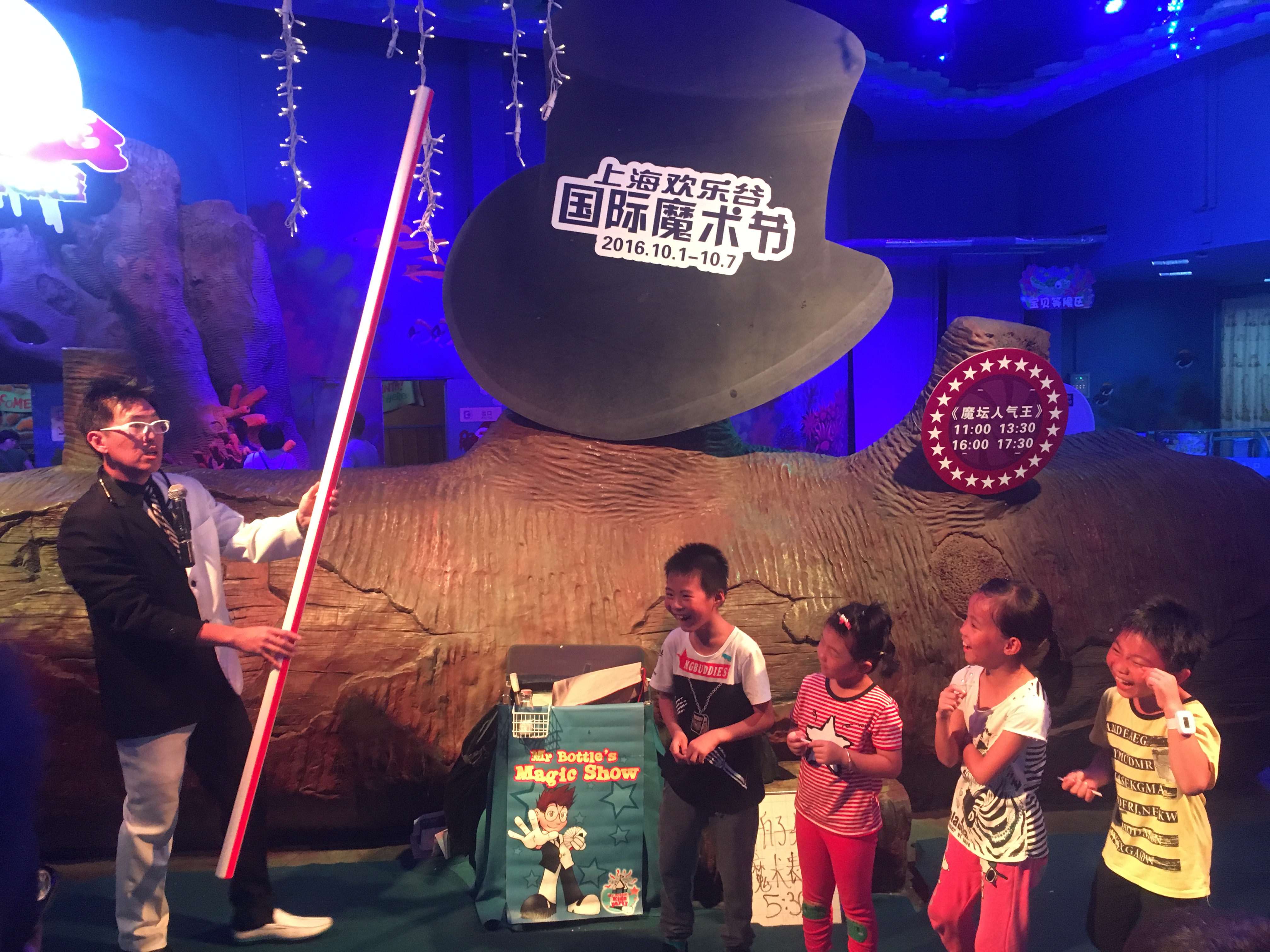 Mr Bottle performing in the kiddy area of Shanghai Happy Valley theme park, China.
Why is it raved by customers and even magicians?
Professional magicians know that it is not easy to excite children while keep their attention throughout the show. Mr Bottle artistically strikes a balance by including amazing magic great for everyone; even adults while pacing the interaction and making the show fun for the children.
The icing on the cake is how this show has a sub-plot of the bottles appearing and disappearing repeatedly within the show, winning praises from many magicians (due to the technical difficulties of doing this),  keeping the adults intrigue, while fascinating the kids with the magic!  This is the only children show done like this in the world because of the complexity of creating and the technical difficulty of including this in the whole act.
Your guests, children as well as the adults, will be asking for more. They will have an unforgettable day with Mr. Bottle's magic show!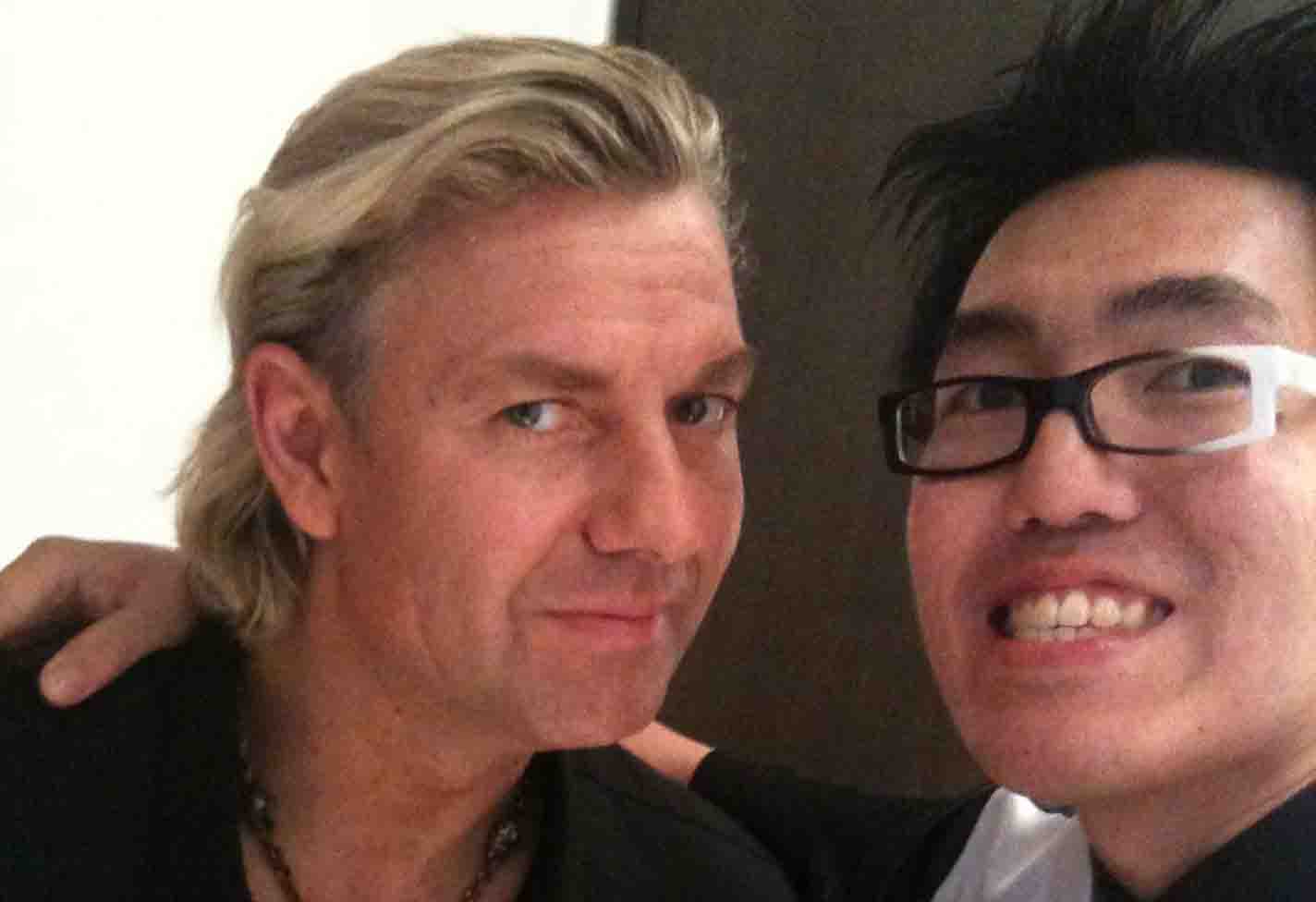 "You did a great performance today at the St Regis! The kids love your style and you are very entertaining. Your magic show was a hit at my daughter's 8-year-old birthday party and her friends raved about it!" – Joe Labero, Swedish celebrity magician.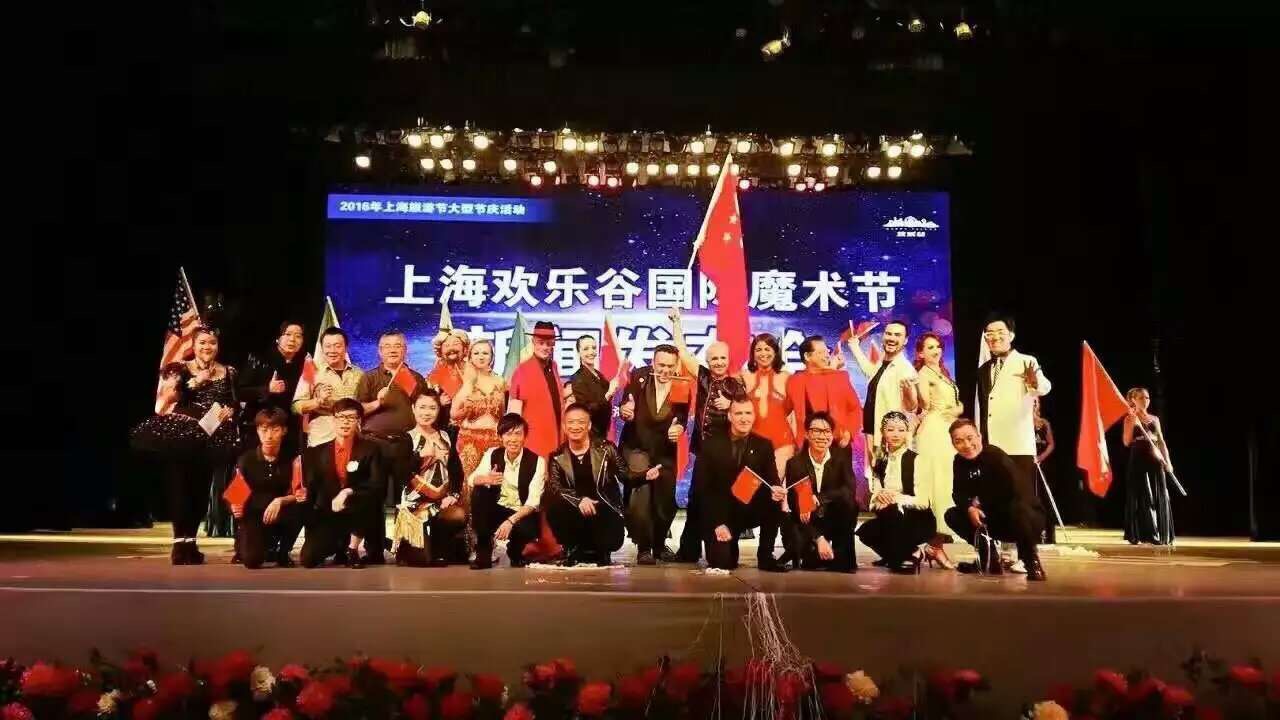 "You fooled me twice!" – Chris Randall, award winning magician, who watched Mr Bottle's show in Shanghai Happy Valley.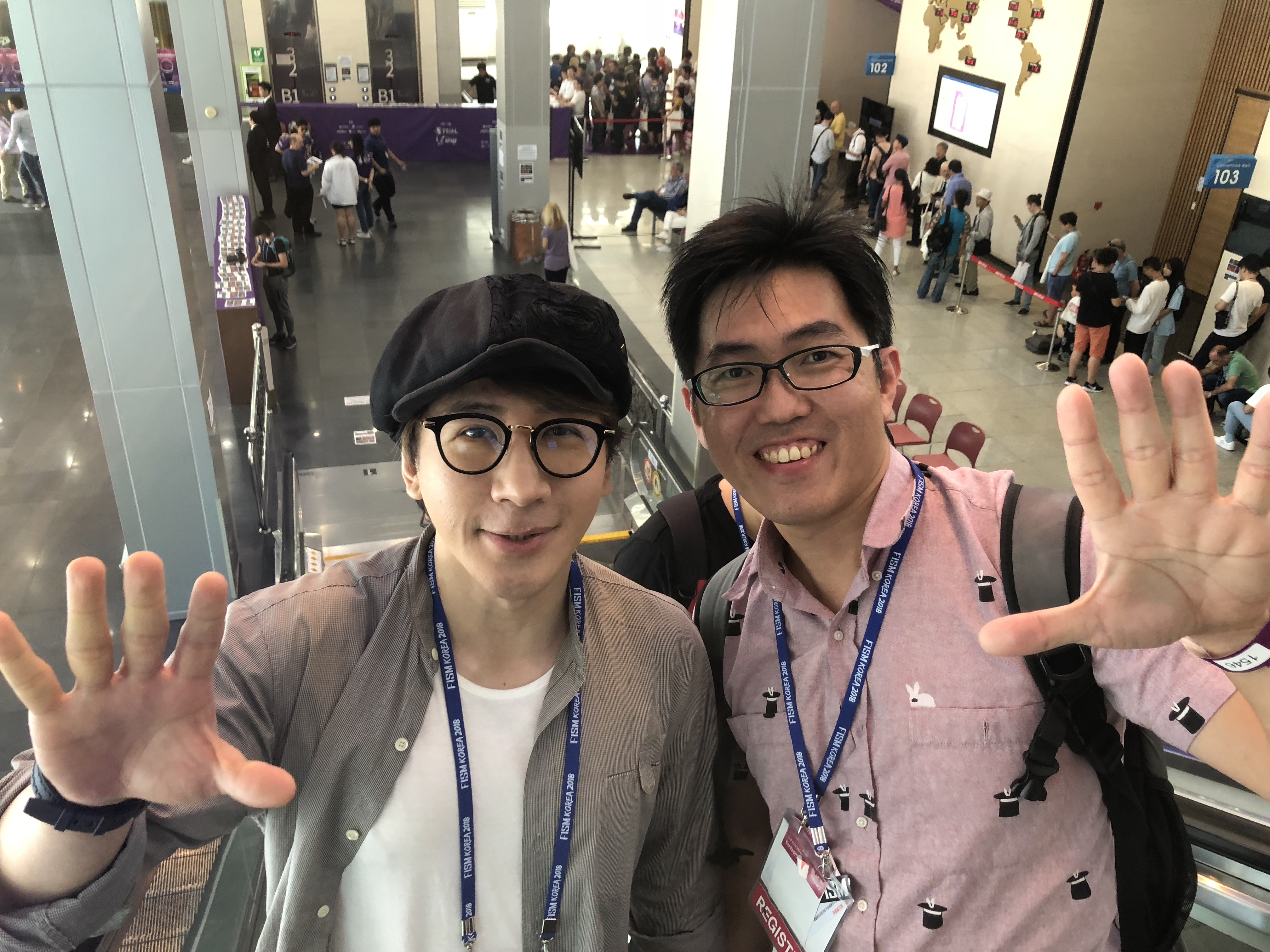 "It was a fun show" – Liuqian, celebrity magician, who watched Mr Bottle's show in Shenzhen, China.
Motivational? Educational?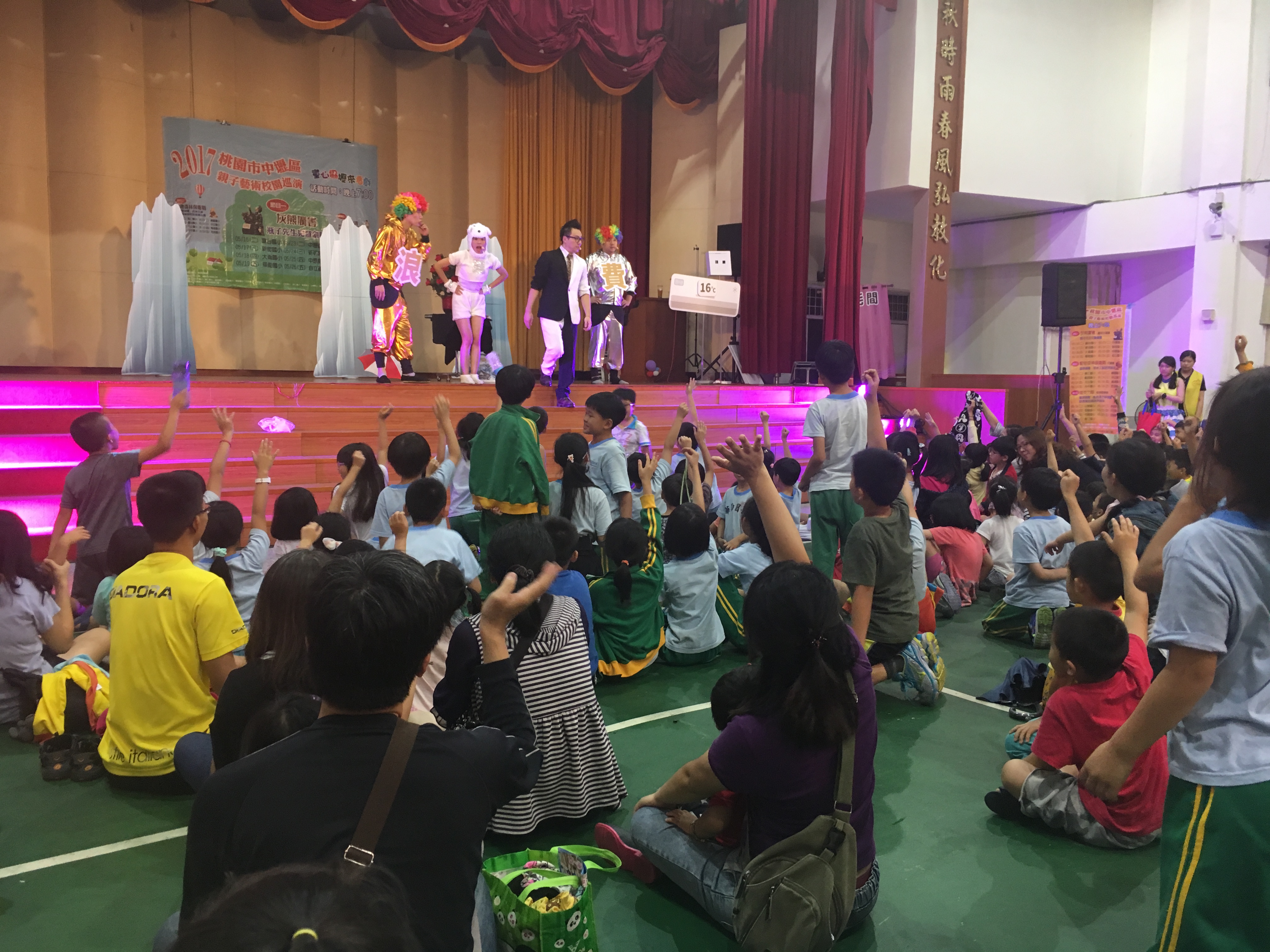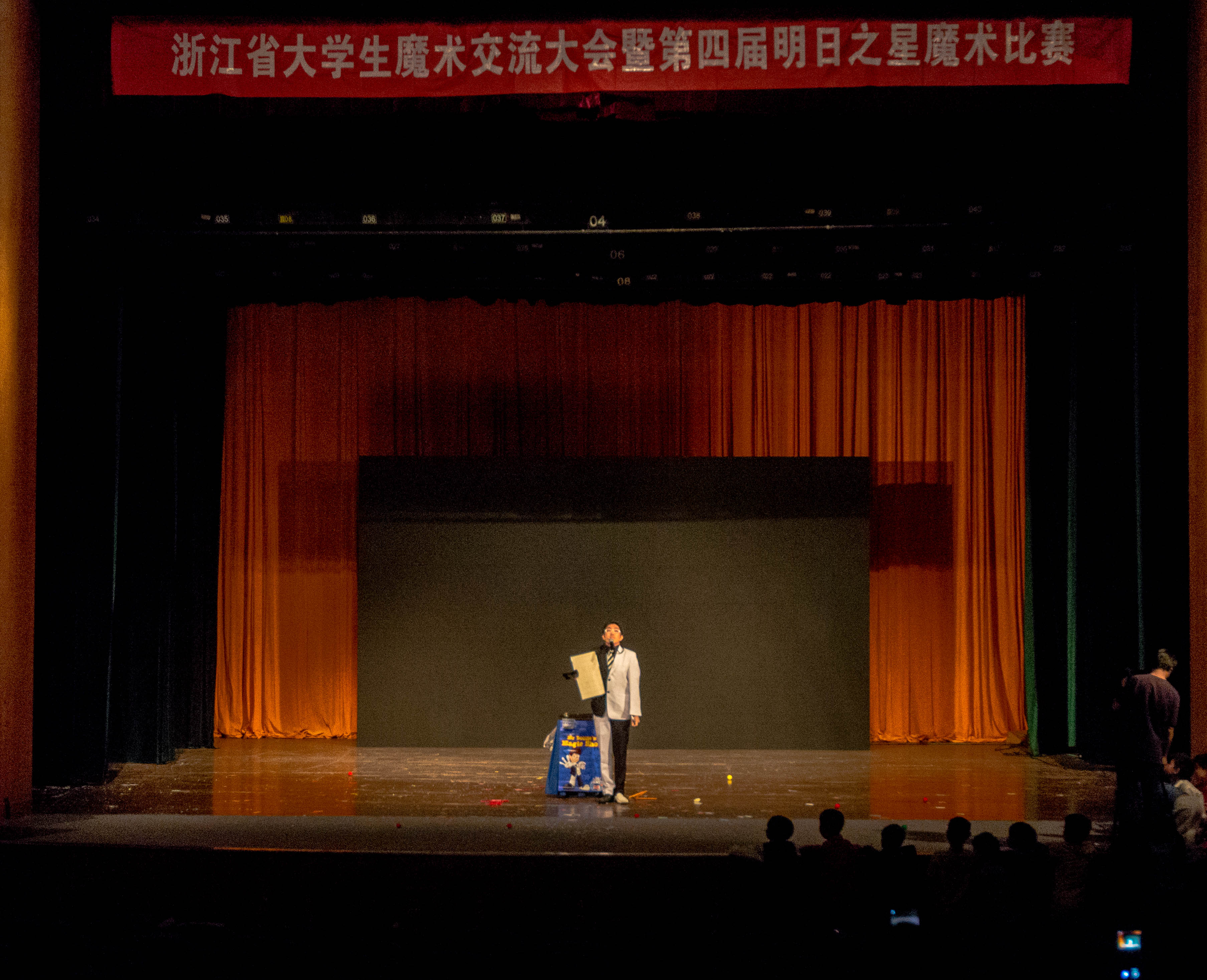 If you are school looking for a different kind of assembly programme, the Magic in a Bottle Show is perfect to motivate students to try their best and dream big!
Incorporating his passion in magic and ambition to inspire people around him, Mr Bottle has created a 18min TEDtalk-like presentation about the Story of Mr Bottle and how he overcame all odds to be a successful magician.
This topic inspires children to channel their imagination to believe in themselves and that nothing is impossible; just like magic! Whether it is the first day of school, Children's Day, Teacher's Day or your weekly assembly, this performance cum talk is a great and fun show and topic which students can discuss with their teachers.
This show is also available in Mandarin if you want it for your Speak Chinese Week. Other educational magic shows are also available too!
Ask for Mr Bottle for your Family Events!
Ask for Mr Bottle during your family day when you book it through your event company!
Several years ago, an MNC booked Mr Bottle direct for the first time for their family day at the Night Safari. One of the families mentioned that, "we are staying to watch your show, by the way." She explained that usually they will skip the magic show and go to play at the venue directly since the shows were pretty boring and all the same. They were so impressed with Mr Bottle's close-up magic that they just had to stay! (The MNC went on to book Mr Bottle for 10 more customised shows for school assemblies.)
Choose the magician which make your colleagues (children and adults) want to watch! The more people wanting to watch it, the more value for money it is!
As an international traveler, I have had the opportunity to witness many children entertainer/performers and never have I seen one quite like you. You held the children mesmerized with your wonderful presentation. The thing that impressed me was how you made each child feel special, especially the child that was being honored. It even appeared that some of the parents were taken back to their childhood as well with the magical performance.  It gives me great pleasure to recommend you, (Mr. Bottles) to those who want excellent entertainment for their children. Thanks again for your magic and keeping us forever young.

– Kenrick "ICE" McDonald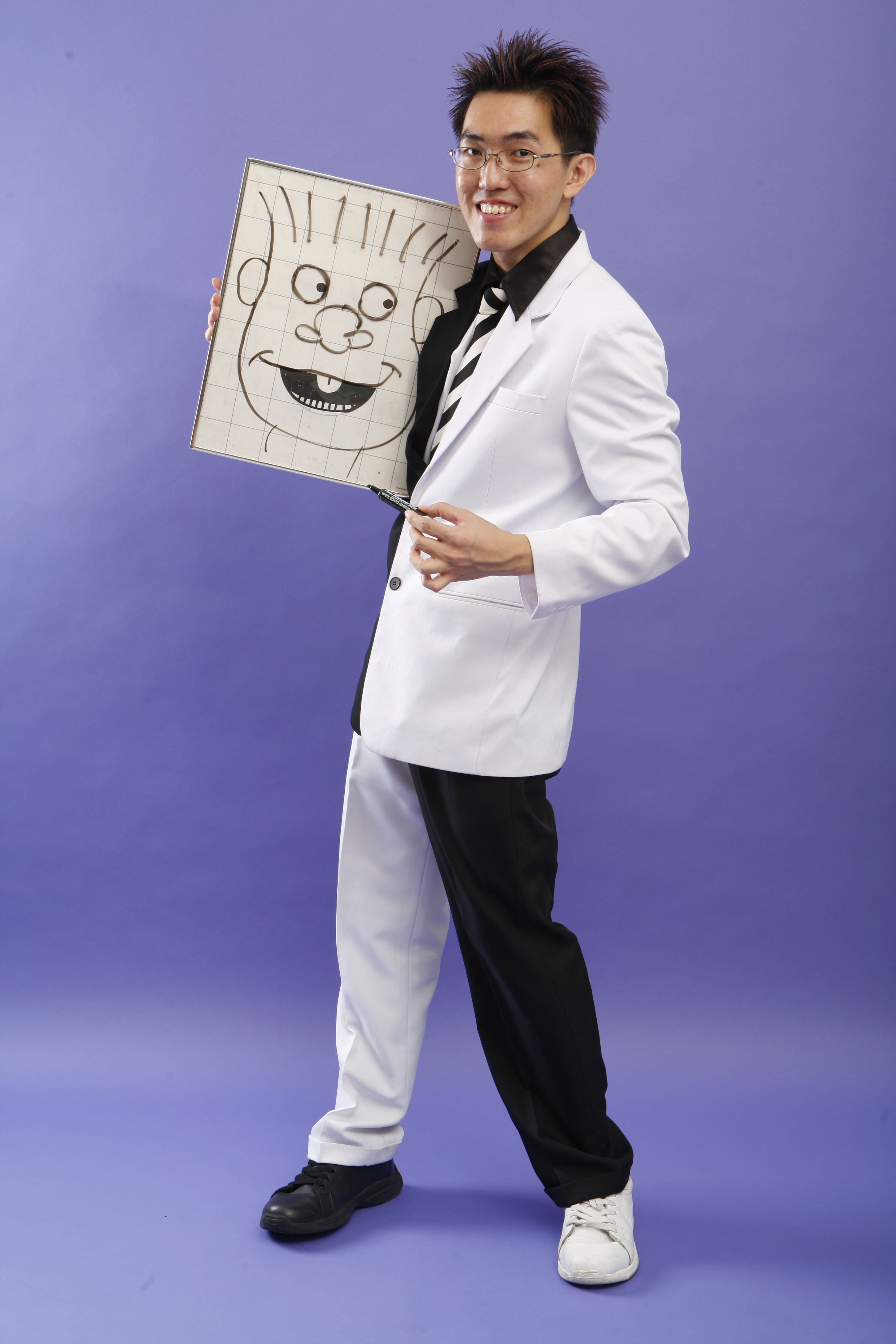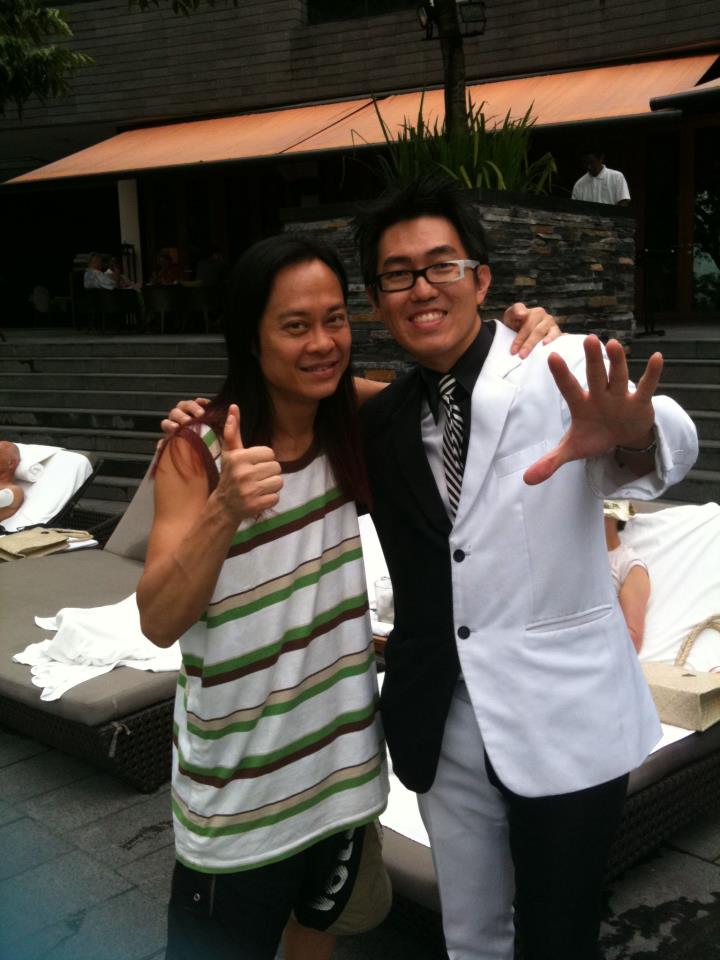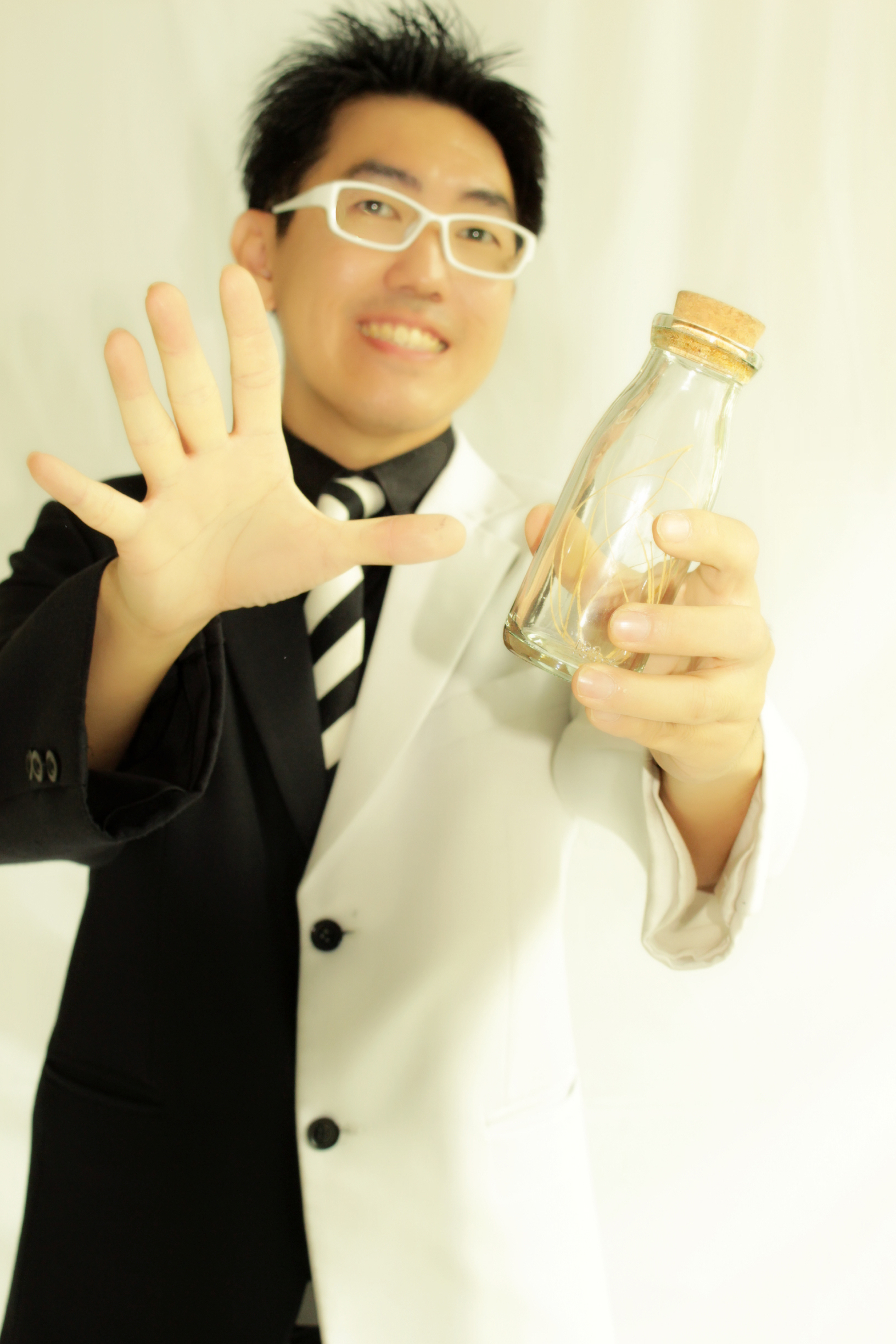 Shopping malls, get a magician who can connect with your shoppers! 
"We really enjoyed the Mr Bottle's magic show in RWS on 27 Dec. It was the first time that I saw my daughter who usually is a very shy person raised her hand to go up to the stage to be the magician's helper, so it was a very special experience for her and for me. Thanks again for that."

 

— Seunghee
Mr Bottle has worked with many family malls like SM Mall in Xiamen, Global Harbor in Shanghai, Harbourfront Centre and Hillion Mall in Singapore.
You can even talk to us to customise to suit your event and theme. We can even incorporate giving away vouchers from your tenants in the show.
Mr Bottle connects with the spectators to create a positive shopping environment to increase customer satisfaction.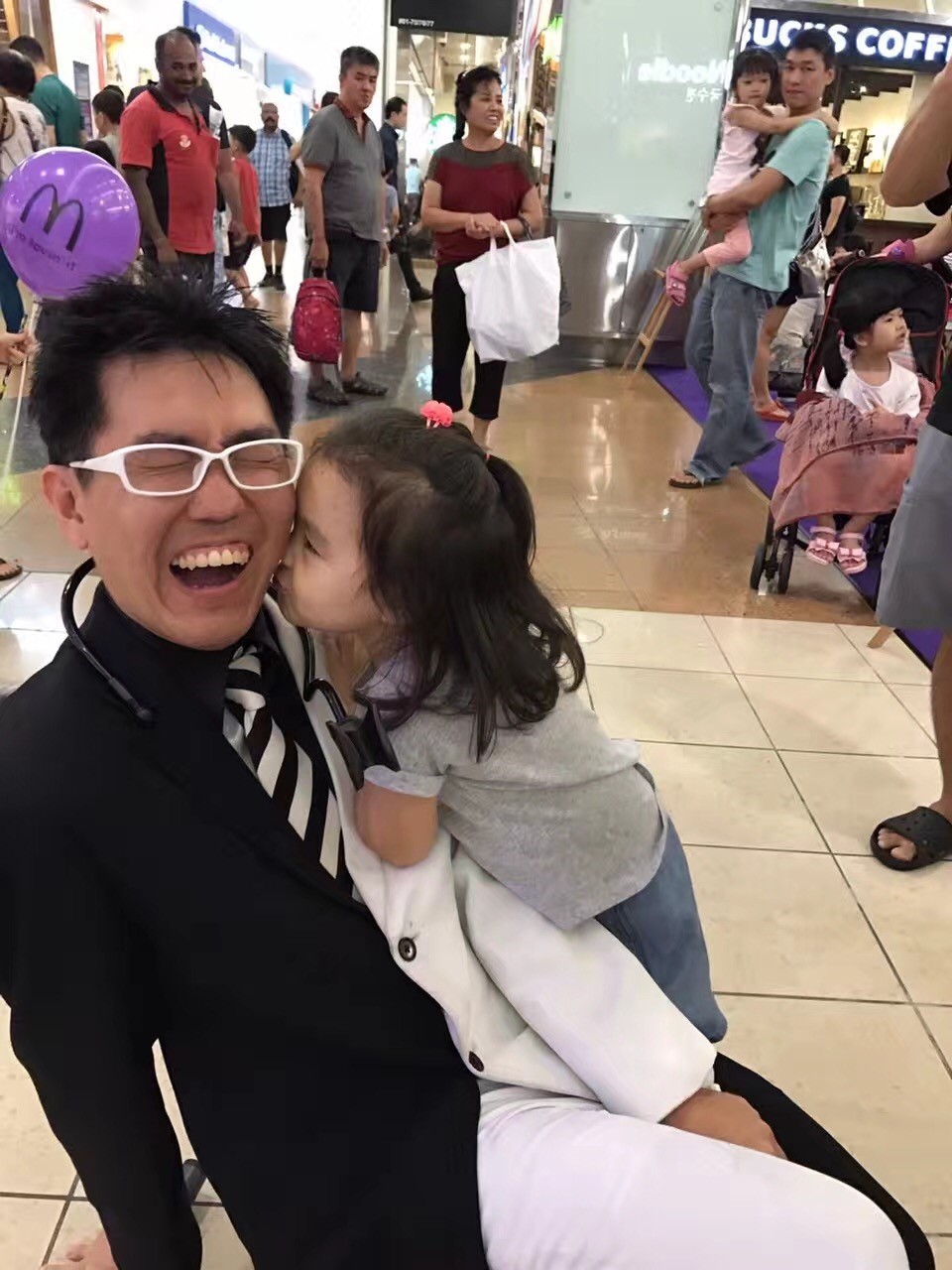 Mr bottle getting a kiss from an audience member after his show at the mall.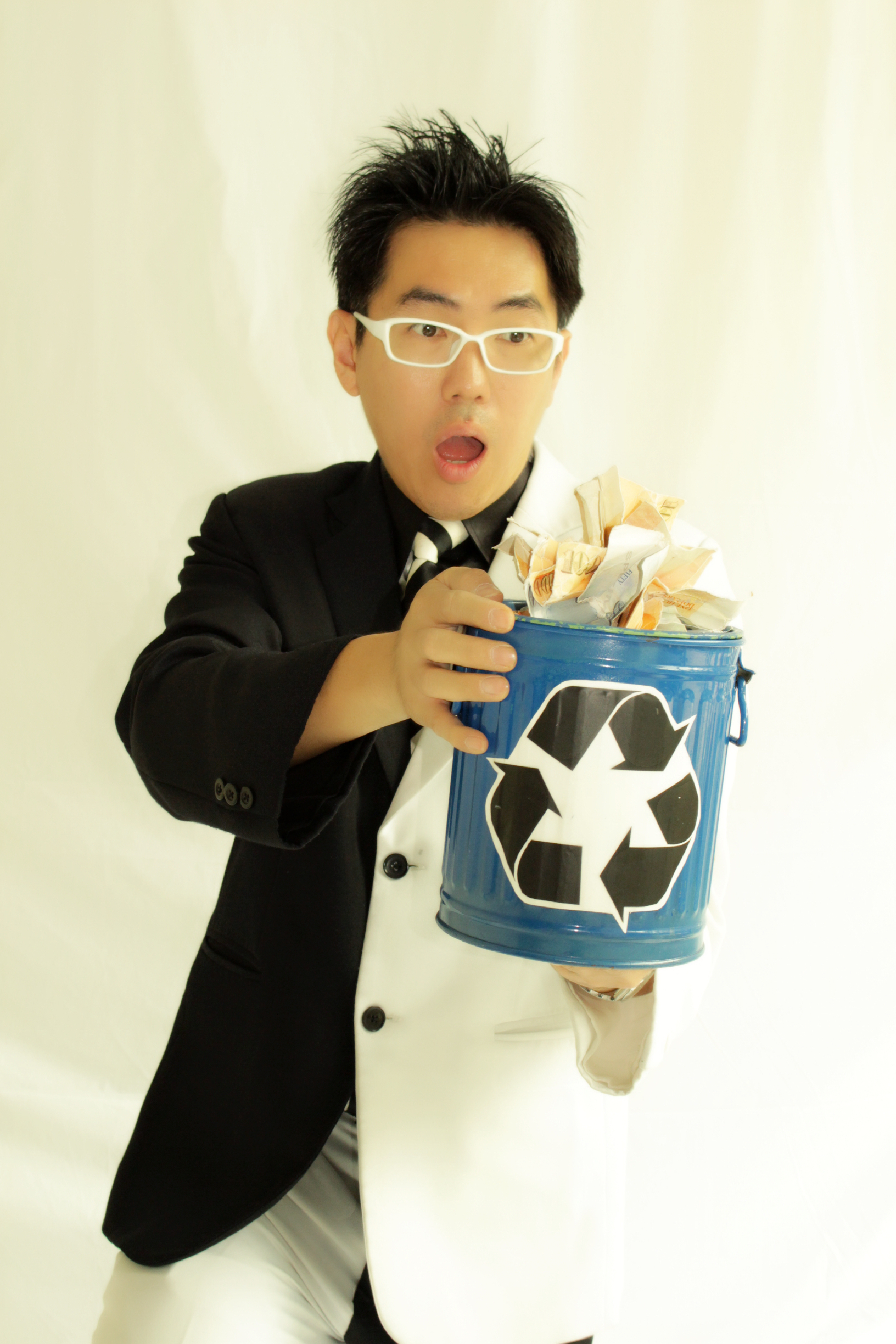 Mr Bottle puts subtle educational messages in his show.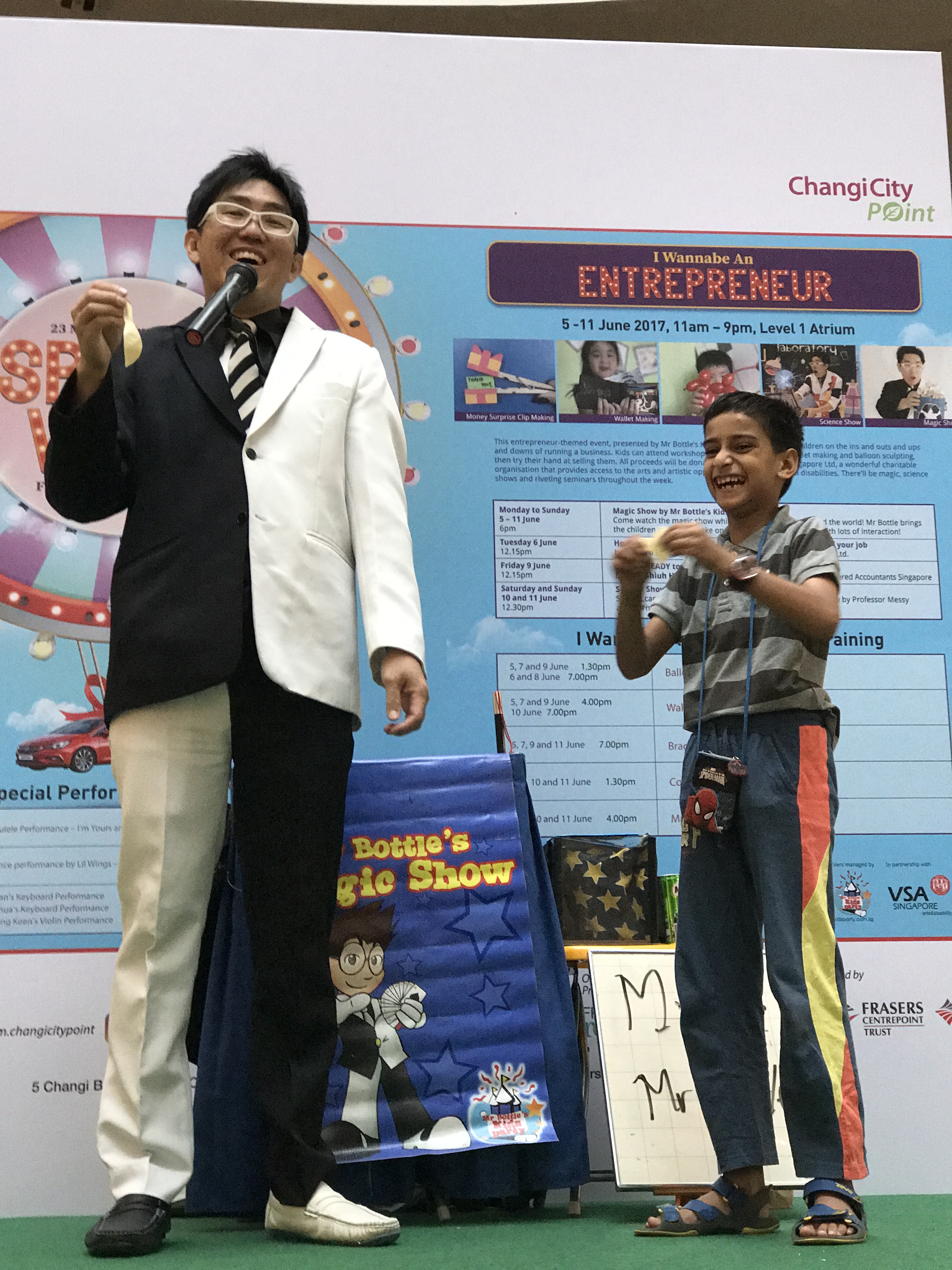 Mr Bottle performing at Changi City Point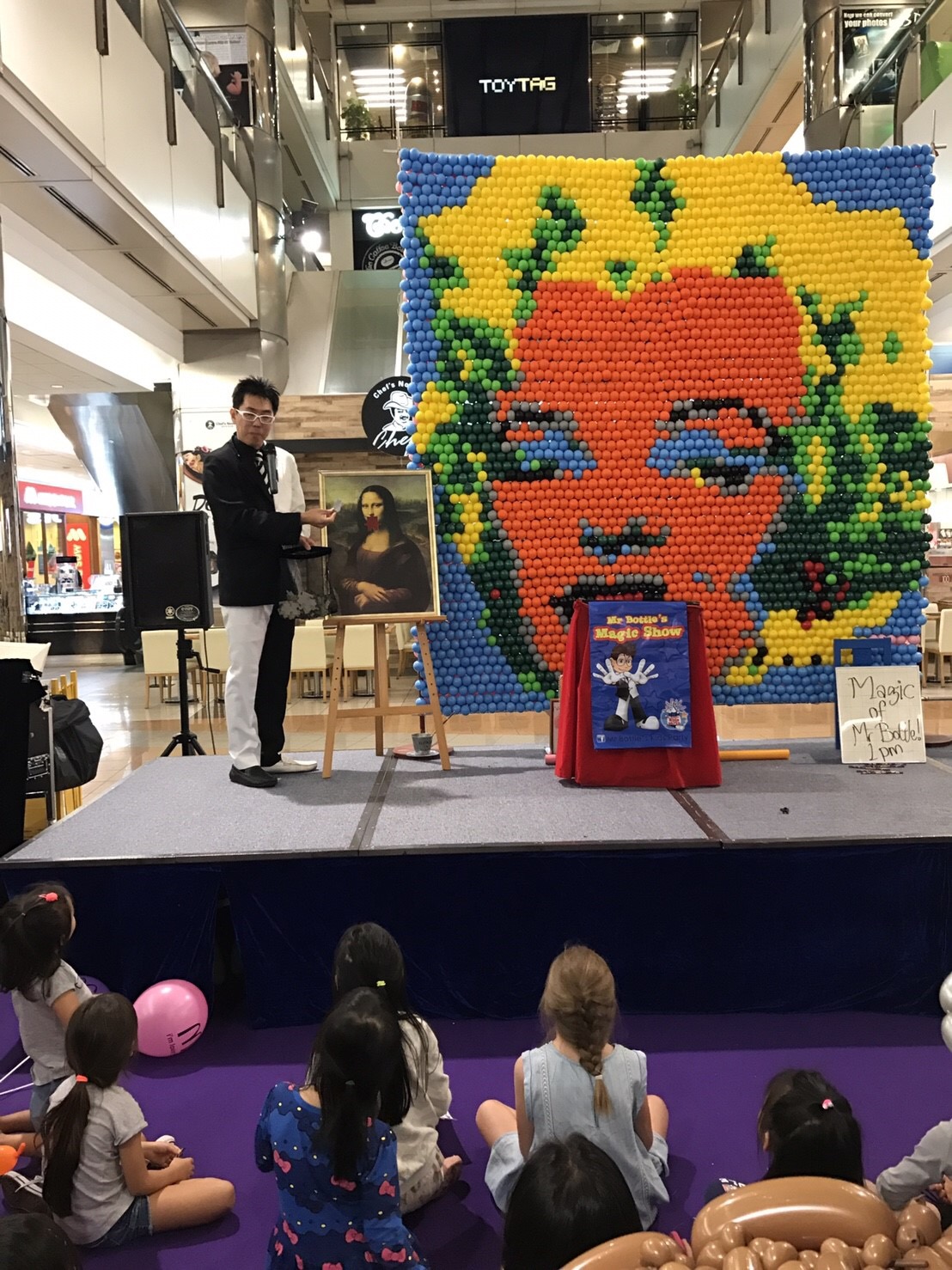 Mr Bottle customised an art theme magic show for Harbourfront Centre.
Theme parks
Mr Bottle has performed this show in theme parks almost every year since 2005. Suitable for small stages around the parks to bigger theatres. it can be adapted to play for big crowd or a smaller parlour presentation.
Mr Bottle's passion for theme parks makes him the ideal choice performances, and organising talents for family theme parks. (He even write a blog on theme parks!) Being bilingual in English and Mandarin, Mr Bottle can communicate and connect easily with audience.
Why do theme parks need magicians? During the peak seasons, having a performance, which can draw people, will help to pull them to away from crowded areas and rides, hence creating a pleasant experience for everyone.
Like how children love to take photos with different characters, an interactive magic show creates that human touch which kids will remember for a long time.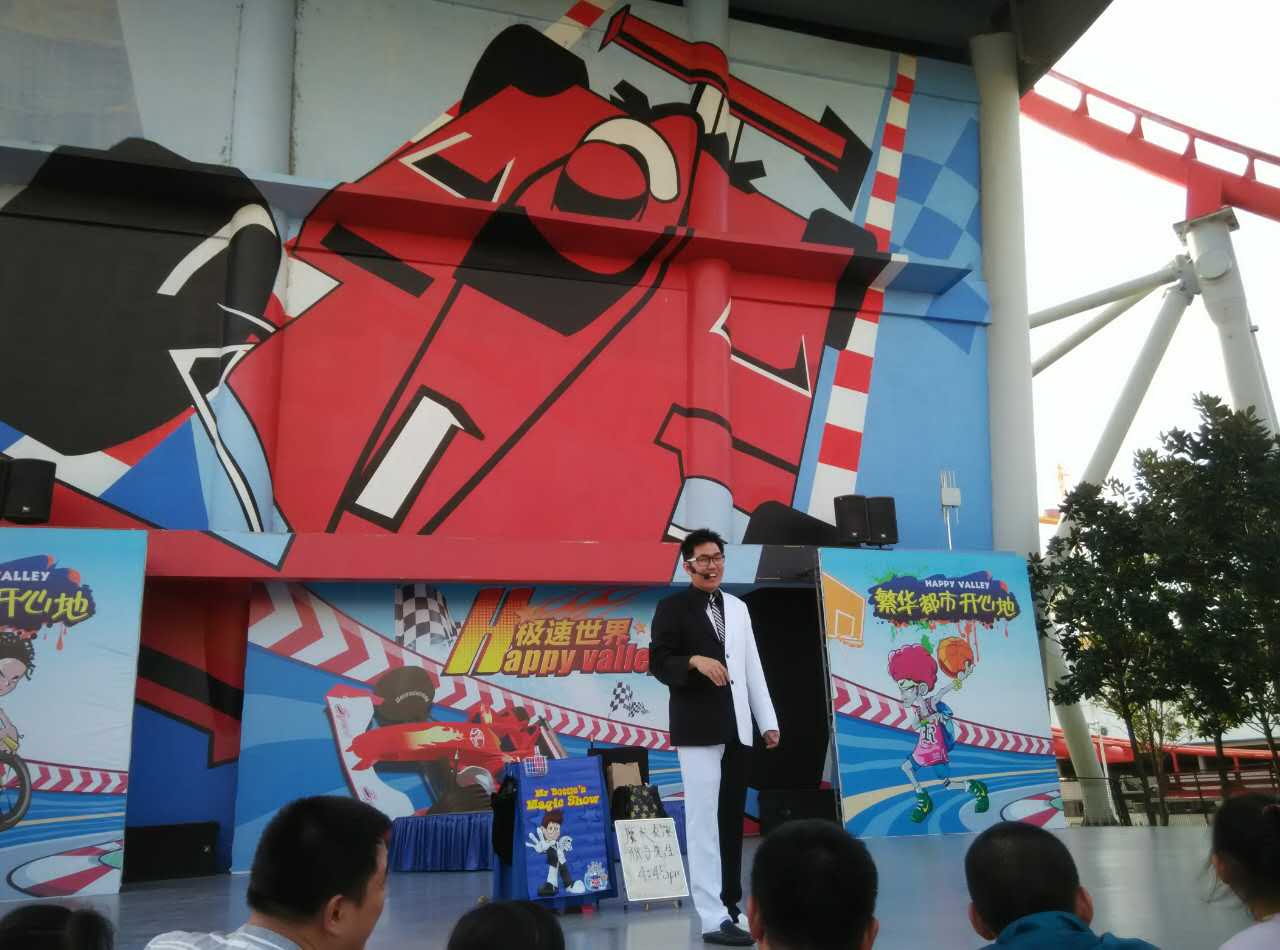 Mr Bottle in Wuhan Happy Valley theme park 2015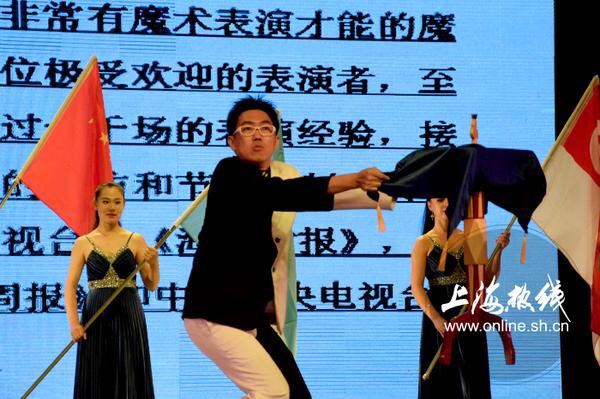 Mr Bottle in Shanghai Happy Valley theme park 2016. His performing style won praises from peers during the opening ceremony. Due to the press conference requirements, he had to borrow a table and adapt this to the opening ceremony.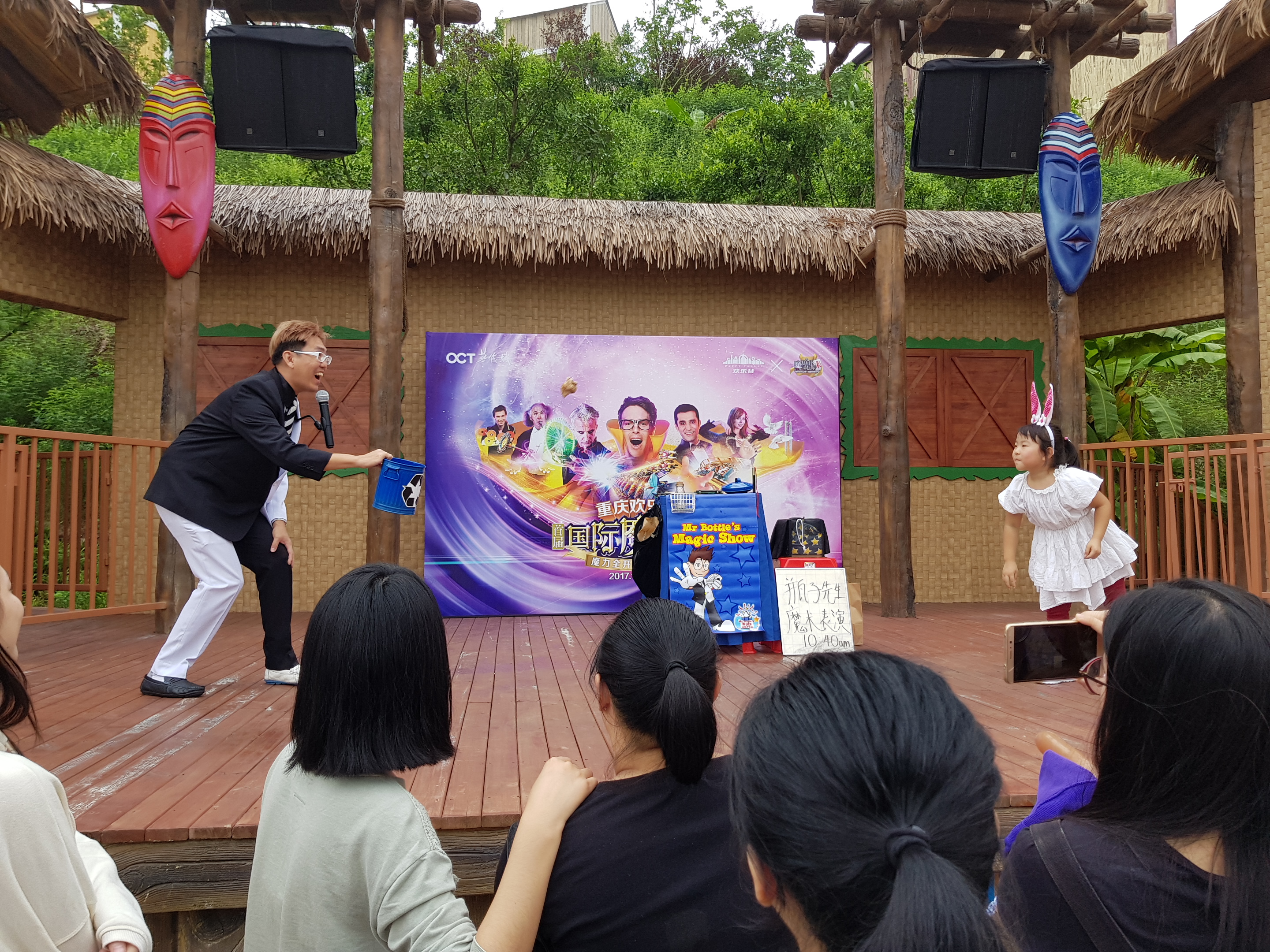 Mr Bottle in Chongqing Happy Valley theme park 2017
Is Mr Bottle's Magic suitable Art Festivals? 
The Magic in a Bottle show is very personal and elements comes from within Mr Bottle! The performances has parts of his personalities; from being a environmentalist (his recycling act) to drawing (he loves to draw!).
Mr Bottle is the first and only Singaporean to be invited to represent Singapore for 31st April Spring Friendship Arts Festival (11-17 April 2018) in Pyongyang, DPRK. This show, which is available in Mandarin,  was part of the 2017 Parent-Child Arts Festivals in Taichung, Taiwan (May 2017) He was also invited to performed for the Ansan Street Art Festival as one of the buskers.
He is also one of the performers of Open Homes for Singapore International Arts Festival (2017). His experience as a performer helped him to be selected as one of the main casts of a Chinese play called PSLE, produced by renowned director, Lim Hai Yen.
Mr Bottle's Magic Show in Pyongyang.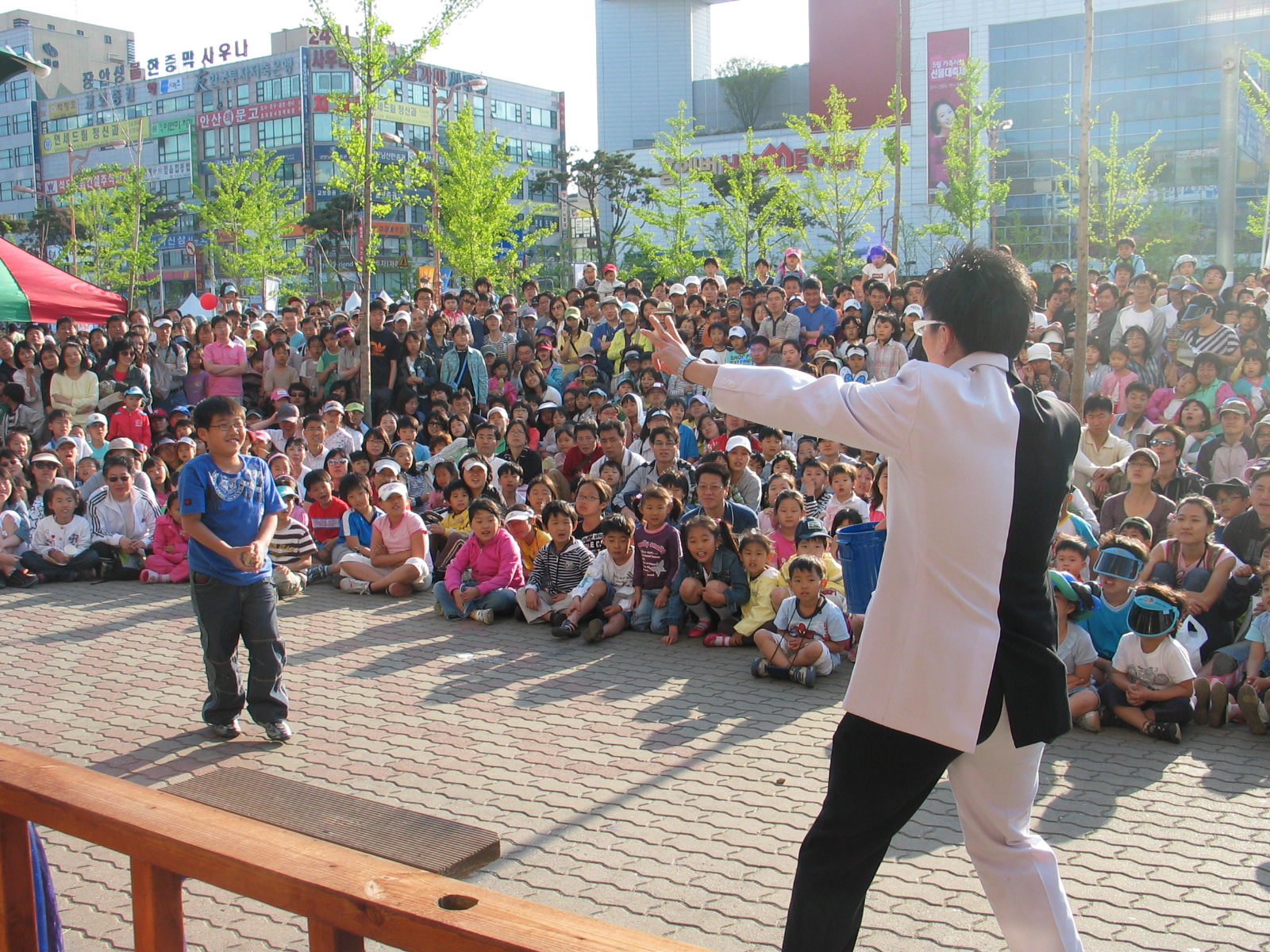 Mr Bottle performing at the Ansan Street Art Festival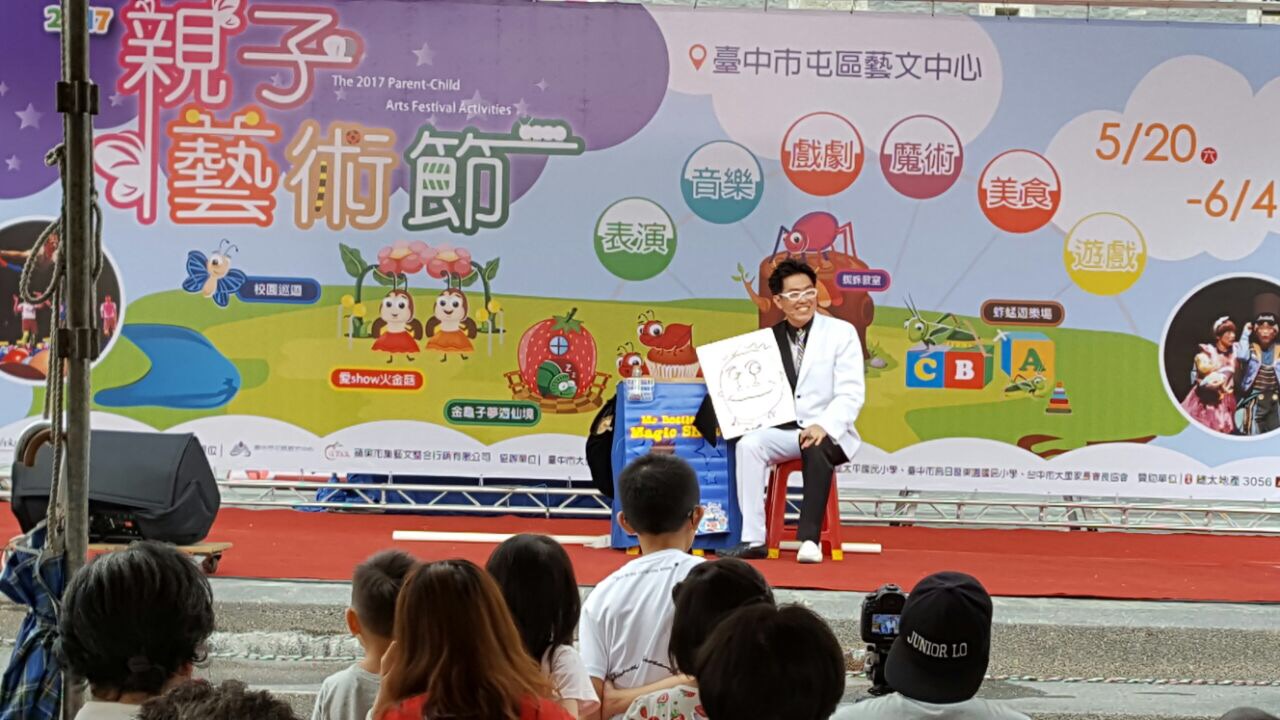 Mr Bottle performing at the 2017 Parent-Child Arts Festival in Taiwan
Mr Bottle in Inner Mongolia with his poster. He has performed in Japan, Korea, China, Taiwan, USA, Malaysia, Myanmar and more!