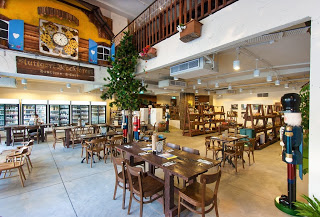 Kids Friendly Restaurant: Stuttgart Blackforest – Boutique S-Cafe
What is Stuttgart? Stuttgart is the capital of the state of Baden-Wurttemberg, in the southwest Germany.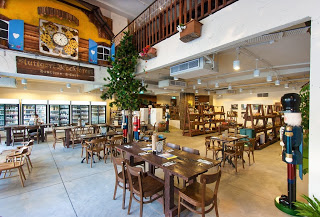 One uniqueness of S-Cafe is the showcase of art, culture & innovation of Stuttgart and the Black Forest. Slow down your foot steps to take some time to experience the cuckoo clock wall, art gallery and wine vault.
Other than the ground floor, S-Cafe also provides event space for rental, including Mezzanine and Private Room.
Thinking that S-Cafe is only suitable for adults but not kids? Wrong! S-Cafe is also an ideal venue to hold your kids party. The cafe is spacious and have different parts that caters to different party sizes. When I first stepped into the Cafe, it gives me a mystic garden kind of feeling. It even comes with a 'flowing river'. So if you are having a Alice in Wonderland, Robin Hood or forest theme party, I think the venue will be ideal! (Add some balloon animals and microfoils for the forest theme.)
Your guests will definitely enjoy the authentic German food on the buffet spread, which is very uniquefor a birthday party!
Book some children entertainment and the adults can have their own relaxing time; drinking S-Cafe's signature beers!
Smacked right in the city, with Bugis and Bencoolen MRT just a stone's throw away, it is convenient for guests who don't drive. Ample parking lots are also available at the HDB carpark at Queens Street.
I guess the only con is that you do have to pay a separate charge for the use of the venue space on top of food. If S-cafe can do away with that, then I am sure that it will be a very popular place for birthday parties!
In summary, S-cafe is definitely a great place for birthday parties and families. Drop by and have a meal, they even provide tablemat with kids activities to occupy your children while waiting for the food to come!
Here's some details.
Stuttgart Blackforest Boutique S-Café
141 Middle Road #01-01, Singapore 188976
Telephone:6336 8675
Fax:633 68713