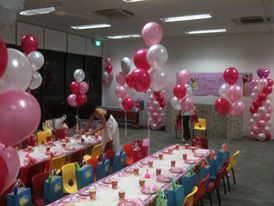 What are the differences between air and helium Balloons
Helium balloons have always been an economical way to add colours to your party. Due to the world shortage of helium, the price has been increasing steadily. Some unethical suppliers even resort to using other types of gases like flammable gas to cut costs. (from the videos I see, fire accidents happened only overseas.)
Balloon Sculptures
are a totally category!)
So what are the pros and cons of using air filled balloons?
Pros

Cons

Children will simply use them as football.

It's useless to have air-filled balloons as decorations. (unless your objective is to have children to use them as football OR know how to use them.)

Really cheap! Cost almost nothing.

You can inflate them yourself.

No equipment needed. (though it's faster with a electronic pump.)

No ribbon needed

Environmentally-friendly
Yes, you read that right! Unless you use the air-filled balloons to build flowers, topiary, balloon columns or balloon arch, having them is pretty useless.
The reason for using helium balloons is that it fills your party venue with colours by having them at eye level or higher. If you are going to leave them on the floor, the balloon are just a mess. Hang them from the wall? Balloons are going to droop down, which makes the venue look cheap.
Give them to guests after the show? Goodie bags will be much better and easier to hold.
So what can you do with air filled balloons (DIY)?
Put them on a stick and stand them on the table.
If you have a candy theme party, wrap them in cellophane paper sheets like this:
Hang them from the ceiling (not walls) in a tasteful manner (like these paper balls):
Learn how to make your own balloon flowers from here:
So why do party planner offer air filled balloons? Because some customers, who may not be informed of the differences, may just book the package thinking it is a good deal.
If a company is offering air-filled balloons to your package, ask what they will be doing with them. If not, you may be paying for just a mess!