Superhero Theme Party
One of our most popular themes for boys (and girls!) during birthday parties! Empower the children by bringing alive their favourite characters like spiderman, batman, superman, Captain American and even wonder woman! We even have a
FREE
superhero card and favour available for download below! 
At Mr Bottle's Kids Party, we can be your superheroes to to save the day. When your child begs for a superhero party, you don't have to use your own superpowers to make the party triumph over the birthday enemies, a boring party! We are here to help you! Leave time to network with your superheroes associate, leave the stress to us. (Actually, it is no stress to us.)
Planning and invitations
When planning a superhero party, ask your child to tell you more about their superhero. For us at Mr Bottle's Kids Party, we like to create a story around the party based on the child's ideal of the superhero! Customisation is the key! With this, we will help you personalise his card, plan the party and get his friend interested in coming to your epic party! (Use the 6 wise men!) What colour? Who are his enemies? Who are his friends? Which are his favourite food and activities? Where does he live? This will also help you plan the perfect party.
Download your free Superhero invite here (Right click and save as image). Include the details of your party and print it! tada!
Superhero Themed Dessert Table: $990
Includes (all decorations items are for rental except food items):
1.9 x 1.4 m Superhero Themed Banner (Words: Happy Birthday. Add $200 to customise with name, age and design.)
Yellow and Red Table Skirting
"Happy Birthday" Bunting
Food Labels
Chocolate Bars (with customised wraps) x 15
Popcorn, chips or cheeseballs (with customised boxes) x 15
Pudding (with customised labels) x 15
Mineral water (with capes) x 15
Packaged snacks or candy (with customised labels)  x 15
Cookies or Lollicakes x 15
Macarons or Cupcakes x 15
*Pictures for illustration only. Customisation possible.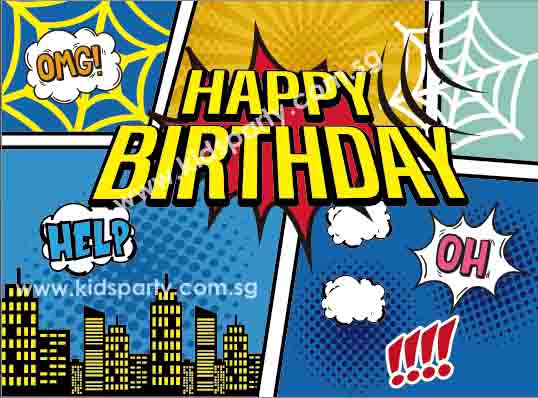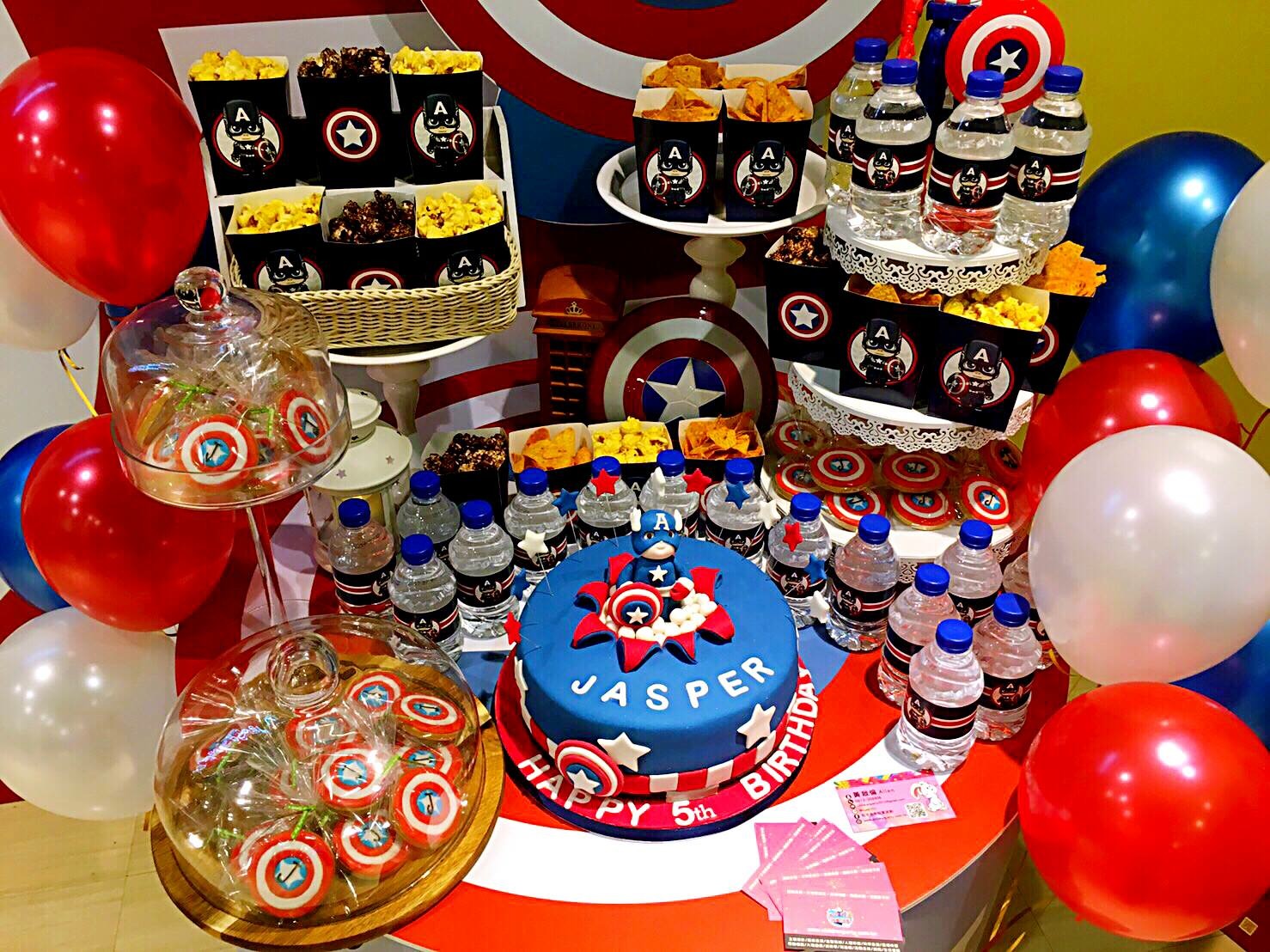 Superhero Decorations: $580
Rental and set up of the following:
Superhero Standees x 2 for photos taking.
Helium Balloons x 120 pcs
Balloon Columns x 2 with Superhero microfoil toppers
OR
Superhero Arch with 3 superhero sculptures
Superhero Standees x 2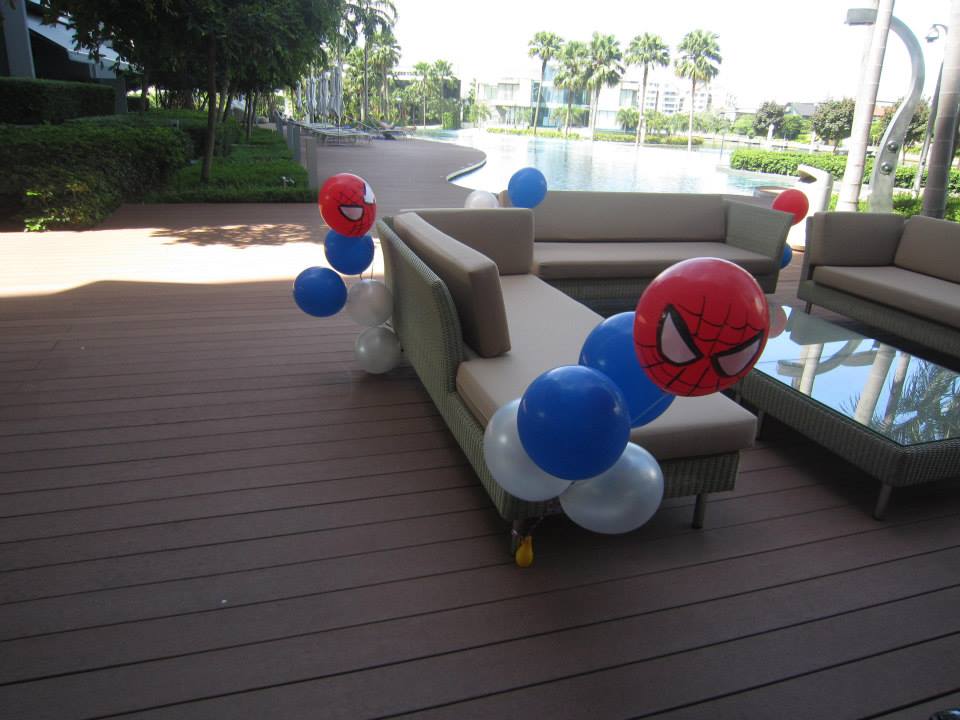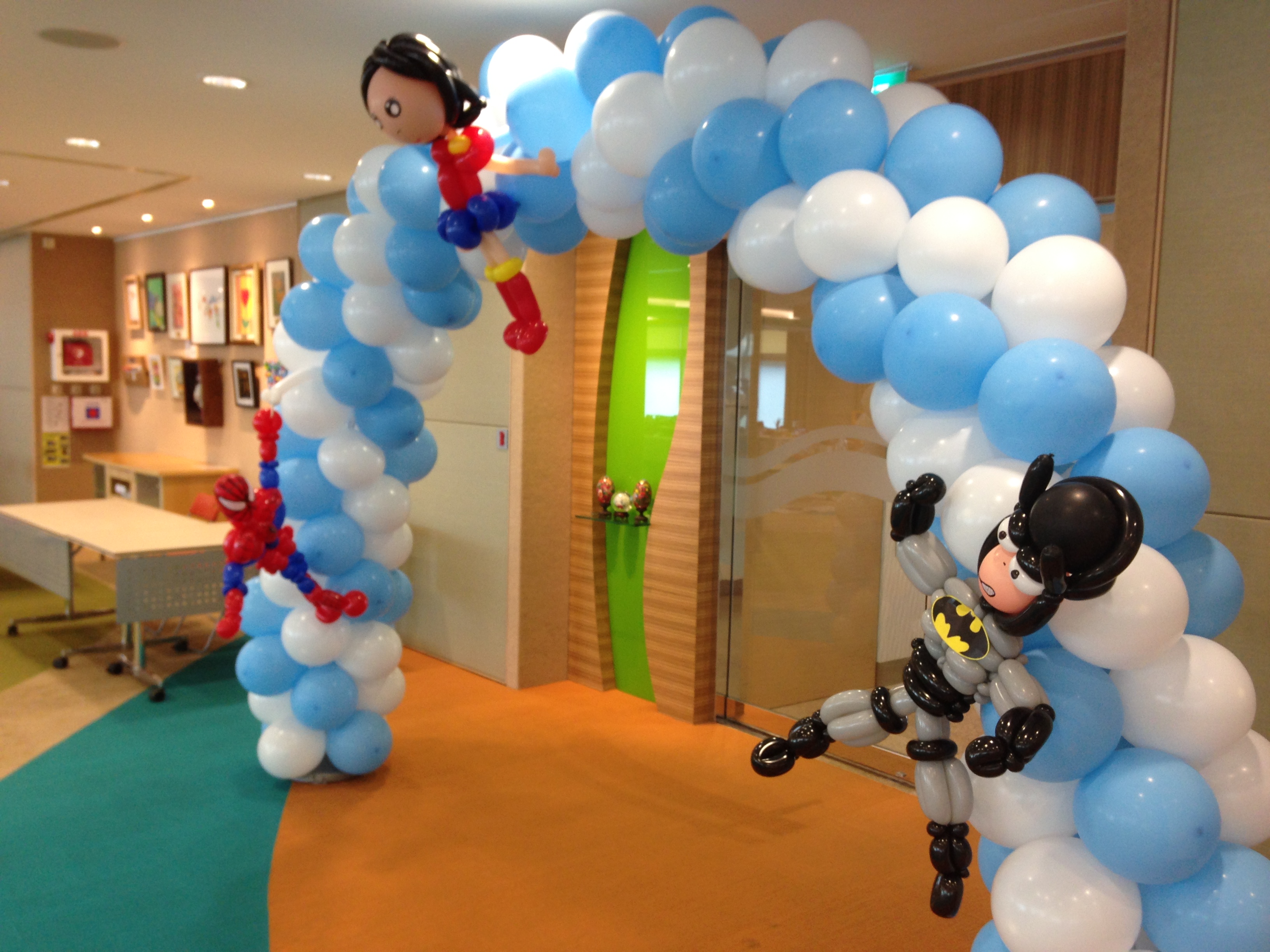 Superhero Entertainment: $998
Choose one of the following:
AND
Choose two of the following: (Superhero training. Inclusive of manpower and prizes for the games. Inclusive of facilitators and materials for 15 pax for crafts)  (up to 2 hours)
Can Toss Games
Cup Stacking Challenge
Superhero Shoot-out
Superhero Sand Art
Handcuff, Shield or Mask Craft Workshop
AND
Choose one of the following:
Magic Show (30min)
Superhero Appearance Meet and Greet) (1hr)
A minute to win it Superheroes Challenges (1 hr)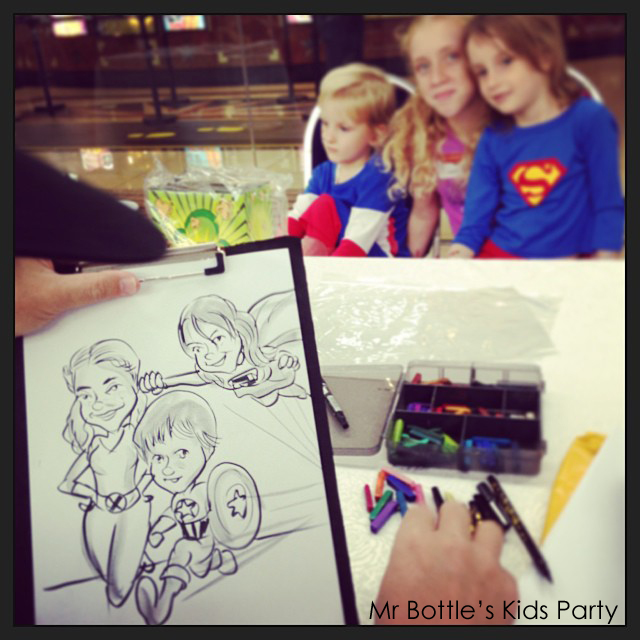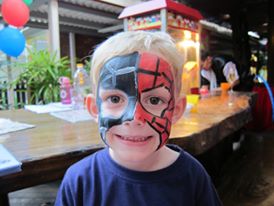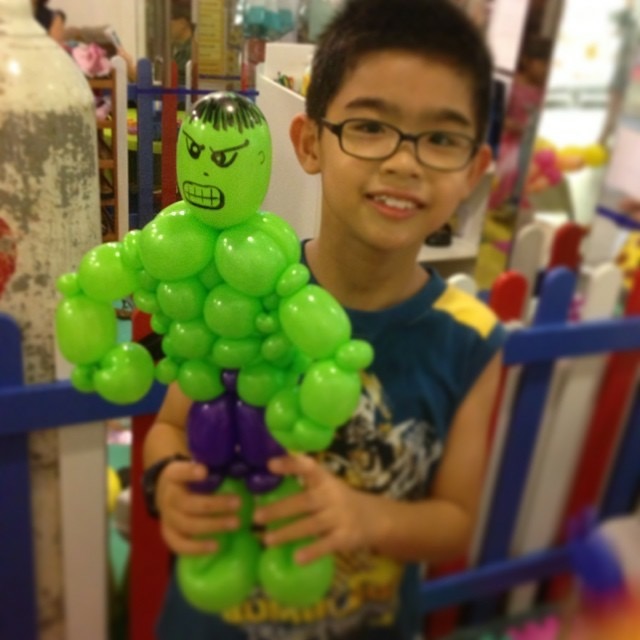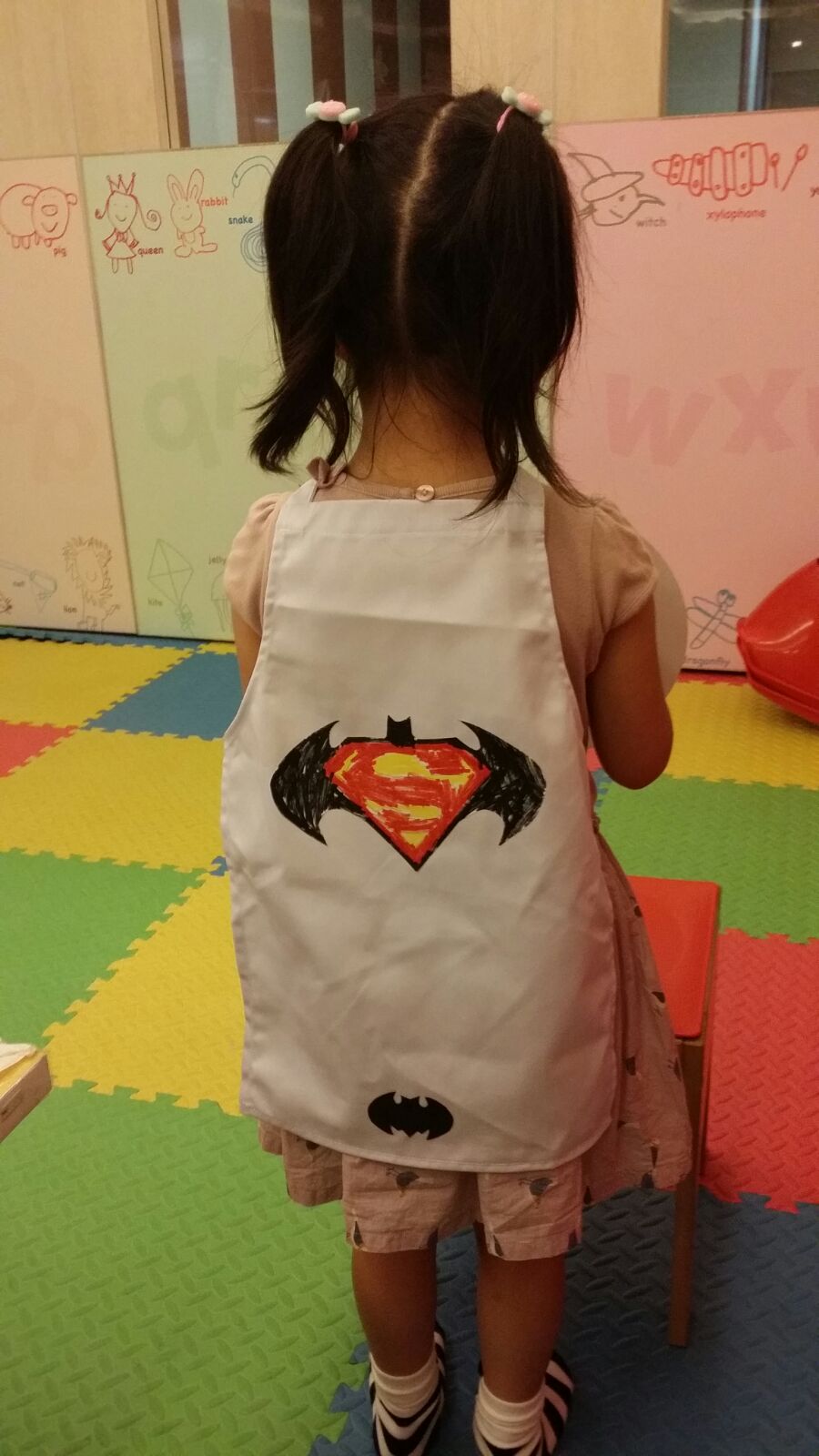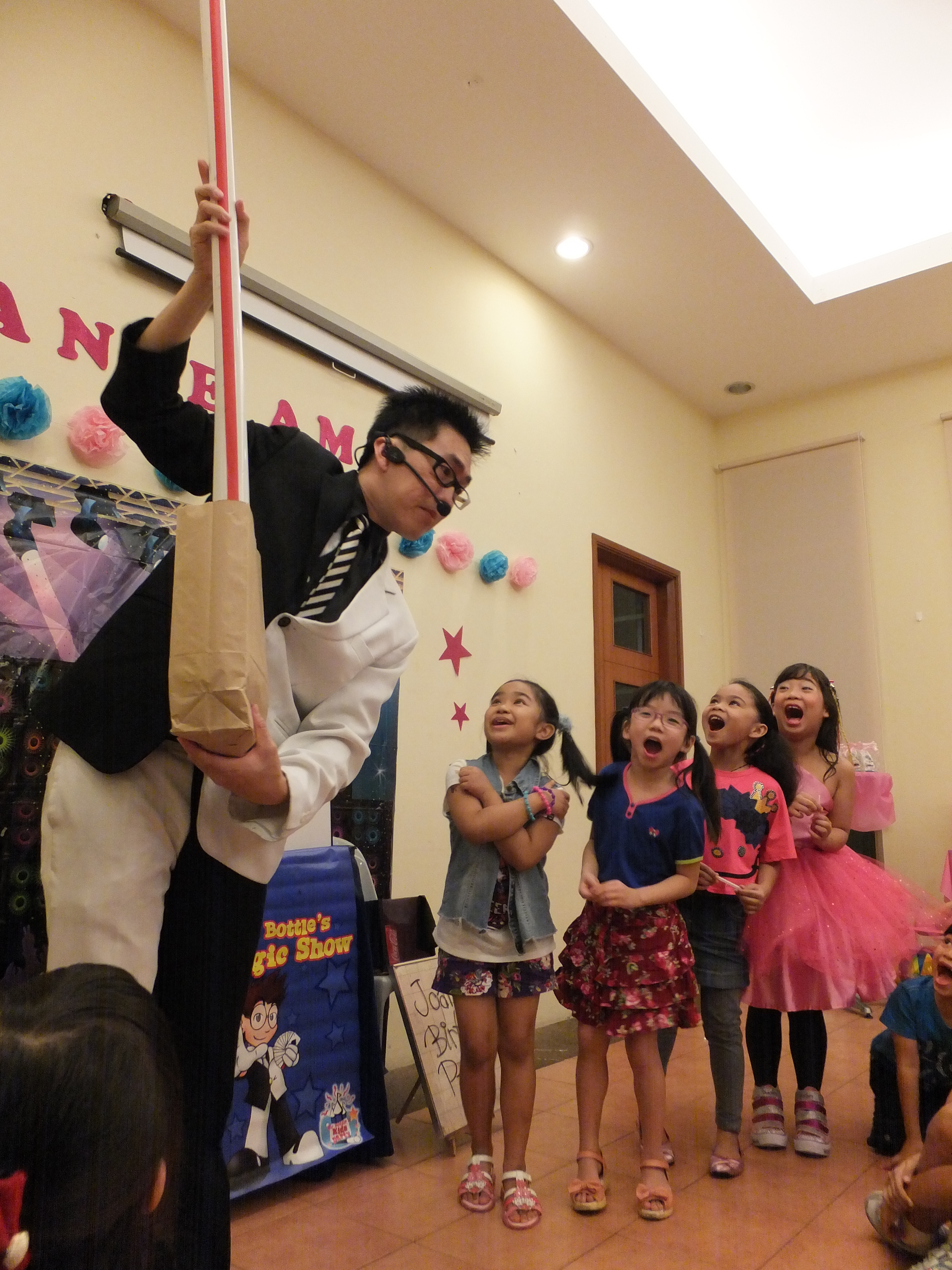 Get the above as a package (Dessert Table, Decorations and Entertainment) for only $2398!
*Free e-invite and hosting of cake cutting if you book the whole package.
Superhero Party Add-ons
Want more ideas for your party? Here are some more cool ideas which you can add-on to your parties.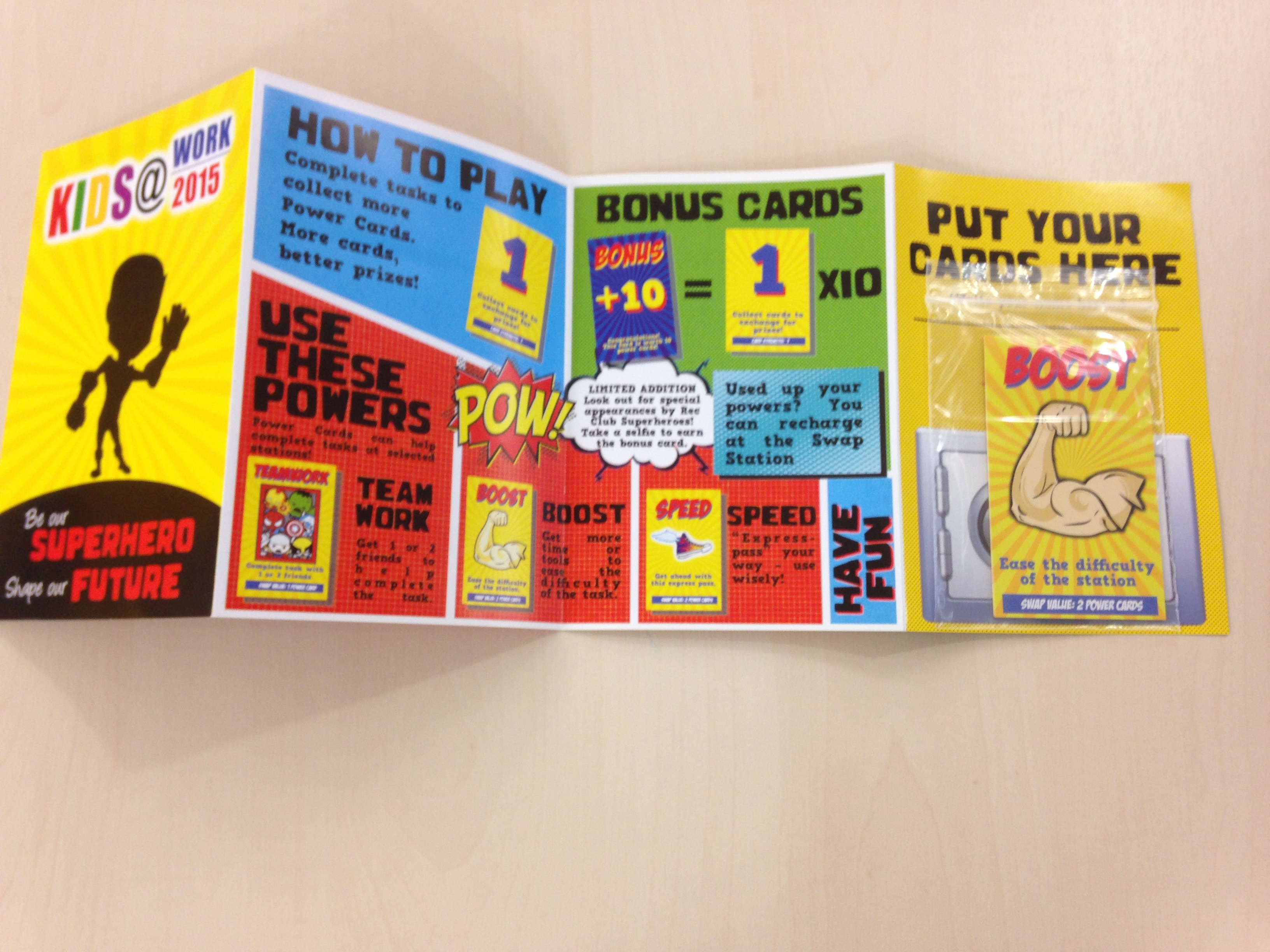 A superhero booklet to tell them the background story and the activities happening during the party!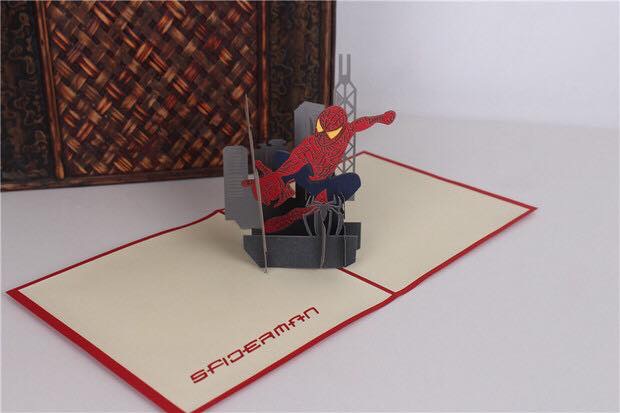 How about Spiderman pop-up invitation card?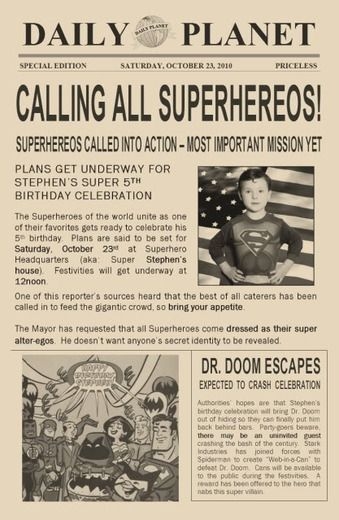 Get a newspaper invite to tell children about the story of the birthday child and party? (source image: pinterest)
Superhero Decorations
Get creative, because decorating for a superhero party are limitless! Make use of the colours and superhero's special powers and characteristic to make your event unique. The most common decorations are our balloon decorations, candy buffet and themed scenery. Read about our DIY decorations tips on our blog.
Here are some other ideas you can use:
Like most superhero movies, he may use New York landscape as a backdrop. Create cityscape backdrop using a poster board to create photo area. Hanging  the comic bubble speech or superhero logos all around.
Cut superheros comic on the Sunday papers and paste them on the wall or door as a background for photos.
Since most of the logos are 2 colours, you can buy 2 table clothes which are colours of the logo, use a template to cut logos and names out on one of them and use the other as the back. A cheap and classy way to create a backdrop.
Table cloth can also be altered to be door curtains, backdrops, protect your furniture and more!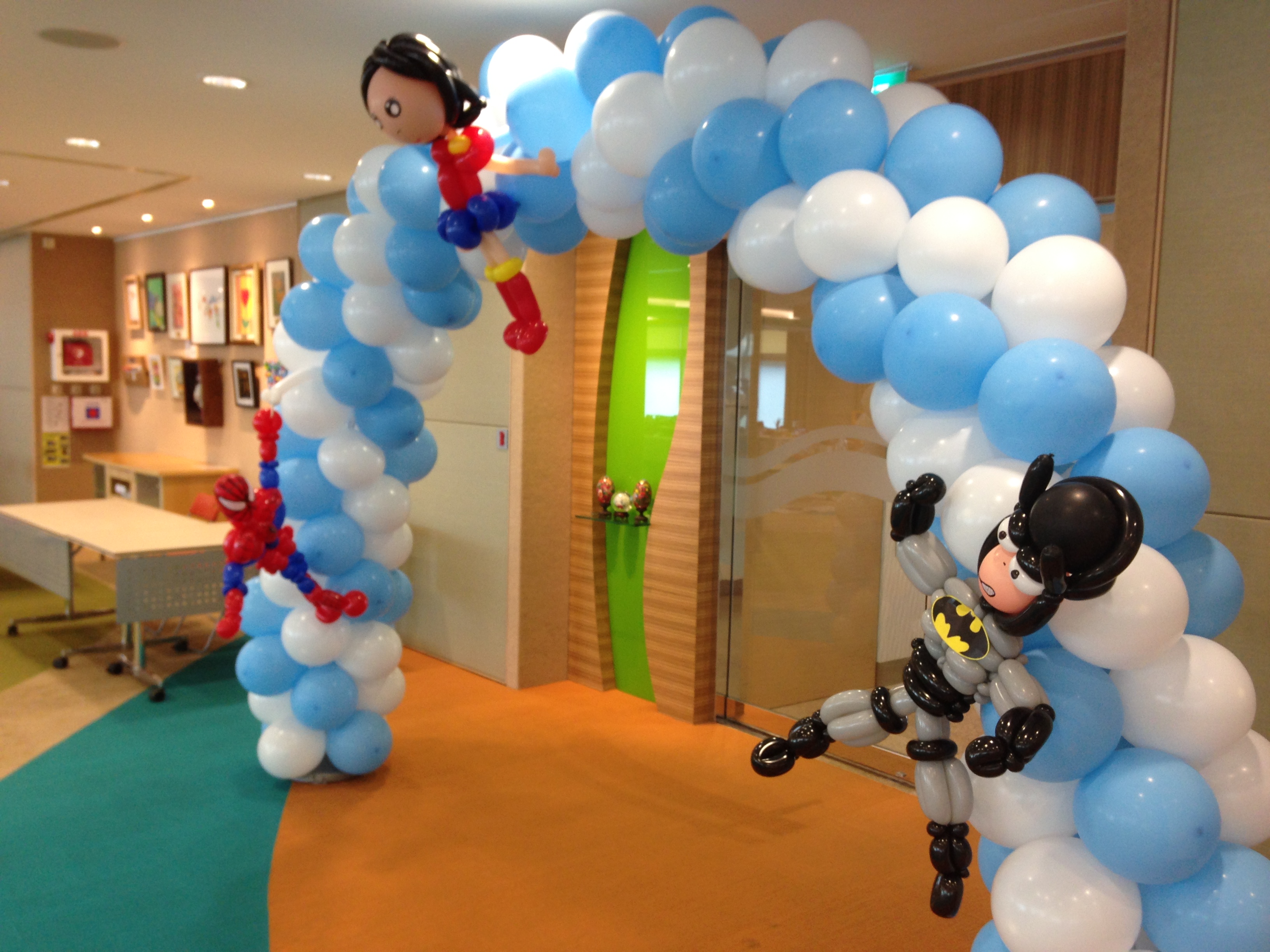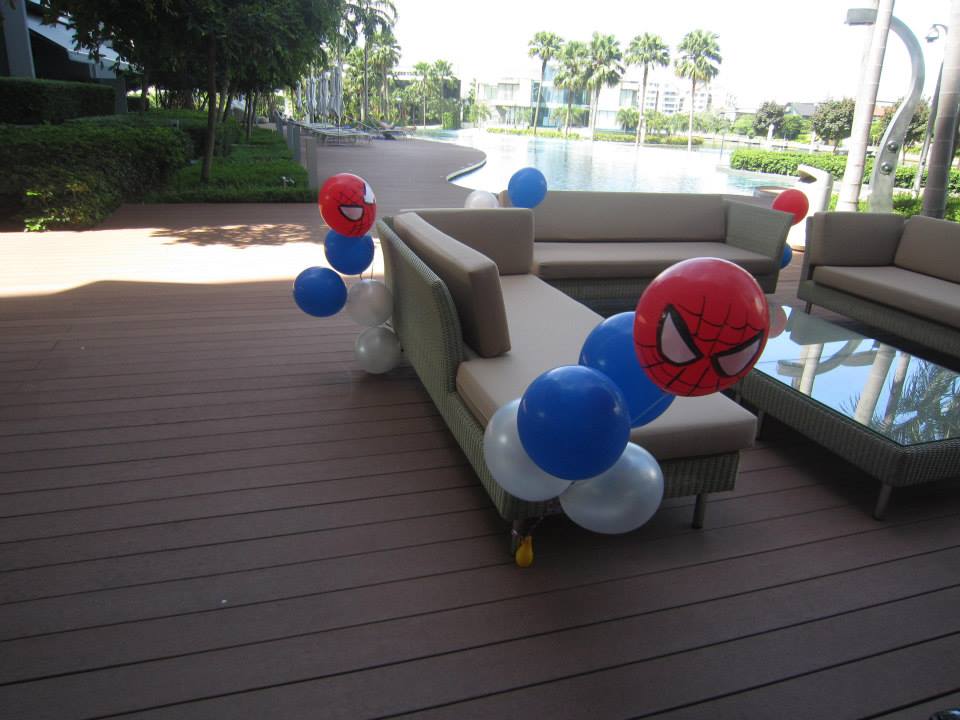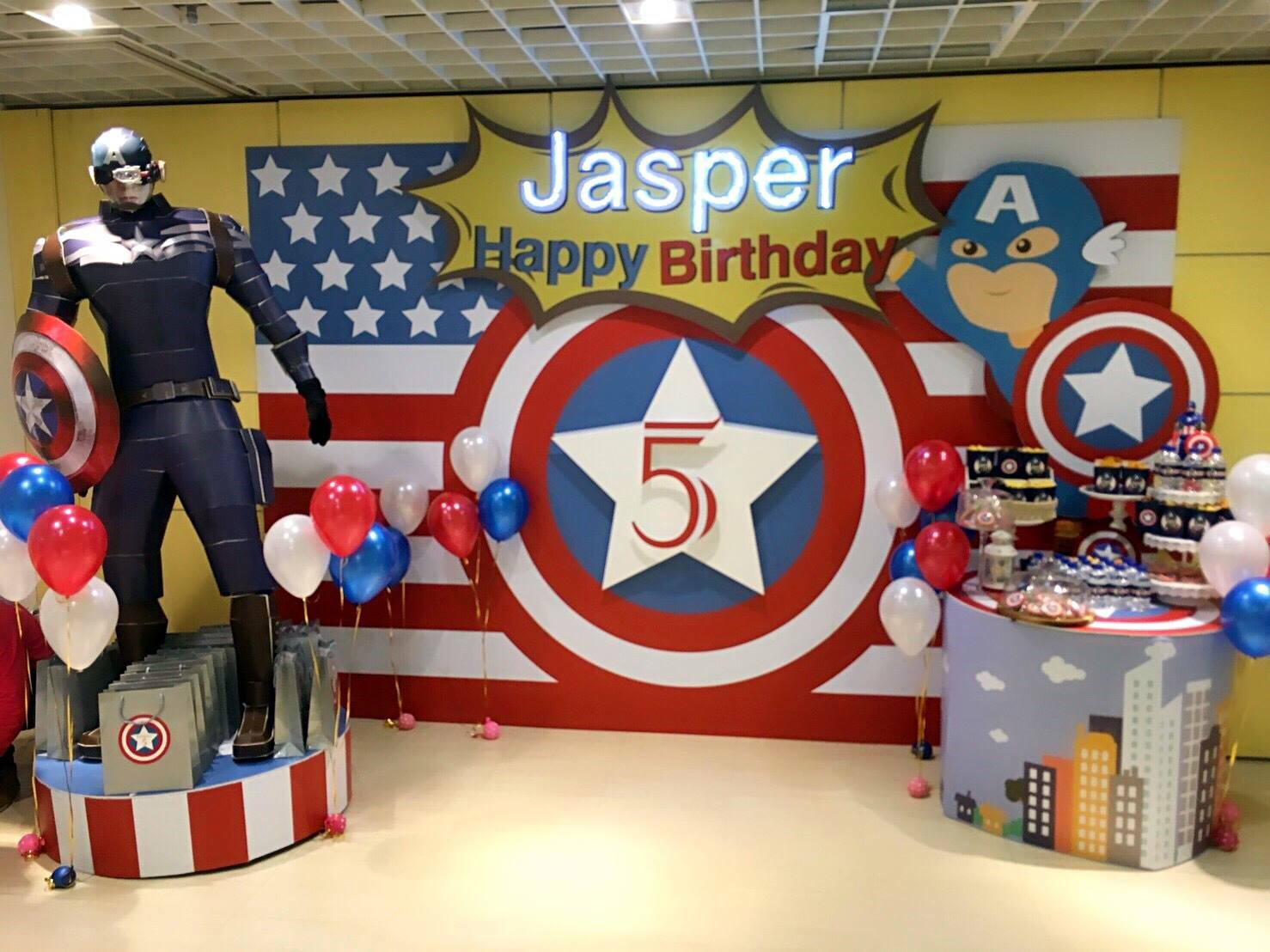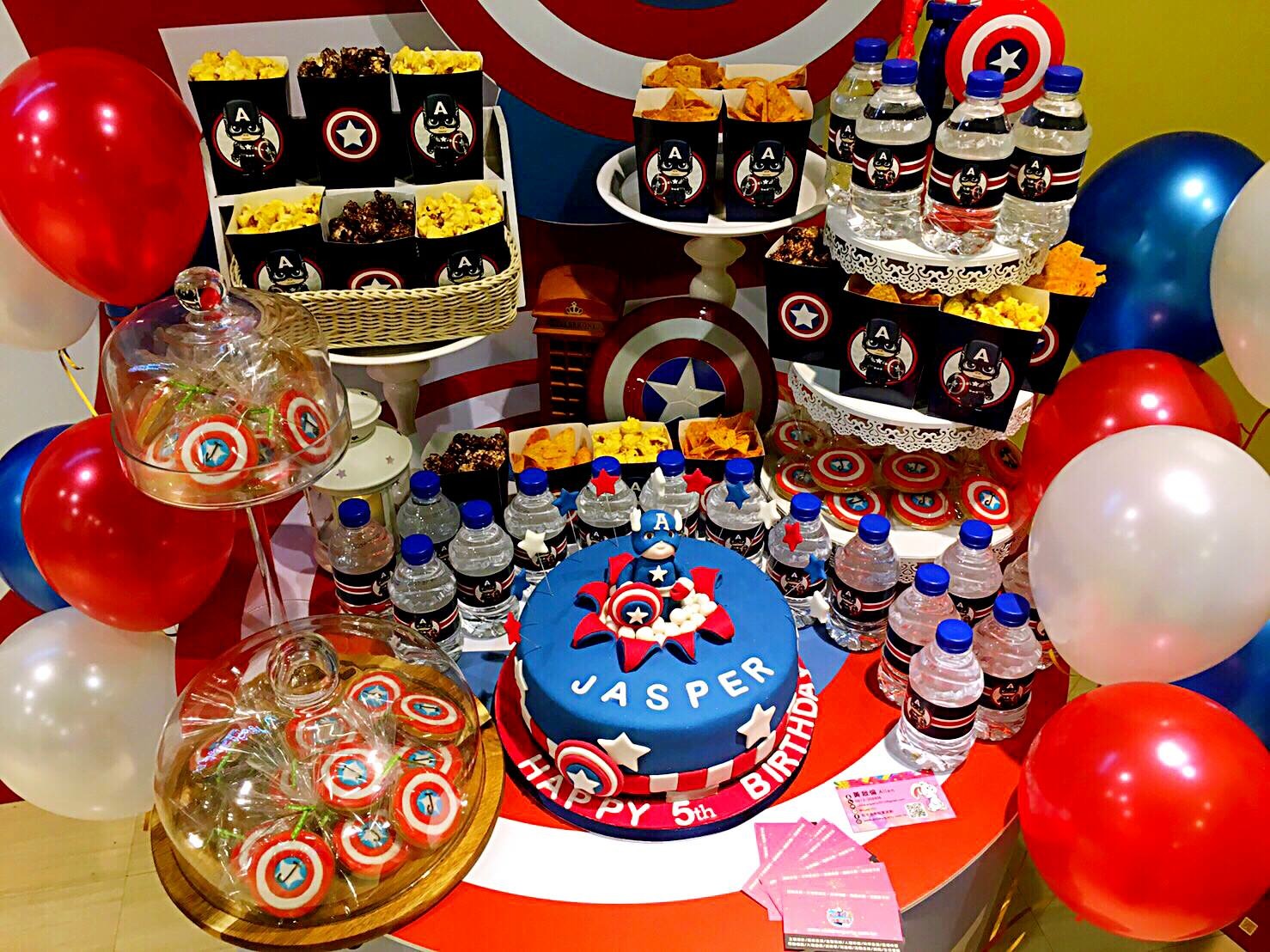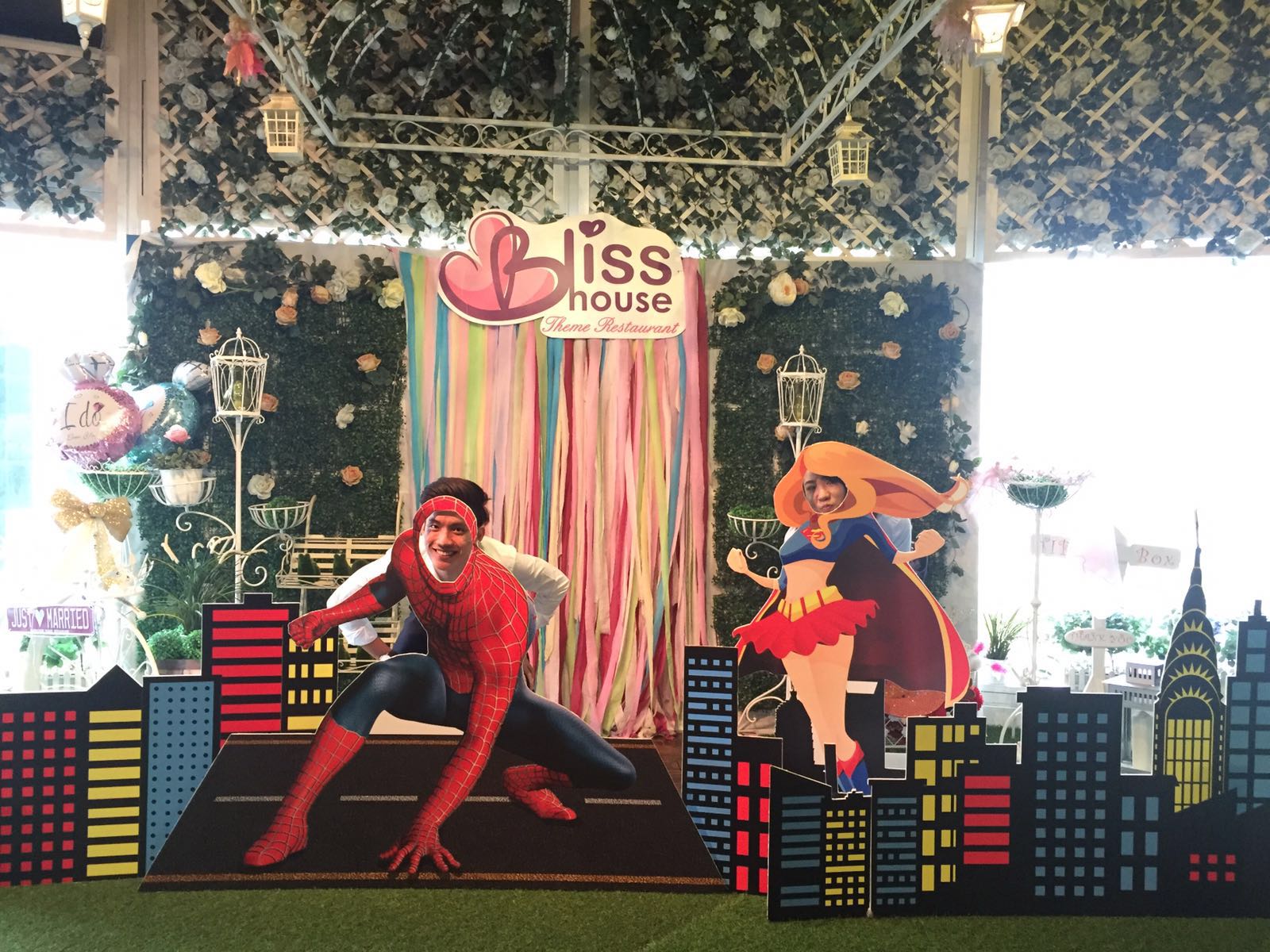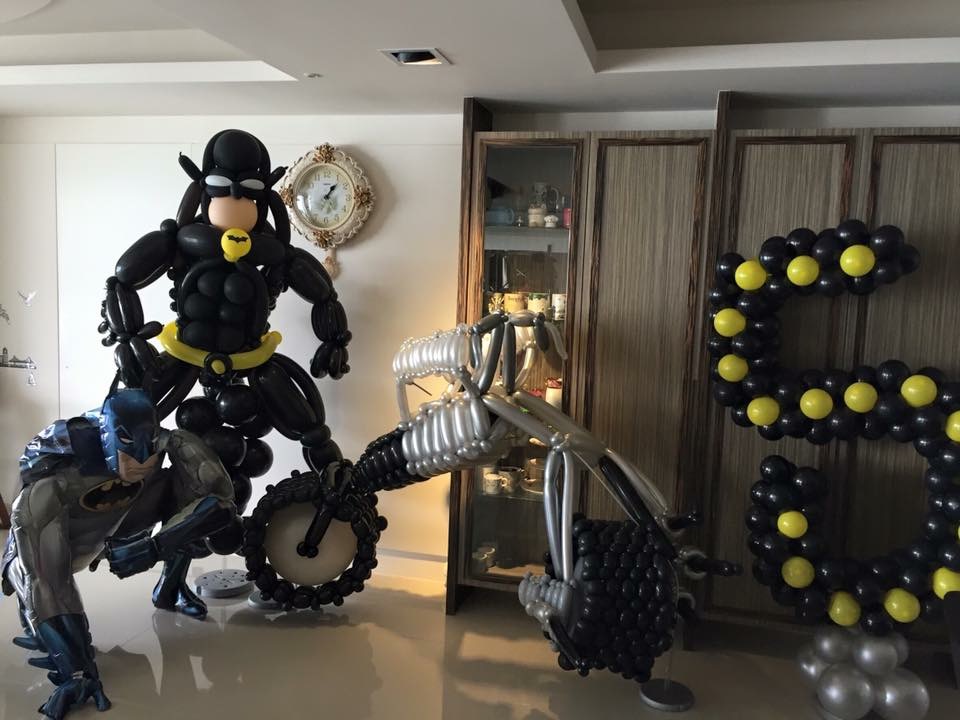 Superhero Foods
Children have so much fun at our parties that you know they will munch on anything which you give them! This is the time to be creative and use logo colours to think of foods to serve the children. Even healthy foods and drinks can be themed to fit into a superhero theme with a little creative thinking. Dessert and candy buffet can be sugarless if you don't want your children to be on sugar-high after the party!
Cucumber sticks as kryptonite. (You will be surprise but a lot of 8 to 10-year-old children want to villain than you think sometimes!)
Carrot juice to as superheroes' drink!
Cook angel's hair spaghetti and label it as spiderman's web.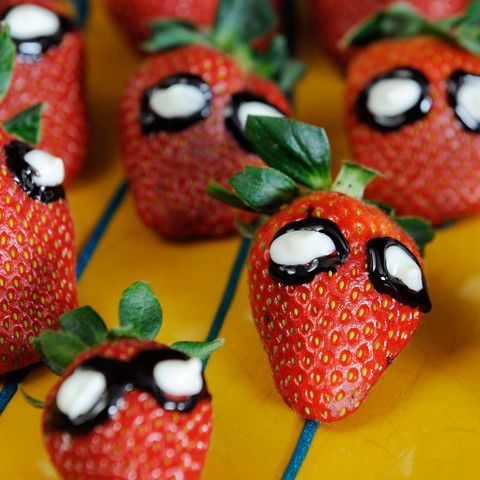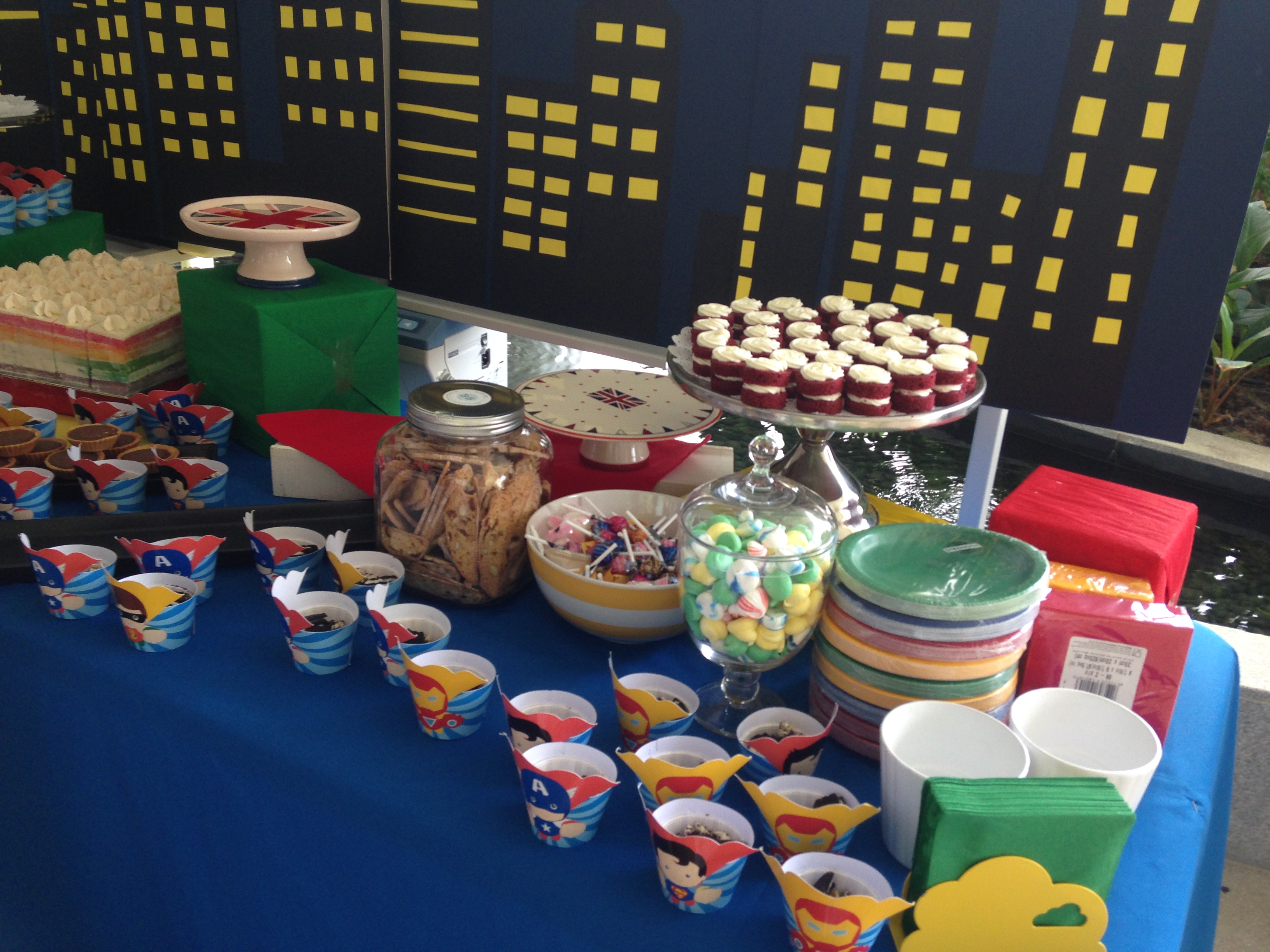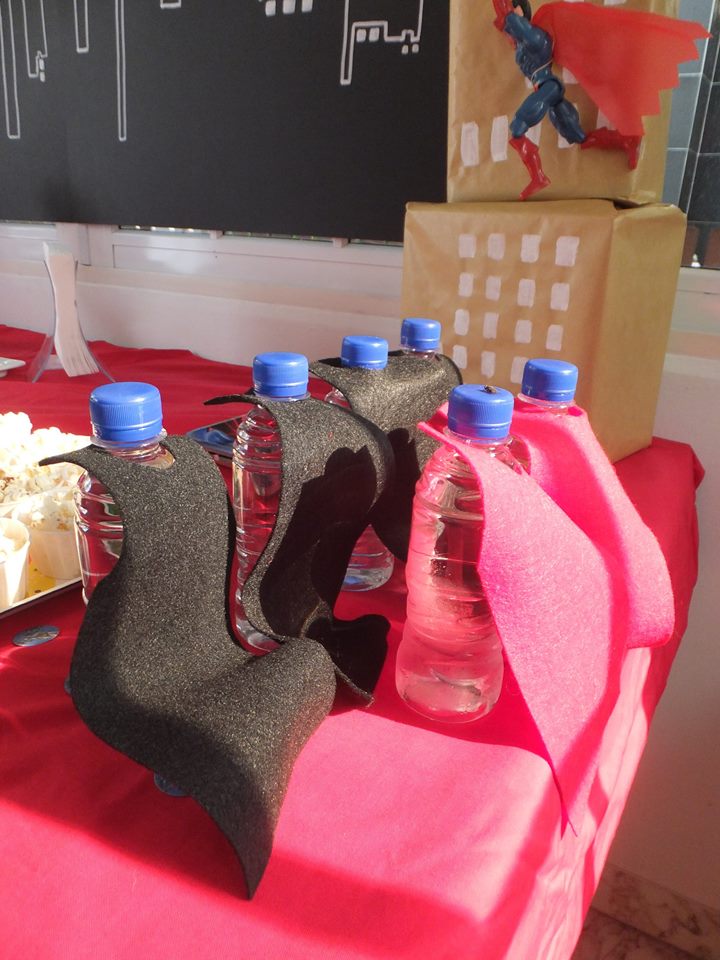 Superhero Fringe Activities
What fun is a party without any games and activities? There are lots of games which you can do can be easily themed to superheroes. Mr Bottle's Kids Party can theme fringe activities like balloon sculpting, facepainting and caricature to your superhero themes at no extra costs.
Art & Craft – There are lots of art & craft like mask making and weapon making which can be themed easily.
Superheroes are always training why not have a superhero training session? See who can jump the highest, shoot the farthest, save figurines from tall buildings and more!
Hide your superhero figurines and let the children find them.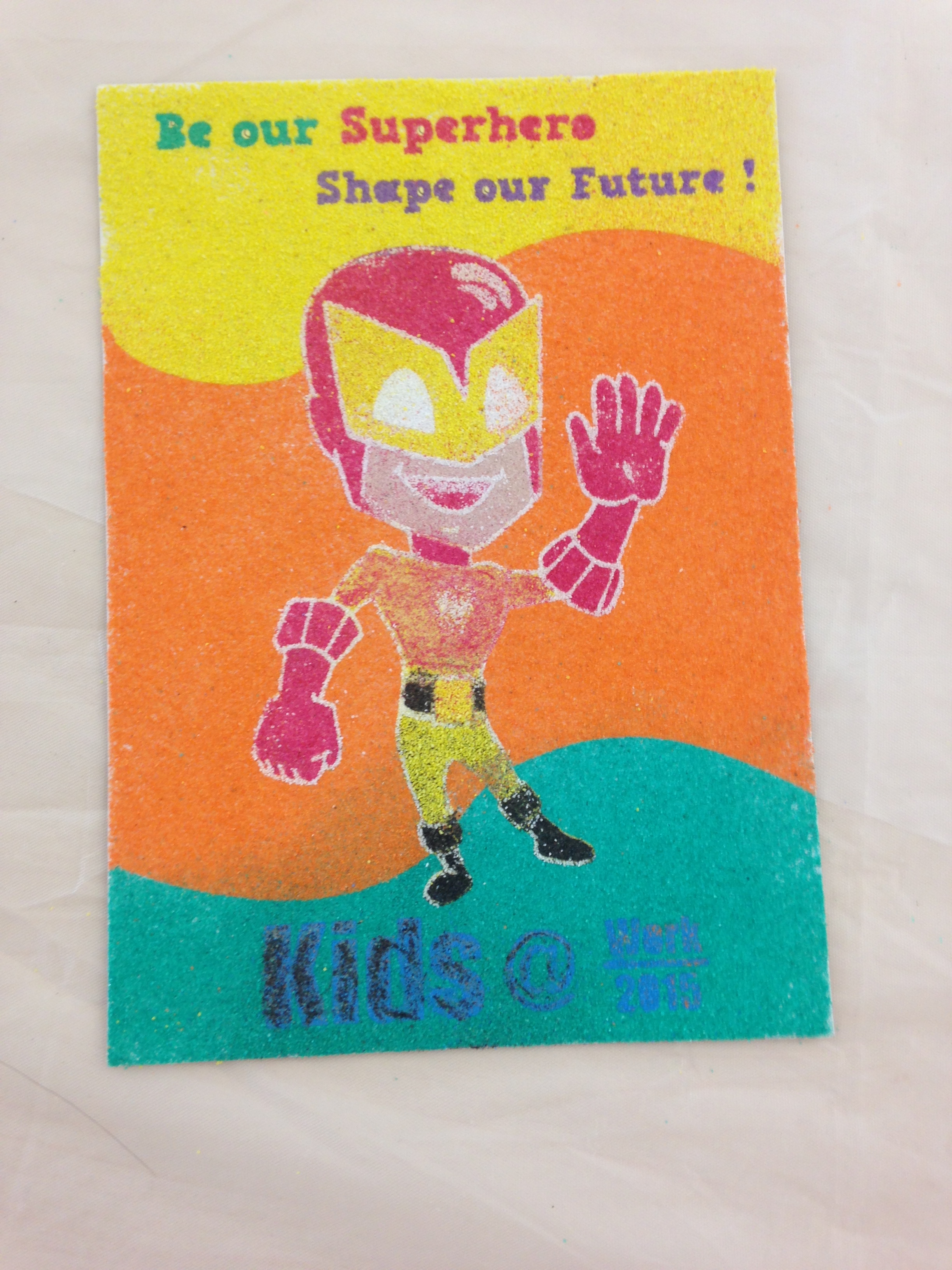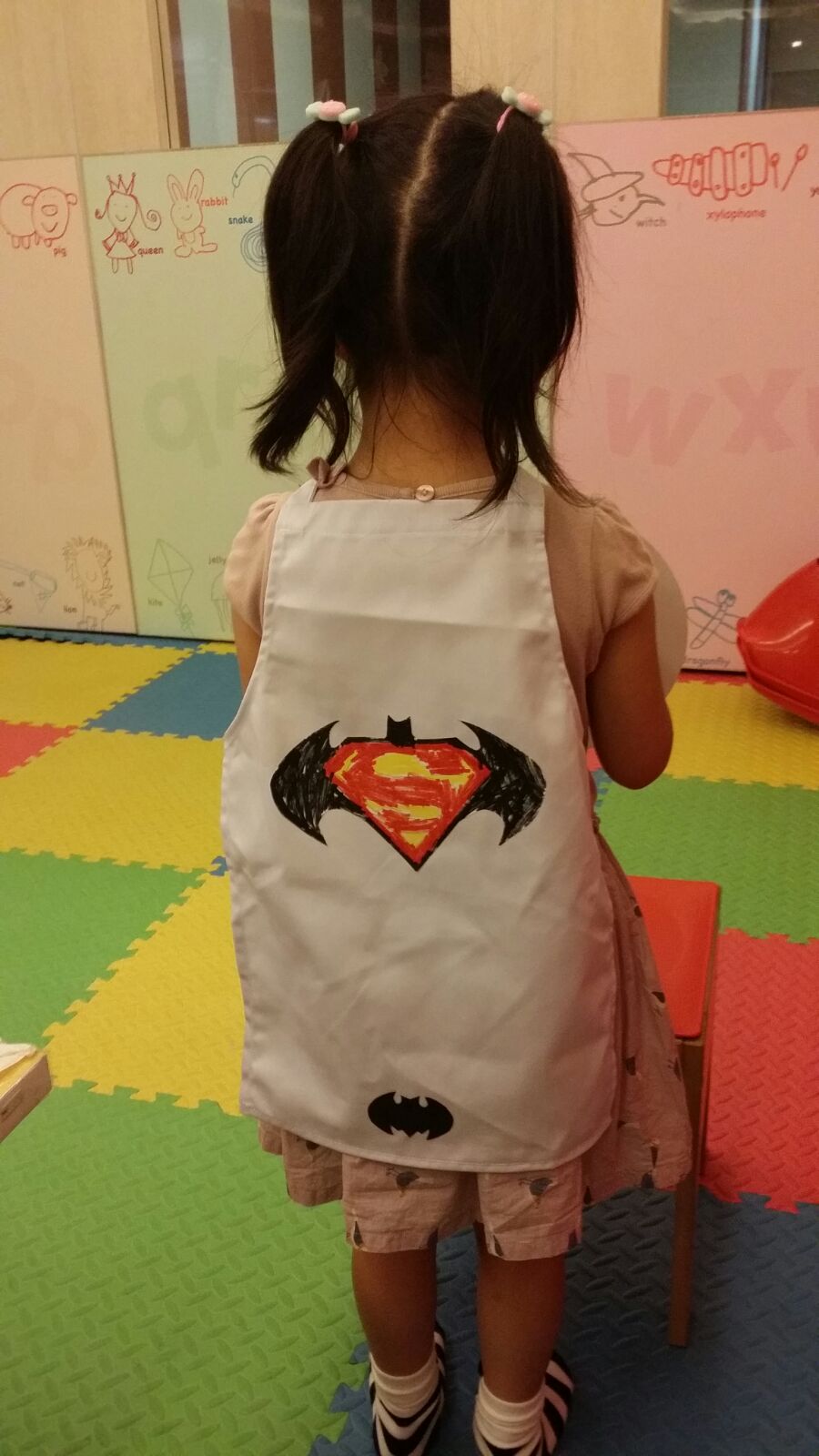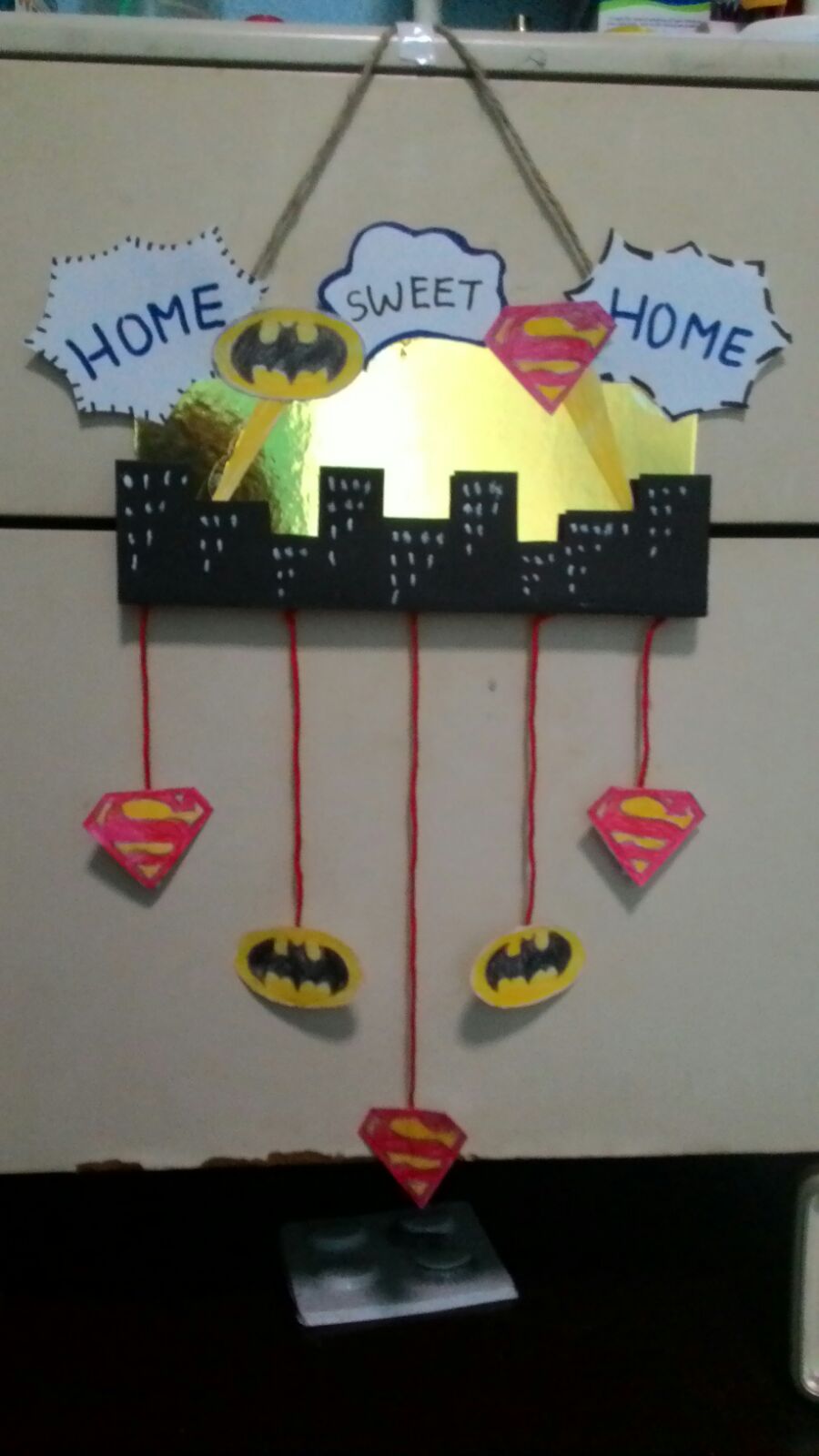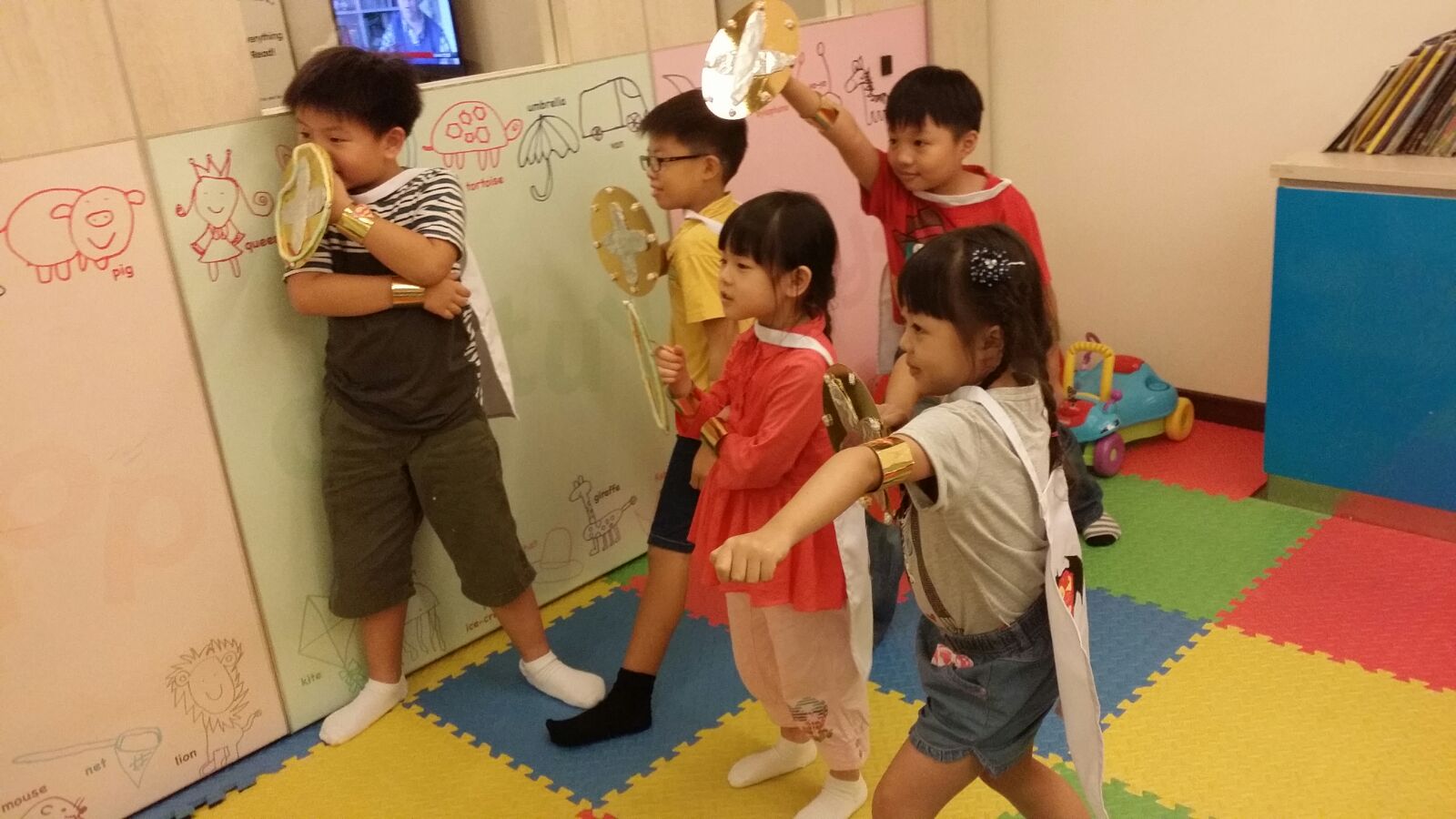 Make your own superhero costume and weapons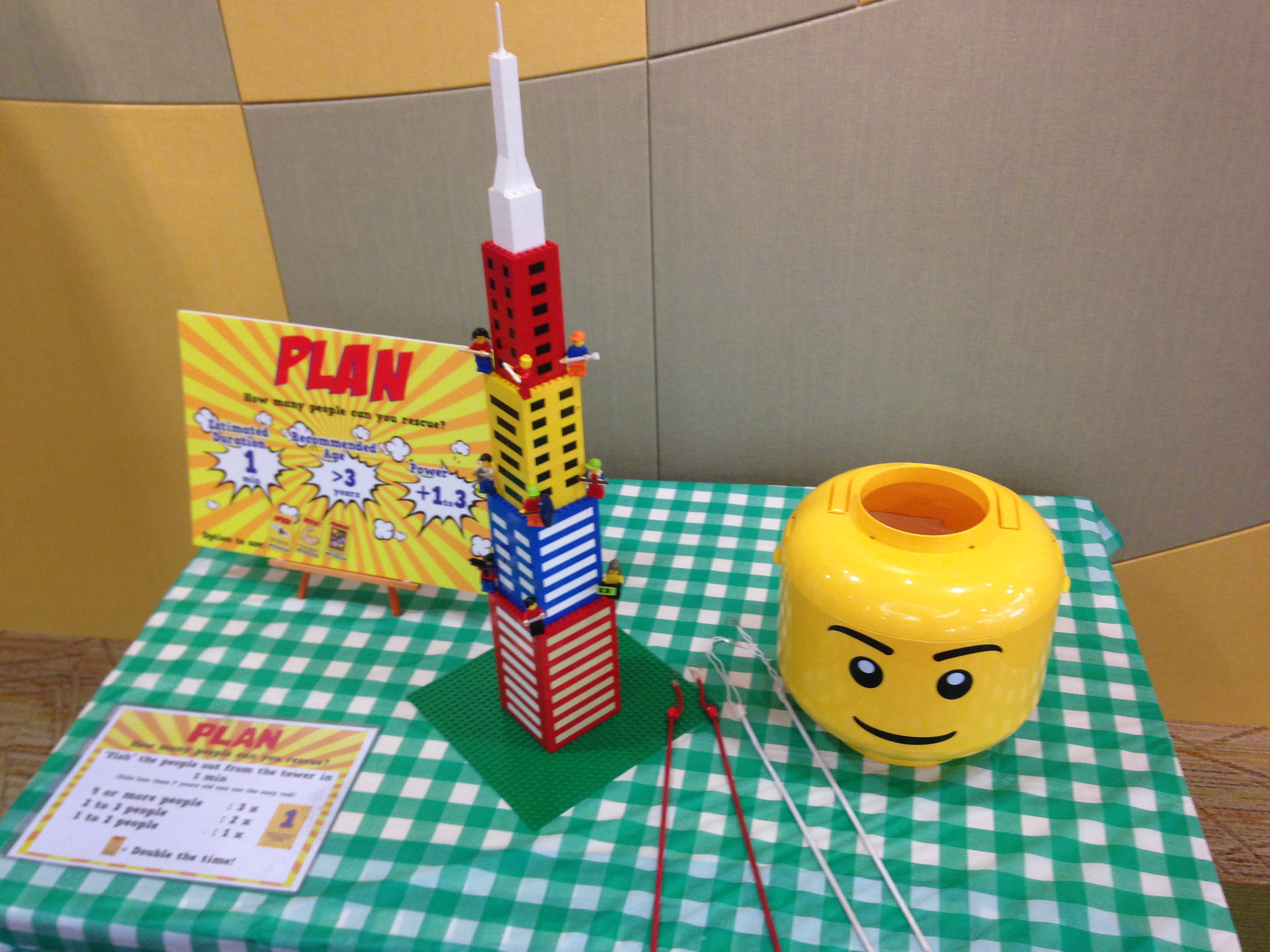 Superhero Training: Plan your next move!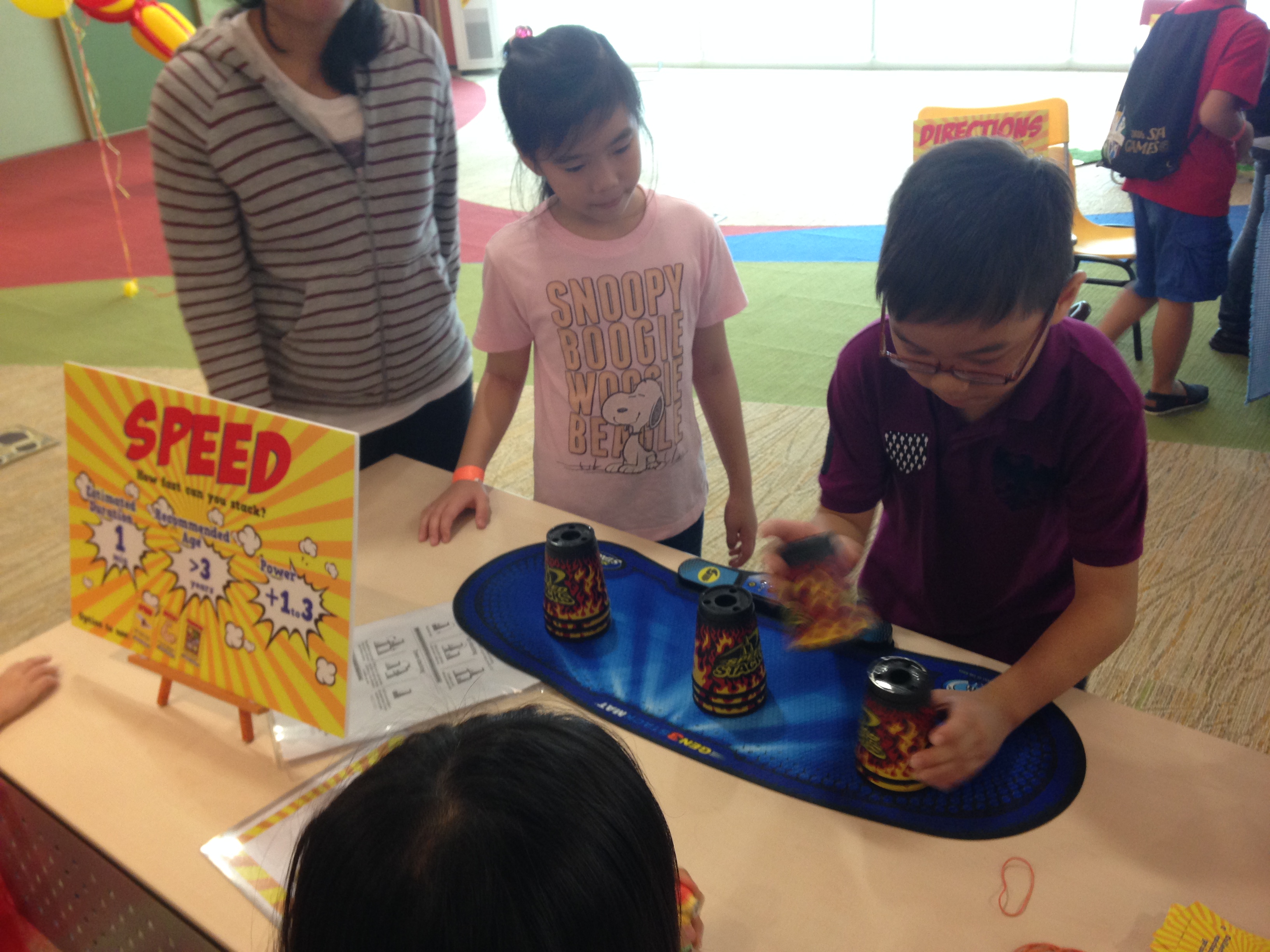 To be a superhero, you must be fast!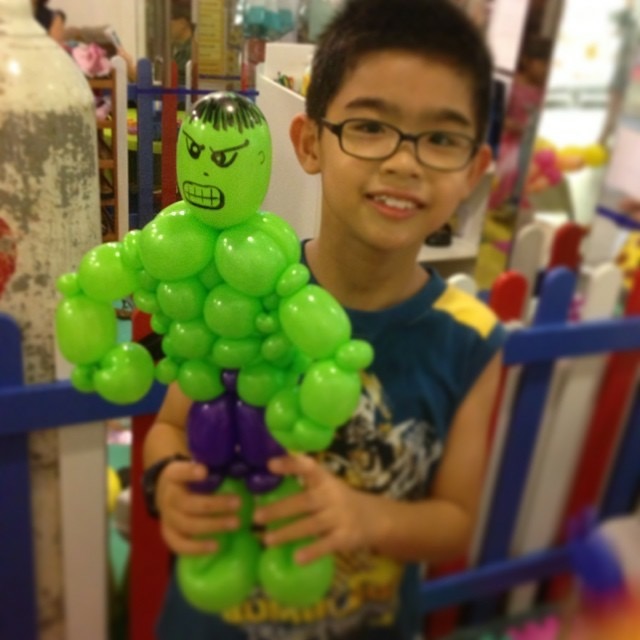 Incredible Hulk Balloon Sculpture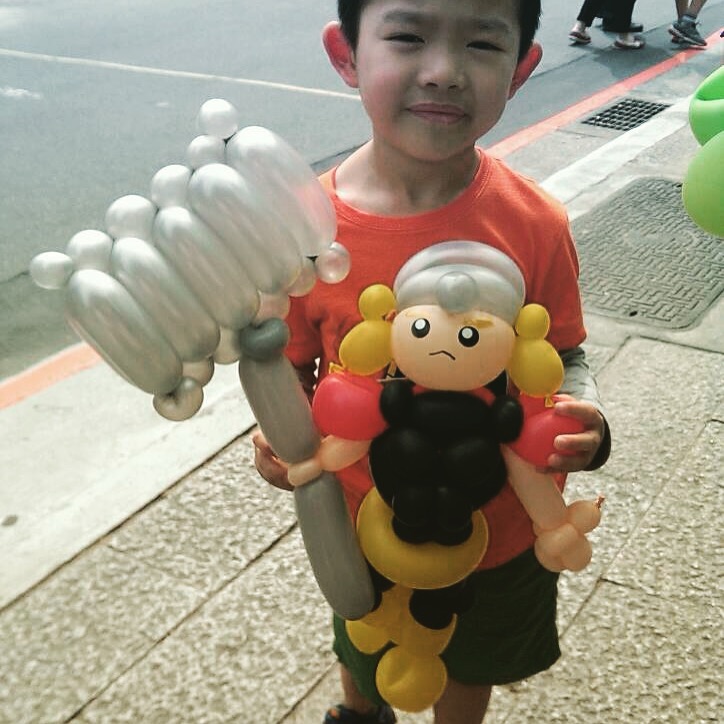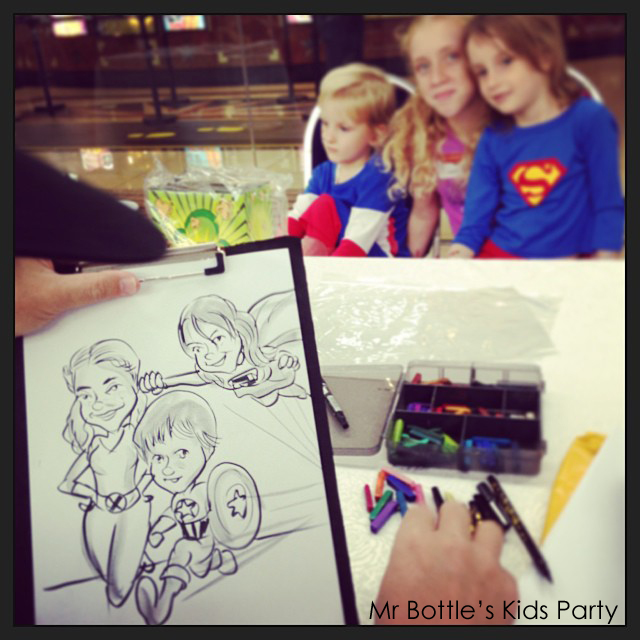 Entertainment and shows
If you are budget conscious, you can enlist the help of friends, family, or other parents to help provide some superhero-inspired entertainment by renting some mascots or costumes to wear at the party. Here are some ideas:
The cake is stolen, can the superhero save the day? Leave clues around which children can solve.
Invite our superhero like Ironman, batman and spiderman to interact and take photos with the children.
Get Mr Bottle to perform his birthday magic show and make the birthday child a superhero! He or she will make candies magically appear.
Book our interactive themed games, lots of comedy and fun!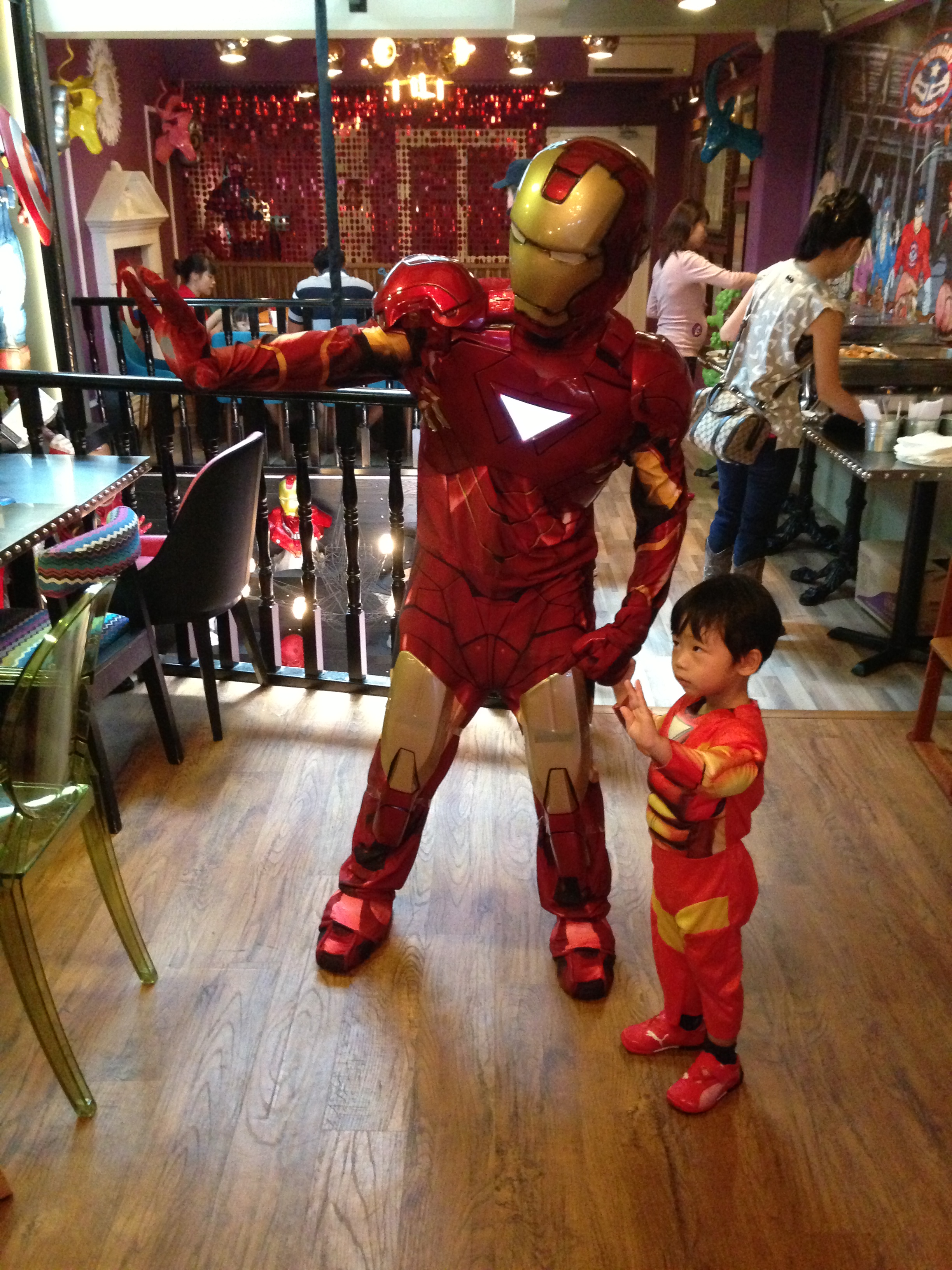 Ironman making an appearance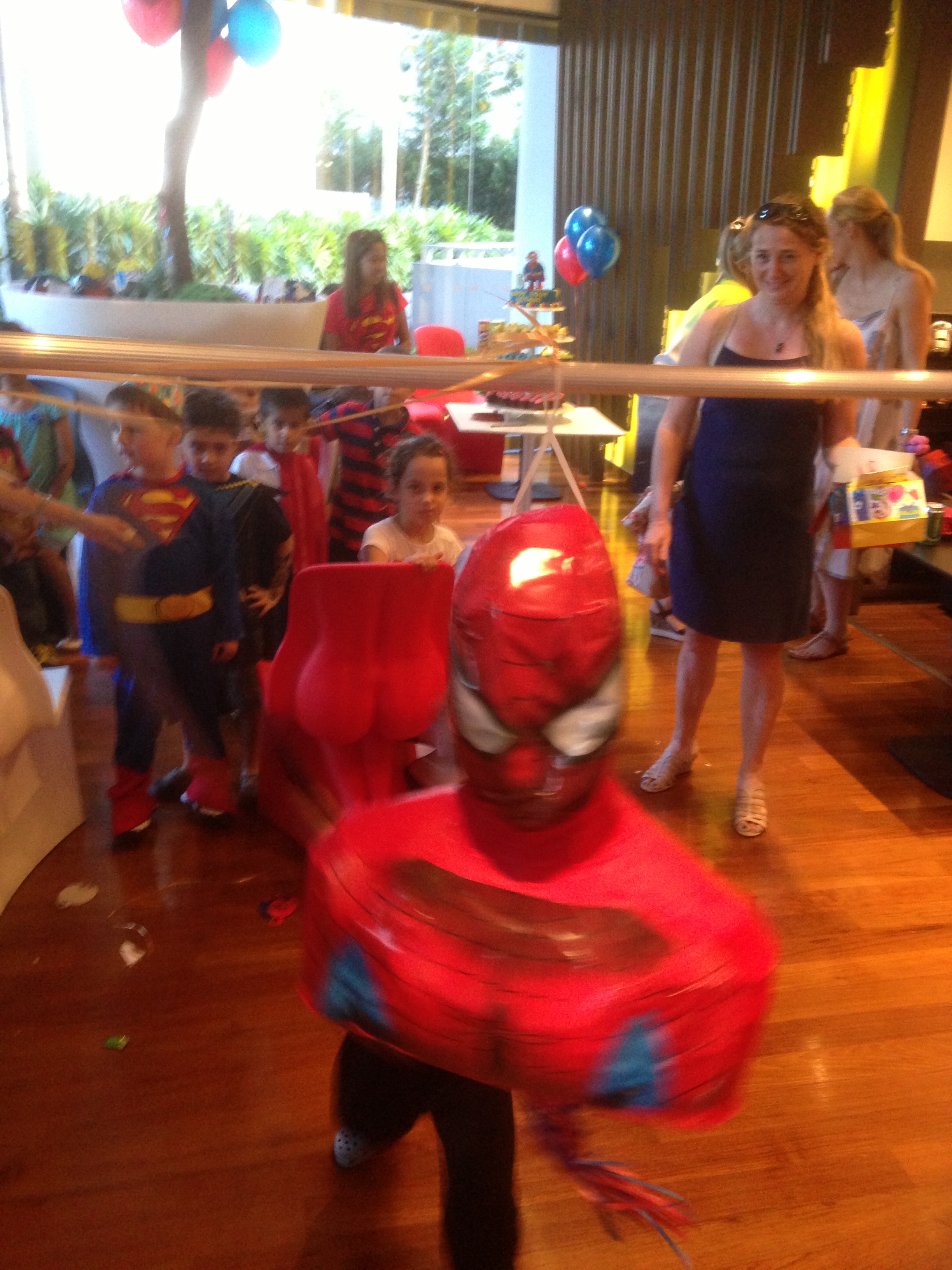 Pinata is a perfect finale to any party!
Superhero Party Favours
No party is complete without goodie bags and favours. Party hats, poppers,  are a must for any superhero party. Use superhero stickers to decorate your little gifts so they will be in theme. Here are some ideas for favours:
FREE download for Batman hat and logos to stick on your favours (Designed for A3 size, right click to save as image).
A medal or trophy from Daiso for their heroic acts during the party!
Plastic spiders for spiderman theme parties.
A comic book for kids to take home.